Somebody asked me the other day if I ever get tired of chocolate, since my funny, romantic Sci-Fi series revolves around it. And I Instagram about it. And post recipes, and cooking videos, and have a whole chocolate-themed cookbook. And – I'm growing it.
Don't tell anybody, but yes, I go through phases where the last thing I want to do is think about another piece of chocolate – let alone eat one. But when we travel, I'll check out the shops in town, to find craft chocolate makers and mom-and-pop candy shops, and unique chocolatiers marching to the beat of their own kazoos. Talking to someone about their passion for chocolate as an art form, or for blending flavors the way a wine-maker does, or teaching kids about food or using chocolate to connect with the local community – or to communities of farmers around the world -- is some pretty heady stuff. And getting to taste the chocolate they've put all that passion into – that's the kind of thing you can't get tired of.
There's an almost universal connection that people have to chocolate. Often, when I go to handsell the Chocoverse books I say, "The aliens landed, took commodity samples – but missed chocolate. And now chocolate becomes most important thing in the galaxy." About one in five people quip, "Well isn't it already?"
But what exactly is it that makes chocolate so appealing? I'm sure you guys have things to add in the comments, but here's five things I love about chocolate.
Chocolate melts at body temperature and is associated with romance and luxury.
Because chocolate melts at body temperature, eating it is a sensuous experience. Chocolate is conched for days, being more and more finely ground until it measures somewhere between 10 microns (Japanese chocolate) to 30 microns (some American chocolate). This means your tongue doesn't taste grit or individual particles – just a smooth quasi-liquid that gains more flavor notes the longer it warms up in your mouth. This texture feels luxurious, and that is enhanced by small beautifully designed pieces, sometimes with expensive fillings/inclusions such as champagne or sea salt. Chocolate is often our go-to ingredient when we think romance: from chocolate-covered strawberries to chocolate anniversary cake. It feels decadent, and can be expensive, so the goal in giving chocolate as a gift, romantic or otherwise, is often to make the recipient feel special.
2. Chocolate enhances creativity and brain function.
Recent studies have shown that the flavanols in chocolate actually help improve brain function. So it makes sense that writers reach for it to fuel their endeavors. This has been measured in both short term and long term consumption studies. Plus, according to health.Harvard.edu, "Several studies demonstrated evidence of improved brain blood flow, oxygen levels, or nerve function as measured by imaging tests or tests of electrical activity in the brain after the consumption of cocoa drinks. But because these changes were not routinely associated with improved performance on cognitive tasks, it's hard to connect the results directly to better brain function."
Chocolate captures the imagination and shows up in books in many genres.
A study done in 2013 on the mere smell of chocolate found that in a bookstore setting, customers were "22% more likely to buy books of any genre and a whopping 40% more likely to buy cookbooks or romance novels." There's something about chocolate that really does capture the imagination. Authors have played into that with children's books such as Charlie and the Chocolate Factory (Roald Dahl) and The Chocolate Touch (Patrick Skene Catling). There's entire mystery series that center around chocolate, like The Chocoholic Mysteries series by Joanna Carl. Romance has numerous titles like Sweet Haven by Shirlee McCoy, which is set in a fudge shop. And who can forget classics such as Like Water for Chocolate by by Laura Esquivel and Chocolat by Joanne Harris. I'm not the first person to touch on chocolate in sci-fi – there's a YA sci-fi series by Gabrielle Zevin where people are illegally conching chocolate in the back rooms of their apartments.
Chocolate has over 600 flavor compounds. (Red wine has just 200.)
The fact that there are so many flavor profiles means that you shouldn't discount dark chocolate if you've tried it once and didn't like it. Some chocolates are made from a blend of beans, in an attempt to create a uniform "chocolaty" flavor. But others play up the uniqueness. For instance, many bars made from beans grown in Madagascar have a bright, tart fruity tone, reminiscent of raisins or cherries. Other single-origin chocolates may taste nutty, or citrusy, or earthy, or smoky. Chocolate tasting parties are a fun way to experience a number of different brands/origins of chocolate, and it is always interesting to see which people like which chocolate. It may be instinctive to pair chocolate with wine, as they have some of the same qualities, but try pairing chocolate with coffee (put the chocolate on your tongue and sip the coffee to melt the piece), cheese, bread or stout.
Chocolate actually is a vegetable.
Because chocolate comes from a plant source, you can serve it to vegetarians and vegans (check the bar for added ingredients – milk chocolate will certainly have dairy, and some sweeteners aren't vegan). Research suggests that regular doses of dark chocolate can help your body combat insulin resistance. There's also research pointing out that the fat in chocolate doesn't raise bad cholesterol. And however you look at it, chocolate is a great source for antioxidants. So of you minimize the added sugar, chocolate can actually be a healthy part of your diet.
In Book 3 of the Chocoverse, which concludes the trilogy, I've introduced a synthetic plant disease that is threatening to destroy all the cacao trees on Earth. With all these reasons to love chocolate, that would be a horrific fate for mankind, no? Fake Chocolate is still a comedy, with over-the-top soap opera-y coincidences and cheesiness, but with space opera stakes, as the war over galactic control of chocolate comes to Earth's door. Expect found family, bad boy heroes, Spanglish and alien languages, telepathic alien dragons, space pirates . . . and tons of carob.
--
COMMENT TO WIN: Want to win a copy of Fake Chocolate? Leave a comment with your favorite thing about chocolate, your favorite type of chocolate, or your favorite character from the Chocoverse and you'll be entered to win a copy of Book 3 in the Chocoverse series by Amber Royer. GOOD LUCK!
--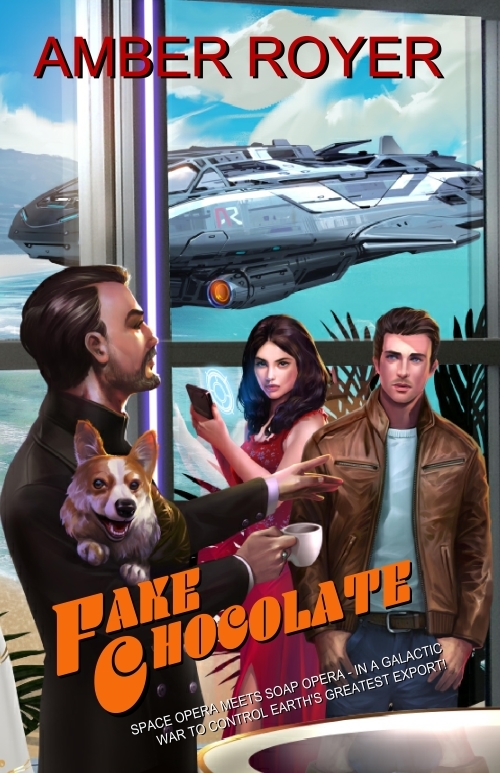 Bo's Coming Home!
In a galaxy where chocolate is tied to dark secrets and past wrongs, one celebrity chef has to put things right, in the dilectible conclusion to the Chocoverse Trilogy that started with Free Chocolate
When disease ravages Earth's cacao plantations, Bo Benitez returns home to help with the media spin to hide that chocolate is in danger of being lost forever. HGB has come up with a new product - one which doesn't appease the cocoa-addicted murderous, shark-toothed aliens threatening to invade the planet. Someone has to smooth things out. Just when Bo starts to make headway, someone tries to kidnap her. While trying to avoid more would-be-kidnappers, Bo finds out that HGB is developing a cure for withdrawal from the Invincible Heart. Will she let her need to be physically whole again tie her to HGB and its enigmatic CEO? When she gets a key piece of evidence that would unravel secrets from three different planets, she has tough choices to make about the future of her world and its place in the galaxy.
Space Opera Meets Soap Opera in a Galactic War to Control Earth's Greatest Export!
Science Fiction Space Opera [Author Self-Published, On Sale: April 14, 2020, Paperback, ISBN: 9780991408344 / eISBN: 9780991408351]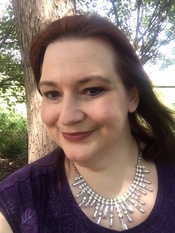 Amber Royer writes comic space opera set in the Chocoverse, where chocolate is the only thing Earth has that a hungry galaxy wants to get its hands, paws and tentacles on. She also teaches enrichment and continuing education creative writing classes for teens and adults. She spent five years as a youth librarian, where she organized teen writers' groups and teen writing contests. In addition to two cookbooks co-authored with her husband, Amber has published a number of articles on gardening, crafting and cooking for print and on-line publications. She's an avid reader, cook and language geek – and a fan of cheesy old science fiction films.
Book Trailers:
No comments posted.