I've gotten to the sixth book in my cozy mystery series, and one of the most common questions I get is whether each book stands alone. Yes, the mysteries in my books do each stand alone. However, there's character development that happens over the course of the series, as well as relationship building of both friends and romantic interests.
I do my best to make the books enjoyable for a reader picking up in the middle, which means giving enough pieces of backstory and context for someone unfamiliar with the previous books to be able to keep up, without slowing down the pace of the current story. It isn't that different from what you do to introduce backstory in an initial book, and I think most readers are able to pick it up and move forward, as they would pick up any standalone that had a richly developed cast of characters. And it doesn't hurt for established readers to get little reminders of the hows and whys of the character relationships, in case it has been a while since they read the previous books. One thing that helps is that, with a book set in a specific location with a mystery that is self-contained, you can zoom in and focus on the characters who are pertinent to the specific case and aspects of the theme, while letting others fade into the background, knowing that series fans will still get excited about that character's next appearance in an upcoming book. Those characters are still off baking cookies or flipping houses. They just didn't happen to interact with the protagonist during the time the case takes place.
But sometimes you get to a point where a couple of the big plot threads have to come together, and character promises you've been teasing have to be fulfilled. That's what happened in Something Borrowed, Something 90% Dark, and I wound up needing an extra 10,000 words to get in the needed context. In the series, my craft chocolate maker sleuth starts the series as a recent widow, working through her grief by helping others find justice and meaning in their loss. (It's a cozy, so there's also lots of humor and heart.) I promised in an earlier book that Felicity, who had been named matron of honor for her best friend Autumn would choose between her two love interests by the day Autumn's wedding. In part, I made that promise to my readers because I wanted them to know that there would be a resolution to the love triangle, that I just needed a few books to put everything into place for Felicity to be emotionally ready to make big decisions about her future. I didn't want to draw things out. Readers might get impatient with an indefinite will she-won't-she that would start to make her seem wishy-washy and careless of both guy's emotions. More importantly, the characters were getting impatient, Felicity was in agony over the decision, and one of the guys was starting to think of reasons to bow out. Something had to give.
I'm extremely happy with the way the book turned out, giving both guys the future they need. And I broke down in happy tears when writing the scene where Felicity finally confesses her true feelings. The book ends on a huge high, character wise. I plan to continue the series, both because there are different aspects of Galveston's history and culture still left to explore, and because Felicity still has a long way to grow.
I recognize that readers are going to have to shift gears once my protag has made her choice, into the difficulties of her having a second chance romance. (The first couple of books were her getting comfortable with herself again, before she was ready to pursue a relationship at all.) It's been rewarding to track her growth, and how it changes everyone around her. In some genres, that kind of shift can be more difficult. But with cozy mysteries, I think BECAUSE the cases are self-contained, the shift in tone from Felicity's two love interests being rivals into being friends with a complicated history is easier to pull off without alienating readers. Cozy mystery readers are used to relationships that progress, in some cases even having the characters marry later on in the series. Because the relationship isn't the main focus of the plot, there's still somewhere to go after that happens.
Felicity's friendships are also a big part of the series. While she's made big strides in developing those, there are still characters who deserve to come more to the forefront to be explored more deeply. I think readers connect with that feeling that you think you know someone until something happens and they really open up, and then you get to understand who they really are. That has happened to Felicity multiple times already, and now she's more open to looking beyond first impressions. I hope y'all are ready to see her do that again, in SOMETHING BORROWED, SOMETHING 90% DARK, and beyond.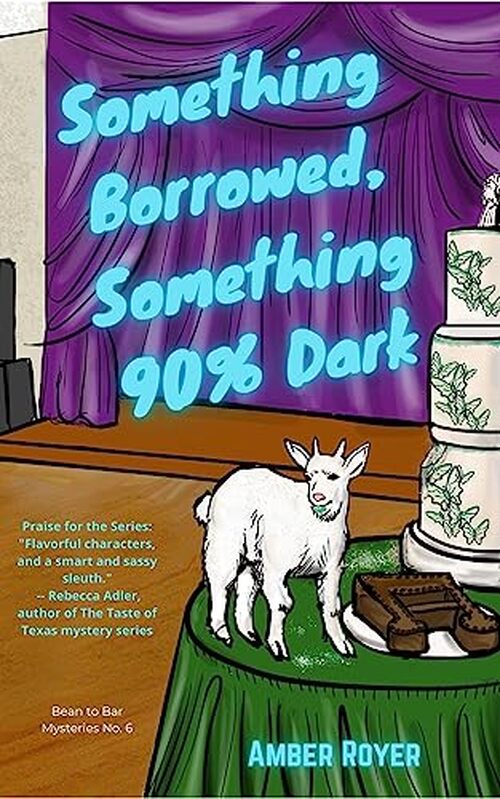 Felicity Koerber's bean to bar chocolate shop on Galveston's historic Strand is hosting the friends and family coming into town for her best friend Autumn's wedding. As matron of honor, Felicity has a ton of tasks to complete – including making chocolates for the gift bags. She doesn't have time to solve another murder. But when one of the bridesmaids becomes a prime suspect in the death of a visiting real estate agent, Felicity has to put her detecting skills to use again to keep the wedding plans from getting derailed.
She's already nervous about the impeding deadline she's given herself to finally choose between her two love interests – and figuring where life goes once she makes her choice. But add in a missing pigmy goat and a new coffee shop that wants to partner with her, and she's frazzled.
She begins to discover that not everything is as it seems among the wedding guests. Can she handle the wedding preparations, pull off turning her shop into a concert venue, and unmask the killer – before anyone else dies?
Mystery Cozy [Golden Tip Press, On Sale: September 12, 2023, e-Book, ISBN: 9781952854187 / eISBN: 9781952854194]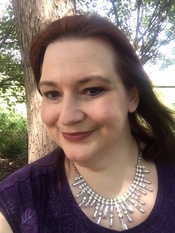 Amber Royer writes comic space opera set in the Chocoverse, where chocolate is the only thing Earth has that a hungry galaxy wants to get its hands, paws and tentacles on. She also teaches enrichment and continuing education creative writing classes for teens and adults. She spent five years as a youth librarian, where she organized teen writers' groups and teen writing contests. In addition to two cookbooks co-authored with her husband, Amber has published a number of articles on gardening, crafting and cooking for print and on-line publications. She's an avid reader, cook and language geek – and a fan of cheesy old science fiction films.
No comments posted.