1--What is the title of your latest release?
2--What's the "elevator pitch" for your new book?
Love, Orcs and Rock-and-Roll! Take a cocky lead singer of an Orc Rock band and throw him together with a witchy tour manager to make music and magic.
3--How did you decide where your book was going to take place?
My co-writer, Josie, and I – we've been friends for literally decades and we knew we wanted to work on a project together. So in November 2021, we met up in Vegas for a week in an AirBnB and we adventured and plotted!
4--Would you hang out with your heroine in real life?
Hell yeah! Once Alexis loosens up, she's a good time.
5--What are three words that describe your hero?
Orc, rock star, cinnamon roll
6--What's something you learned while writing this book?
Josie Kell taught me how to tell the difference between 'former' and 'latter'. Former is F-F-First and Latter is L-L-Last. It's something I've always jumbled up, but now is locked into my brain!
7--Do you edit as you draft or wait until you are totally done?
Both! I am kind of chaotic, if I'm honest. I will do a burst of writing and get stuck. To get back into the groove, I roll back and go over the previous section and then do another burst. I also do several big editorial passes. Especially trying to catch my beloved run-on sentences.
8--What's your favorite foodie indulgence?
Okay, it's not actually a fancy foodie thing, but my big indulgence these days is a Krunch Klondike bar at the end of the day. It's something that was always very special when I was a kid, so it's like this incredible treat to myself.
9--Describe your writing space/office!
Absolute chaos. I sit at the dining room table, so I'm surrounded by weird scraps of paper, my kid's Hot Wheels and a visual timer perched precariously on a stack of notebooks. Yes, my spouse sighs, a lot.
10--Who is an author you admire?
Ruby Dixon! She kicked my butt to keep me moving with HIS ROCK HARD RHYTHM. She's also an absolute powerhouse of a writer. Just a fabulous and inspirational woman and stellar writer.
11--Is there a book that changed your life?
Oh, just one? Terry Pratchett and Neil Gaiman's Good Omens. It made me want to tell stories.
12--Tell us about when you got "the call." (when you found out your book was going to be published)
It's a little different since Josie and I are indies, so we knew it was going to be published. But the moment we got the cover, we called each other and squealed. It became very real, very quickly. Even though I had the draft in my hand, I was scared to death setting up the preorder.
13--What's your favorite genre to read?
Romance, of course!
14--What's your favorite movie?
It's much maligned, but still, I love it so: The Pirate Movie. It's very loosely based on The Pirates of Penzance.
15--What is your favorite season?
Fall, hands down. I'm a Halloween baby, so I've always welcomed Autumn. I love spooky things, crispy leaves and the faint hint of damp earth.
16--How do you like to celebrate your birthday?
Generally, very quietly with family. Although now that I have a small human who appreciates trick or treating, I've enjoyed taking him around and ending the night in delicious cake.
17--What's a recent tv show/movie/book/podcast you highly recommend?
Our Flag Means Death. I binged it in two nights. The characters are so engaging and it's incredibly funny. And the romance between Stede and Ed is absolutely swoon-worthy. If I weren't hip deep in rock stars right now, I'd absolutely be writing an orc pirate romance.
18--What's your favorite type of cuisine?
Picking just one is hard but probably pizza. I just love a fluffy carb with gooey cheese and sauce.
19--What do you do when you have free time?
Free time? I've heard of that…but seriously, I tend to read. I've also been into making mixed media mail art. I'm part of an art group where we send fun mail to each other. It's so much fun and helps get me out of my head.
20--What can readers expect from you next?
Well, Josie and I are working on Shawna and Torch's story, which will be Book 2 of AxeBender Orcs and I'm working on a Gargoyle/Dryad book.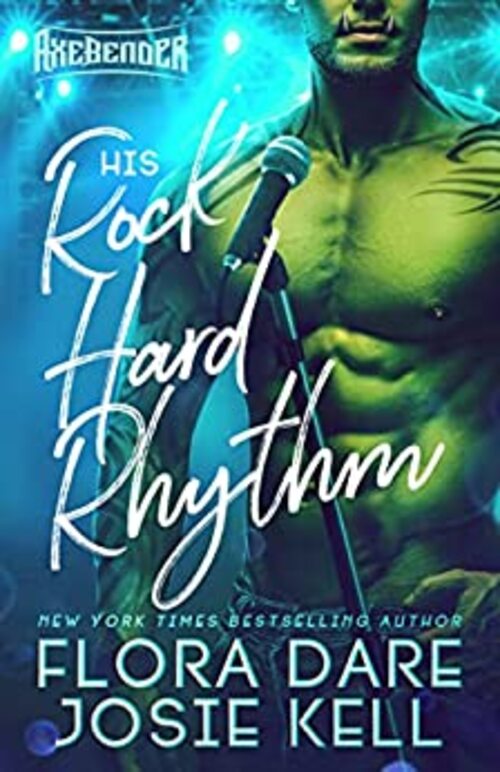 Alexis's middling witch powers? A grave disappointment to her parents.
The years of hard work? About to pay off!
Her gig of a lifetime? Managing one of the biggest orc rock bands in the world, Axebender.
The fly in the potion? The lead singer, Mace.
Their first meeting? He mistakes her for a groupie.
Now? It's showtime and Alexis has to prove she's not afraid of a pair of wicked tusks or deep green, totally lickable muscles that go on for days.
Romance Paranormal | Romance Erotica Sensual [Self Published, On Sale: May 20, 2022, e-Book, / eISBN: 9798830455169]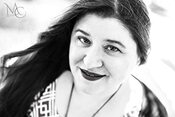 Flora Dare lives in Durham, NC in a cute little pink house, with her husband, Scott, and their hellion of a puppy, HaliToeses. She writes love, lust and mayhem in almost every flavor, and like The Pirate Movie, she wants a happy ending, every time!
No comments posted.