Tracy Broemmer | Author-Reader Match: HOLD ONTO THE STARS + Giveaway!

October 6, 2021
Instead of trying to find your perfect match in a dating app, we bring you the "Author-Reader Match" where we introduce you to authors you may fall in love with. It's our great pleasure to present Tracy Broemmer!

Writes
Women's Fiction and Contemporary Romance. My latest women's fiction release is The Valentine Suite, which came out on August 20, 2021. My latest contemporary romance is the small-town romance in the Blue Collar Romance series called Hold Onto the Stars.
About
I live in Midwestern Illinois with my happily-ever-after husband of 28 years. We have two adult children, a rowdy miniature dachshund puppy, and two equally rowdy grand puppies. My husband and I enjoy travel, music, wine, and bourbon tasting. As a reader, I look for the covers that speak to me and then find the biggest of those books, and then read the blurb. I read a variety of genres, including romance, historical fiction, women's fiction, and thrillers. I want characters that suck me in and make me live their lives right there with them. As a writer, I want to create those characters, the ones readers will fall in love with.
What I'm looking for in an ideal reader match:
-Someone who is more likely to curl up with a book in the evening than to turn on the TV.
-Someone who probably snuggles a fur baby and drinks a glass of wine while reading.
-Someone who wants to get so drawn into a book, they don't want to come up for air, not until they read the last page.
-Someone who believes the story and the emotional relationships in a book are as important, if not more important, than the steamy scenes.
What to expect if compatible:
-Realistic characters with down-to-earth lives and relatable issues.
-Angst in relationships—more than just the hero and heroine, maybe siblings and friends and parents, too.
-High emotion—some laughter and tears, both. Especially in my women's fiction books, if I don't make you cry or come darn close, I feel like a failure. I want my readers to always know they're not alone in whatever they're going through.
-In my women's fiction books, the plot will focus on the ISSUE or the family drama of the book, but I always add in romantic elements, because, again, that's real-life—women who love unconditionally and lose themselves in all sorts of relationships and have to find their strength to overcome the hardships.
-Heroes who love their women. Period. I don't write alpha males. Maybe because my dad was so devoted to my mom all through the years because in my huge family my uncles cherished their wives, and my father-in-law is so good to my mother-in-law, and last but not least, because of my own hero who always loves me and respects me, I write men who are always strong enough to bend, to give, to protect, and to love.
--
COMMENT TO WIN: Leave a comment below and you'll be entered to win a $10 Amazon gift card and a backlist ebook title—winner's choice.
--
Blue Collar Romance #6
CJ Everhart—small town girl, licensed electrician, professional sports fan. Life in small-town Oak Bend, Michigan is good, if a bit confining. With her thirtieth birthday in the rearview mirror, CJ wonders if there should be more. The dating pool in a town like Oak Bend is a little bit like a catch and release fishing pond. CJ has dated and broken up with most of the guys in Oak Bend, sometimes more than once. Not to mention she's not the kind of girl who needs flowers or other silly romantic gestures, and her ideal future bucks the small-town script of marriage, babies, and soccer-mom minivans.
Peyton Quinn—big city guy, elementary school teacher, new to small-town living. Transplanted from a Chicago suburb, Peyton moves to Oak Bend for a change of pace—oh, and to hide from his well-meaning family. Enter a well-meaning friend determined to throw him into the dating ring, a perfect blind date he's just not attracted to, and the mysterious Tigers' fan he bumped into at the local sports bar days ago.
When their paths cross, sparks fly between CJ and Peyton. CJ doesn't deny the attraction, though she insists she's not the kind of woman Peyton needs. But the more they're around each other, the more Peyton believes fate brought them together.
Can Peyton convince CJ they were made for each other and the sky is the limit for their love if they can hold onto the stars
Romance Anthology [Part-Time Publishing, On Sale: October 1, 2021, e-Book, / ]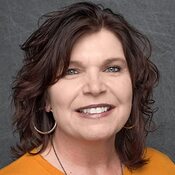 An only child, Tracy Broemmer grew up with a wild imagination. An avid reader from a young age, she spent a lot of time with her nose buried in books and a lot of time making up her own stories. She penned her first book in grade school and hasn't stopped writing since then.
When she's not writing, you might find her with a book in her hand, or maybe a glass of wine, or maybe a book in one hand and a glass of wine in the other. Tracy enjoyed spending time with her family, traveling with her husband of twenty-eight years, music, NFL, and MLB. Tracy is the author of the Lorelei Bluffs Women's fiction series, the Williams LEgacy, and several stand-alone women's fiction novels. She has recently dabbled in contemporary romance, as well.
Tracy's books have been called gripping, emotional, and timely, and readers describe her characters as real and relatable.
Comments
24 comments posted.
Re: Tracy Broemmer | Author-Reader Match: HOLD ONTO THE STARS + Giveaway!

I enjoy opposites attract type stories. It is always interesting to watch as they
discover that even though they have different interests and plans, they have some
core characteristics that complement each other making them a perfect match.
(Patricia Barraclough 1:54am October 6)
Your new book sounds amazing! Thank you for the opportunity to
enter a contest. Have a wonderful day and take care!
(Tracey Boehm 8:09am October 6)
Role reversal - girl is the electrician - boy is the teacher - love it!
(Linda Gawthrop 12:38pm October 6)
Looking forward to reading more of CJ and Peyton's budding relationship!
(Tracy Urschler 3:48pm October 6)
Thanks for the chance to win.
(Nancy Reynolds 5:10pm October 6)
Sounds good!
(Kara Marks 6:58pm October 6)
Thank you for the chance! Sounds like a great book!
(Andrea Drake 8:48pm October 6)
Sounds like a sweet story!
(Nancy Krueger 10:03pm October 6)
Romancing the reader sounds sweet with a compatibility test to
see what matches up.
(Alyson Widen 12:24pm October 7)
This book sounds great. I like that Peyton is more into
romance then CJ seems to be. And I also enjoyed reading your
ideal reader match list. I can relate to that list and am
definitely more into a book for the story then the steamy
scenes.
(April Harvey 3:26am October 7)
This sounds like my kind of story. I love the reader match
list, and this one fits me just right.
(Tina Rucci 11:13am October 7)
I am liking the sound of CJ & Peyton's book
(Colleen Conklin 2:02pm October 7)
I love books with high emotions. And I love dachshund
puppies! My aunt has two of them and they are just too cute!
(Elizabeth Haney 3:04pm October 7)
Sounds like my kind of story!
(Felicia Plastini 4:42pm October 7)
Love that CJ's a real kind of gal (one that a lot of women can
relate to) and not all focused on love and the white picket
fence and that Peyton needs to show her that the fit just
right together.
(p Chung 7:25pm October 7)
The book sounds interesting.,
(Deb Pelletier 7:48pm October 7)
This sounds like a heart warming story, a book I would enjoy
reading. Thanks for the chance to win it.
(Anna Speed 12:44pm October 8)
This definitely sounds like a great read, CJ & Peyton are
right up my alley! Thanks for the chance to win!
(Amy Dudley 5:38pm October 8)
Sounds like a great book for me and I can't wait to read it!
(Eva Millien 1:25pm October 9)
Sounds so good
(Terri Quick 8:55pm October 10)
Love the storyline! Can't wait to read!
(Patricia Wong 1:46am October 11)
Sounds like a good read.
(Pam Howell 7:17am October 11)
Sounds like a great book!
(LeAnn Abernathy 9:32pm October 11)
Sounds like a wonderful story.
(Cheryl Castings 5:45pm October 13)
Registered users may leave comments.
Log in or register now!