Pat Simmons | Author-Reader Match: LEAN ON ME + Giveaway!

January 10, 2020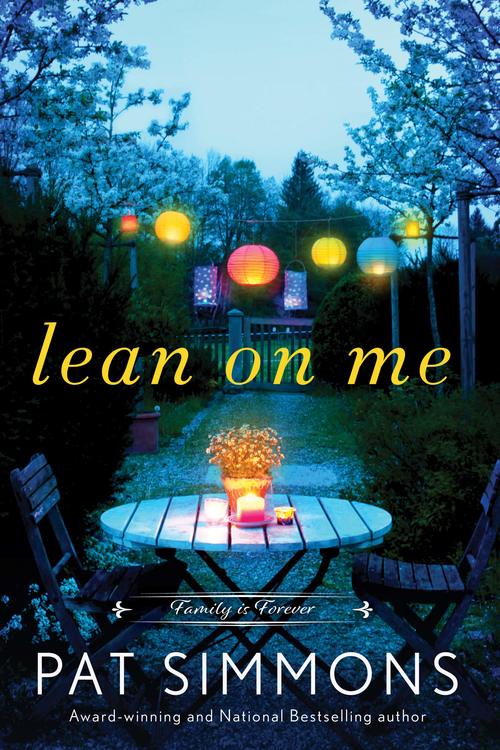 AVAILABLE
Family Is Forever #1

January 2020
On Sale: January 7, 2020
Featuring: Marcus Whittington; Tabitha Knicely
288 pages
ISBN: 1728212537
EAN: 9781728212531
Kindle: B07Y5NTCKH
Trade Size / e-Book
Add to Wish List

Also by Pat Simmons:
Here for You, February 2021
Add to review list
Lean on Me, January 2020
Free From Guilt, September 2012
Guilty By Association, January 2012

Instead of trying to find your perfect match in a dating app, we bring you the "Author-ReaderMatch" where we introduce you to authors as a reader you may fall in love with. It's our great pleasure to present Pat Simmons!
Writes:
Lean on Me is an inspirational romantic women's fiction. A mouthful, but if you're attracted to any or all of those genres, Lean on Me is a perfect match. A good story never ends. In this novel, I tackle the unpredictability in the life of a caregiver and despite all the obstacles in the path, love will always find shortcuts.
About:
I seldom get lonely because I know how to entertain myself with my one-woman comedy show. If we're just meeting, a conversation starter would be about disclosing secrets uncovered in our family trees. You would have my undivided attention for hours that I might forget to eat, breathe and sleep. If you rather keep family secrets buried, a train, car or plane ride to a fabric store would win me over.
What I'm looking for in my ideal reader match:
· Hopeless romantic craving a steak dinner romance versus a picnic in the park love story
· Someone who knows how to be a cheerleader on the sidelines to get my characters to the finish line at all costs, because love does conquer all
· Never have too many book boyfriends
· Enjoy the historic settings in the stories
What to expect if we're compatible:
· An emotional journey that will require a box of tissues, a quiet place where you can freely laugh out loud, and a marker to highlight inspirational moments
· Put yourself in the shoes of a caregiver and be inspired that someone cares
· No matter how my characters start out on the first page, there will always be a happily ever after by the end
--
COMMENT TO WIN: Tell us what you're looking forward to this year - an upcoming trip, job changes, new BOOKS (of course!) and you'll be entered to win a print copy of LEAN ON ME. US & Canada only. Good luck!
--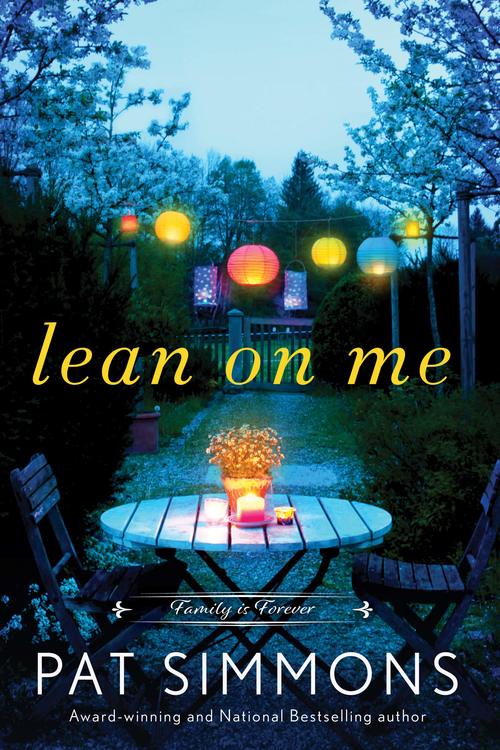 First in an emotional, poignant romantic women's fiction series from acclaimed inspirational romance author Pat Simmons.
No one should have to go it alone...
Tabitha Knicely is overwhelmed with sorrow and exhaustion caring for her beloved great-aunt, whose dementia is getting worse. When her neighbor Marcus Whittington accuses Tabitha of elder neglect, he doesn't realize how his threats to have Aunt Tweet taken away add to Tabitha's pain.
Then Marcus gets to know the exuberant elderly lady and sees up close how hard Tabitha is fighting to keep everything together. Tabitha finds herself leaning on Marcus more and more. And he's becoming more than happy to share her burdens...
Women's Fiction [Sourcebooks Casablanca, On Sale: January 7, 2020, Trade Size / e-Book, ISBN: 9781728212531 / eISBN: 9781728212548]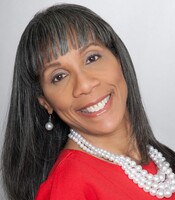 Pat Simmons is the multi-published author of more than thirty titles, and is a three-time recipient of Emma Rodgers Award for Best Inspirational Romance. She has been a featured speaker and workshop presenter at various venues across the country.
As a self-proclaimed genealogy sleuth, Pat is passionate about researching her ancestors, then casting them in starring roles in her novels. She describes the evidence of the gift of the Holy Ghost as an amazing, unforgettable, life-altering experience. God is the Author who advances the stories she writes. Pat has a B.S. in mass communications from Emerson College in Boston, Massachusetts.
Pat has converted her sofa-strapped, sports fanatic husband into an amateur travel agent, untrained bodyguard, GPS-guided chauffeur, and her administrative assistant who is constantly on probation. They have a son and a daughter.
Comments
22 comments posted.
Re: Pat Simmons | Author-Reader Match: LEAN ON ME + Giveaway!

sounds so good
(Vickie Couturier 9:13am January 10)
Not sure what looking for in 2020. Wish it would be
improvement in my health.
(Jane Squires 6:32pm January 10)
I haven't really thought about it yet. Nothing really big planned for this year.
(Cynthia St. Germain 6:43pm January 10)
I want more fun! (and more books to read!)
(Martin Bodnar 7:48pm January 10)
Although we don't have a destination in mind yet, I'm looking forward to summer
vacation!
(Tracy Urschler 8:25pm January 10)
I'm looking forward to travel to Europe this summer (hopefully)
(Victoria Kondovski 2:40pm January 12)
Congratulations on your release! I'm looking forward to
better health in 2020.
(Tina Rucci 2:44pm January 12)
More good books to read and also to take on vacation for reading on plane.
David Fredendall 01/12/20
(David Fredendall 2:55pm January 12)
Great review thank you, I'm looking for ambetter year.
Penney
(Penney Wilfort 3:03pm January 12)
I'm looking forward to spending more time with my grandchildren. We are
going camping this summer.
(Lori Byrd 3:06pm January 12)
Looking forward to an Alaskan cruise.
(Mary C 3:17pm January 12)
My youngest son is graduating high school in June and has already been
accepted to his college of choice. This will be a year of mixed emotions for
me but I'm so incredibly proud of my son and all his amazing
accomplishments. I look forward to seeing him take off and fly! I'll have
tears in my eyes but I will be so thrilled for him!
(Annette OMullan 5:06pm January 12)
I am looking forward to reading and relaxing more!
(LeAnn Abernathy 5:09pm January 12)
I'm looking forward to to some good reading, finding some
good authors and even attempting writing a book myself.
Right now I'm unpublished and write just for fun. I also
look forward to spending another year with my parents.
Book sounds like a good read. I would love to be able to
accomplish everything and then some.
Crystal Stewart
(Crystal Stewart 6:26pm January 12)
Would be interesting to read a story about dementia. It's a topic that worries me.
(Irene Henderson 7:32pm January 12)
New books.
(Kim Hansen 5:14am January 13)
I am looking forward to a more relaxing summer this year.
(Debra Patton 7:49am January 13)
I am looking forward to my winter vacation!
(Lindsey Andronak 1:12pm January 13)
I am looking forward to a more positive year. My 2019 was
full of darkness and sadness. I want a brighter, simpler,
happier year.
(Amber Gorham 3:55pm January 13)
I hope to be more patient this year and see my friends more
often!
(Linda Herold 11:45pm January 13)
Well for the immediate '20, just hoping that winter stays
mild
(Janet Johnson 11:46pm January 13)
I look forward to whatever 2020 will bring - the pure
possibilities are endless. Thanks for the chance to win.
(Nancy Reynolds 10:54am January 15)
Registered users may leave comments.
Log in or register now!