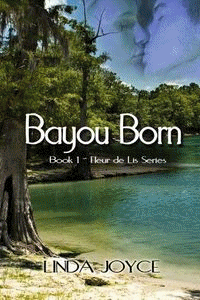 Ten winners will each get an e-book copy of BAYOU BOUND, book two in the Fleur de Lis series and one autographed copy.
Celebrating the release of book two of the Fleur de Lis series, Linda is taking you BAYOU BOUND, where dreams and traditions collide and light up the night.
Nick rescues Biloxi during a raging storm, but the squall is tame compared to the tempest between them. Soon they experience the backlash from the long-standing feud between their families. If Biloxi surrenders her dreams for Fleur de Lis and toes the line with tradition, will she also be forced to give up on "forever love" due to the hate their families still harbor?
BAYOU BORNbook one of the Fleur de Lis series

They closed the door on betrayal and broken vows, can they unlock their hearts to love?
Branna Lind's self-esteem rests at the bottom of the Mississippi River. She canceled her "wedding of the decade," though she isn't saying why. She wants life on her own terms, no ready-made job in the family business, no safety net of close-knit kin, and no more betrayal. College professor James Newbern prizes his bachelorhood. Experience has taught him beautiful women are high-maintenance trouble and Branna fits that type. He is happy to avoid her until the college vice president assigns him to mentor the newest hire—Branna. Branna is on her way to a new life, but will the scars of the past send her running from love? If she doesn't, will she convince James that she truly is his "type"?

Contest ends: June 30, 2014