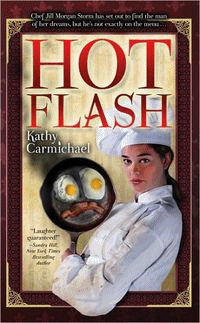 For Librarians and Booksellers ONLY
Not only are consumers feeling the economic pinch right now, but also libraries and bookstores are being affected. Booksellers and librarians have done so much to promote my books and I want to give a little something back.
So here's my way to help stretch your budget:
Enter to win a $50 pre-paid VISA card and a copy of HOT FLASH!
Calm, cool, and premenopausal?
In this laugh-out-loud story about self discovery and coming to terms with aging, forty-year-old Jill Morgan Storm sets out to find the man of-if not her dreams, her son's college tuition. Thanks to survey responses from couples celebrating significant anniversaries, she's discovered the secret to a successful marriage: a man who travels. When she "auditions" traveling salesmen, she's hoping for one week of marital bliss, three weeks off, and a monthly paycheck. Will she find herself and the man of her schemes?
For Librarians and Booksellers ONLY
Contest ends: September 30, 2009