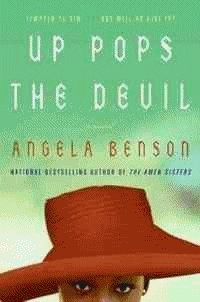 Win a special "AngelaBenson.com" tote and autographed copies of four of Angela's books: the newly released UP POPS THE DEVIL, THE AMEN SISTERS, ABIDING HOPE and AWAKENING MERCY. Four Runners-Up will receive autographed copies of Angela's newest release, UP POPS THE DEVIL.
UP POPS THE DEVIL
Order Now

Two hard years in prison have changed Wilford "Preacher" Winters for the better. He did his time, now he's going to "do the right thing." But the women in his life have other ideas.
Tanya, the sleek and sexy mother of his two kids, is much too comfortable with her pearls-and-Porsche lifestyle, and she'll do whatever it takes to maintain it... His sister, Loretta, kept "the business" running smoothly while Preacher was inside, and she can't believe he'd trade Easy Street bling for a nickel-and-dime dead-end job...
His one-time girlfriend Serena, now married to his main man Barnard, is hiding a secret—and if past sins come to light, they'll ruin several lives and a very new, very precious friendship between Preacher and Barnard's beautiful-inside-and-out sister, Natalie.
With his world about to explode all around him, Preacher's going to need every ounce of his new-found faith to remain strong. Because it takes a lot to become a new man, sometimes even a miracle.
Contest ends: August 31, 2008