Elle Keating | Author Reader Match

November 19, 2018
Feels Like Falling
Elle Keating
AVAILABLE
Dangerous Love Book 5

November 2018
On Sale: November 10, 2018
Featuring: Peyton Mattews; Luke McGinnis
ISBN: 172008274X
EAN: 9781720082743
Kindle: B07KDY3W94
e-Book
Add to Wish List

Also by Elle Keating:
Feels Like Falling, November 2018
Back to the Start, June 2018
Cut to the Chase, March 2016

Instead of trying to find your perfect match in a dating app, we bring you the "Reader Match" where we introduce you to authors as a reader you may fall in love with. It's our great pleasure to present†Elle Keating!†
Writes:
I write contemporary romance that tends to be steamy, gritty and heavy on the angst. I love torturing my readers, making them believe that all hope is lost, that my couple in no way shape or form can recover from whatever split them apart and thenÖ bam! My hero and heroine find the happy ending they deserve.
My most recent endeavor is Feels Like Falling (November 13th), a romance about a winery owner who has a past that keep him from really living, and an international fashion model who has secrets of her own.
About:
Romance writer seeks readers of stories packed with raw emotion, fierce heroines, and heroes who are willing to wear their hearts on their sleeves and fight for the women they love.
What Iím looking for in my ideal reader match:
Enjoys heroines who are not sickeningly sweet, refuse to be a doormat (especially to the hero) and give as good as they get. †
Has a weakness for conflicted heroes who want to do whatís right but need help to see the forest through the trees.
Simultaneously loves and loathes the black moment in a romance novel.
Demands a happy ending.
Enjoys stories set in Jersey, because there is no other place in the world like it!
What to expect if weíre compatible:
Some heart-wrenching moments (the kind that make you want to throw the book across the room, silently declare that you are not going to read another page, and then quickly scurry over to the book and beg the hero and heroine for forgiveness for abandoning them in their darkest hour)
Plenty of steamy scenes that will make you fan yourself and prompt you to look around to see if anyone notices that your cheeks are now fire-engine red.
An ending that makes your heart flutter and stays with you long after youíve finished the book.
Dangerous Love Book 5
Luke McGinnis is the responsible, quiet older brother. The loving son who enjoys working side-by-side with his father at the winery they co- own. At twenty-nine years old, Luke is a success story, the rags-to- riches kind. Thatís what people see. Not the ugly past he fights to keep buried... a past that keeps him from really living.
Peyton Matthews is a household name. As a model, her face has been on the covers of countless magazines and she now has more money than she will ever know what to do with. But that smile she flashes for the photographers and the media is just an illusion. That pretty package everyone envies has been her armor, her protection, and she doesnít want anyone to find a chink in it... especially not the winery owner who looks at her like he knows the dark secrets she keeps.
Romance Contemporary [Amazon Digital Text Platform, On Sale: November 10, 2018, e-Book, ISBN: 9781720082743 / ]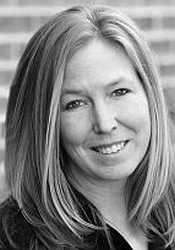 Elle Keating is the author of romance novels with sexy heroes and fierce females. Her first book, Thrill of the Chase (Dangerous Love, #1), was published by Forever Romanceís digital imprint, Forever Yours, in 2015. Cut to the Chase (Dangerous Love, #2) soon followed. Most recently, Elle self-published Wanting More (Dangerous Love, #3), Back to the Start (Dangerous Love, #4) and the standalone novel, Keeping His Commandments.
When Elle isnít torturing her heroes and heroines (donít worry, thereís always a happily ever after), she is a public school administrator and enjoys spending time with her husband and 3 children in New Jersey. For more on Elle and her books, visit ellekeating.com.
Comments
12 comments posted.
Re: Elle Keating | Author Reader Match

I love endings that make my heart flutter.
(Judy Gregory 2:36am November 19)
this sounds like a great read
(Vickie Couturier 6:14am November 19)
Great post! I do so like a happy ending.
(Debra Guyette 6:27am November 19)
Ok. We've been matched! Your requirements are my
requirements! ;) This sounds SO good
(Kathleen Bylsma 5:14pm November 19)
Sounds like a story I would love.
(Melanie Rosen 10:16pm November 19)
Your book sounds great.
(Pam Howell 7:01am November 20)
I think we all have 'secrets.' But probably not dark ones.
I like to read about past & secrets overcome. I think it
gives hope.
(Donna Durnell 12:04pm November 20)
Sounds great! Good luck with the book.
(Debra Branigan 12:48pm November 20)
Their dark secrets draw my interest and, of course, I'm looking forward to a "they lived happily ever after" ending. Thanks for the sweepstakes.
(Anna Speed 12:48pm November 21)
I love your reader match posts. They let me know just what
to expect from the author and to truly find out if I'm
going to enjoy the books. I read different genres for
different moods. There are times I want books like this
one.
(Mary Songer 6:45pm November 21)
Yes, I love happy endings like you write in your books. I love
the cover on the book too with the tall, dark and handsome
young man. I would love to win your contest and read your
fantastic stories. Thank You and Happy Thanksgiving too.
Cecilia CECE
(Cecilia Dunbar Hernandez 3:01pm November 22)
You are a new to me author! I love finding them and their
books. This one sounds really great.
(Martha Lawson 10:26pm November 23)
Registered users may leave comments.
Log in or register now!