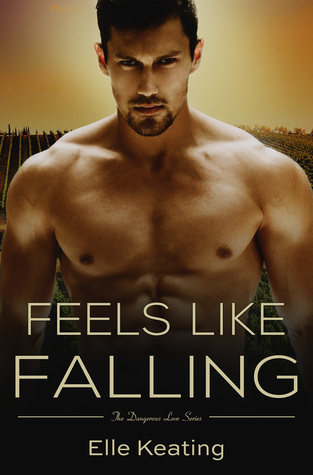 Purchase
Dangerous Love Book 5
Amazon Digital Text Platform
November 2018
On Sale: November 10, 2018
Featuring: Peyton Mattews; Luke McGinnis
ISBN: 172008274X
EAN: 9781720082743
Kindle: B07KDY3W94
e-Book
Add to Wish List

Luke McGinnis is the responsible, quiet older brother. The loving son who enjoys working side-by-side with his father at the winery they co- own. At twenty-nine years old, Luke is a success story, the rags-to- riches kind. That's what people see. Not the ugly past he fights to keep buried... a past that keeps him from really living.
Peyton Matthews is a household name. As a model, her face has been on the covers of countless magazines and she now has more money than she will ever know what to do with. But that smile she flashes for the photographers and the media is just an illusion. That pretty package everyone envies has been her armor, her protection, and she doesn't want anyone to find a chink in it... especially not the winery owner who looks at her like he knows the dark secrets she keeps.
Comments
12 comments posted.
I love endings that make my heart flutter.
(Judy Gregory 2:36am November 19, 2018)
this sounds like a great read
(Vickie Couturier 6:14am November 19, 2018)
Great post! I do so like a happy ending.
(Debra Guyette 6:27am November 19, 2018)
Ok. We've been matched! Your requirements are my
requirements! ;) This sounds SO good
(Kathleen Bylsma 5:14pm November 19, 2018)
Sounds like a story I would love.
(Melanie Rosen 10:16pm November 19, 2018)
Your book sounds great.
(Pam Howell 7:01am November 20, 2018)
I think we all have 'secrets.' But probably not dark ones.
I like to read about past & secrets overcome. I think it
gives hope.
(Donna Durnell 12:04pm November 20, 2018)
Sounds great! Good luck with the book.
(Debra Branigan 12:48pm November 20, 2018)
Their dark secrets draw my interest and, of course, I'm looking forward to a "they lived happily ever after" ending. Thanks for the sweepstakes.
(Anna Speed 12:48pm November 21, 2018)
I love your reader match posts. They let me know just what
to expect from the author and to truly find out if I'm
going to enjoy the books. I read different genres for
different moods. There are times I want books like this
one.
(Mary Songer 6:45pm November 21, 2018)
Yes, I love happy endings like you write in your books. I love
the cover on the book too with the tall, dark and handsome
young man. I would love to win your contest and read your
fantastic stories. Thank You and Happy Thanksgiving too.
Cecilia CECE
(Cecilia Dunbar Hernandez 3:01pm November 22, 2018)
You are a new to me author! I love finding them and their
books. This one sounds really great.
(Martha Lawson 10:26pm November 23, 2018)
Registered users may leave comments.
Log in or register now!