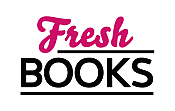 New Year, New Books!
Jodi Thomas | Digging Out A Story
GIVEAWAY: win a copy of Indigo Lake

July 18, 2017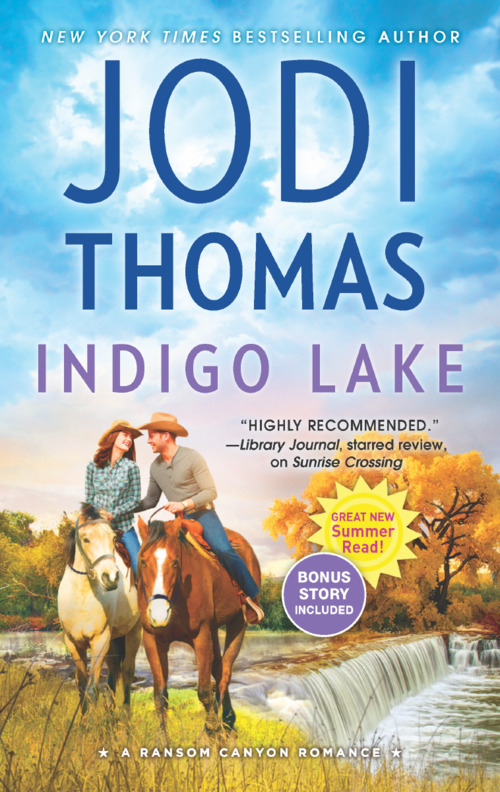 AVAILABLE
Ransom Canyon #6

July 2017
On Sale: July 18, 2017
Featuring: Blade Hamilton; Dakota; Lauren Brigman
400 pages
ISBN: 0373799365
EAN: 9780373804047
Kindle: B01N924HKC
Paperback / e-Book
Add to Wish List

Also by Jodi Thomas:
The Little Teashop on Main, May 2019
The Little Teashop on Main, May 2019
Mornings on Main, March 2019
The Valentine's Curse, December 2018

Sometimes a story sits in the back of a writer's head, waiting its turn to come out. INDIGO LAKE was like that. The two main characters came from two different worlds. Blade had no family who cares about him and Dakota was sometimes smothered in her responsibilities. Both were looking for someone, the right person, to fill the longing, but neither would admit it.
Blade Hamilton had inherited a house he cared nothing about. After driving all day to look at it, he'd decided to sell it all, land, house and heritage. He hadn't known about his father and he didn't need an old crippled house with wild roses growing almost to the roof.
Dakota Davis had heard her grandmother's dark stories about the Hamilton house all her life. When she turned off the county road heading toward home, she thought she was seeing a ghost standing knee-deep in Indigo Lake.
As they get to know one another they begin to care and the love they share seems to cut their problems in half.
I love writing stories about people who become so real to me that I wake up nights worrying about them. That's how it was with Blade and Dakota. And Dakota's sister was too good a character to let her story end so she will be the star of her own Christmas short story in October.
Hope you enjoy,
Jodi Thomas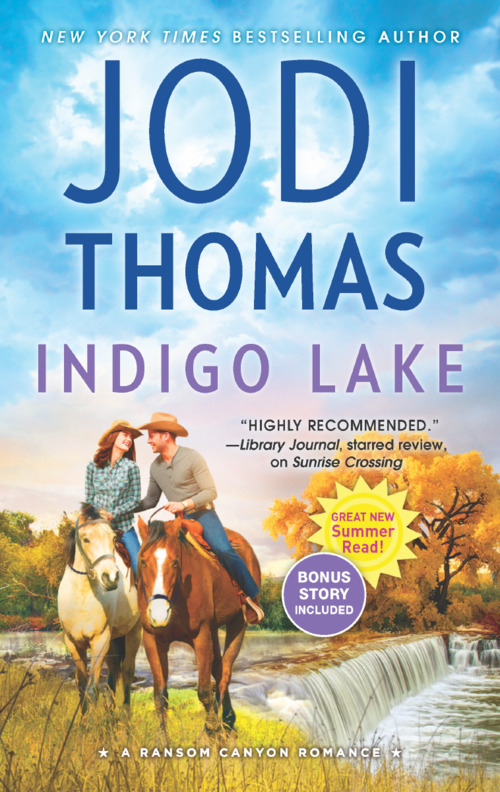 Two families long divided by an ancient feud. Can a powerful love finally unite them?
Blade Hamilton is the last of his line. He's never even heard of Crossroads, Texas, until he inherits land there. Riding in on his vintage Harley-Davidson, Blade finds a weathered ranch house, an empty prairie and a dark river that cuts a decisive path between the Hamiltons' land and that of their estranged neighbors.
When Dakota helps a stranger on the roadside, she isn't prepared for the charisma of the man on the motorbike—or for the last name he bears: Hamilton, of her family's sworn enemies, representing all she's been raised to loathe. The problem is, it looks like Blade is in town to stay, and there's something about his wolf-gray eyes she just can't ignore.
Lauren Brigman feels adrift. Unhappy in work and unlucky in love, she knows she ought to be striving for more, but she's never truly at peace unless she's at home in Crossroads. If the wider world can't satisfy her, is home truly where her heart is?
Romance Western [HQN, On Sale: July 18, 2017, Paperback / e-Book, ISBN: 9780373804047 / eISBN: 9781488023170]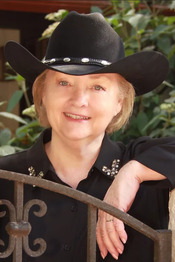 Jodi takes you to the Heart of Texas
A fifth-generation Texan, New York Times and USA Today bestselling author Jodi Thomas chooses to set the majority of her novels in her home state, where her grandmother was born in a covered wagon. A former teacher, Thomas traces the beginning of her storytelling career to the days when her twin sisters were young and impressionable.
With a degree in family studies, Thomas is a marriage and family counselor by education, a background that enables her to write about family dynamics. Honored in 2002 as a Distinguished Alumni by Texas Tech University in Lubbock, Thomas enjoys interacting with students on the West Texas A&M University campus, where she currently serves as Writer in Residence.
Commenting on her contribution to the arts, Thomas said, "When I was teaching classes full-time, I thought I was making the world a better place. Now I think of a teacher or nurse or mother settling back and relaxing with one of my books. I want to take her away on an adventure that will entertain her. Maybe, in a small way, I'm still making the world a better place."
When not working on a novel or inspiring students to pursue a writing career, Thomas enjoys traveling with her husband, renovating a historic home they bought in Amarillo and "checking up" on their two grown sons.
GIVEAWAY
Tell us below what you think about finding the "right" person and you'll be entered to win a signed copy of INDIGO LAKE
Comments
15 comments posted.
Re: Jodi Thomas | Digging Out A Story

Your books do make the world a better place! Thanks.
(Kathleen Bylsma 3:41pm July 19, 2017)
Finding the right person makes your world complete and soothes
your heart and soul.
(Sharon Berger 11:26am July 21, 2017)
Love this series and this description has hooked me in - Thanks!
(Sue Cooper 7:26pm July 22, 2017)
If you find the right person you're very lucky :)
(Kristy Imig 7:31pm July 22, 2017)
YOu are a new to me author and this story sounds great! :D
(Https://www.youtube.com/c Templin 7:47pm July 24, 2017)
I've found the wrong person, twice so finding the right person is sometimes really hard to do. I love stories about families, I can't wait to read your story.
(Linda Henderson 8:37pm July 24, 2017)
I've never been to Texas, but I've always admired the
endurance and hardiness of the people who live there.
Thanks for a great story!

BTW - I met my perfect person more than 40 years ago
after a night of indulging in a bar while in college.
Not a particularly auspicious beginning, but our 39th
anniversary comes up next month. I really can't imagine
living with another man for that length of time. If
you've got the right guy, why go looking for something
else? And if he isn't the right guy, why settle?
(Marcia Berbeza 8:42pm July 24, 2017)
to find your perfect person is a long hard road, but the
result is well worth it!
(Sandy Haber 8:48pm July 24, 2017)
you have to be open-minded to find the right person and it
often takes time
(Diane Sallans 8:50pm July 24, 2017)
I found him 34 years ago and I do thank my lucky stars daily!
(Amber Mancebo 9:16pm July 24, 2017)
I met my husband 43 years ago and we've been married 42
years. Your books are so good that I will take one and a
glass of iced tea and go and sit in my back yard swing and
read until I finish it.
(Margie Coats 10:25pm July 24, 2017)
You should consider yourself very fortunate if you find the right person. I consider myself one of the lucky ones.
(Anna Speed 6:21am July 25, 2017)
If you are lucky enough to find the right person, and know to hang on to them, I think its a wonderful thing!
(Nicole Bouchey 8:55am July 25, 2017)
Finding the right person is so important! It makes going
thru life's ups & downs an adventure!
(Maria Proctor 5:16pm July 25, 2017)
Finding the right person has to happen at the right time. TIme is important.
(Laura Gullickson 11:23pm July 25, 2017)
Registered users may leave comments.
Log in or register now!