Scroll down and take a quick look at the covers of this week's recommendations. What do you see? The first thing you may have noticed is that all the covers feature a strong woman. That's no coincidence because in the Urban Fantasy genre, it's the lead heroine that runs the show. We as the reader see the world through their eyes, making it crucial that we feel a connection to the heroine from the very first page.
But what qualities make a strong heroine? What can an author do to ensure that their readers relate to the main character? In order to answer this question, I hit social media and asked readers what qualities they liked to see in a heroine and I got so many amazing answers.
One reader stated that she enjoyed seeing strength in her heroines, even in the face of defeat. Another reader said she liked her heroines brave and intelligent, someone who constantly strives to do the right thing, even if it means taking the harder route. Another reader commented and said she enjoys a little humor from her heroines, someone with sassiness and snark. I have to agree with all of these statements. All these things make up fabulous heroines but I also think it's about balance. Too much of one can throw a reader off, but if you can find one that hits all the right notes, you're just as susceptible to fall in love with the heroine as you are with the hero.
This week I've picked series that all have fierce heroines. Each one is different but they all have qualities about them that make them unique. I'm curious to know what qualities do you like in a heroine? And who are some of your favorite heroines?
Gin Blanco was first introduced as an ice cold assassin but over the course of the series, she has grown so much, displaying her vulnerabilities as well as her strengths. Gin continues to evolve, making me admire Estep and her talents.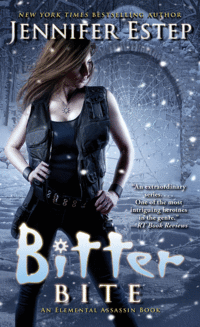 Which is stronger: blood ties or a battle-tested friendship? That's the question Gin Blanco asks when a friend's long-lost relative strolls into town. The suspicious reunion is a surprise for everyone—and a big problem for Gin. Book fourteen in the New York Times bestselling urban fantasy series RT Book Reviews calls "unbeatable entertainment!"
It's not easy being queen bee of an underworld abuzz with crooks and killers. Wielding my potent Ice and Stone elemental magic will only get me so far—my real secret is my tight-knit makeshift family, a motley crew of cops and criminals, dwarves and playboys. My foster brother Finnegan Lane is my right-hand man, but when his suddenly not-dead relative comes back into the picture, I'm the one on the outside looking in.
It's funny how life works: one minute your best friend is rock-steady, and the next he's doe-eyed and buying into this whole loving-relative routine to the point of ignoring you. I'd like to be happy for Finn, I really would. But all of my instincts are telling me that beneath the syrupy sweet demeanor and old-fashioned charm, this sudden interloper is planning something. The whole shtick leaves a bitter taste in my mouth. This person might have avoided the grave once, but I'll put anyone who hurts Finn in the ground—for good.
Price has done something right because fans have been waiting a long time to learn what happened to Alex Craft, the grave witch that can communicate with the dead. It shows that having the right balance of characteristics can make or break a series.
If you want to hear voices from the dead in Nekros City, you call Alex Craft. She's a grave witch with reasonable rates and extraordinary powers who specializes in revealing the secrets of the dead. But she has her own secrets. She's not human—and her newly discovered heritage is causing havoc for her both in the human realm and in Faerie.
Fae can't survive without a tie to Faerie, and now that Alex's true nature has awoken, she's no exception. She must align herself to a court and soon. To retain as much freedom as possible, she makes a deal to track the source of a new glamour-infused street drug which causes hallucinations that kill—and not just the user. Her investigation entangles Alex in a conflict brewing in Faerie, and she must find answers before she's dragged so deep that she loses not only her freedom, but her life.
BLOOD IN HER VEINS by Faith Hunter
There was more stories to devour in this anthology starring, Jane Yellowrock, the shapeshifting skinwalker. Hunter has created a stunning heroine who is both smart and sexy.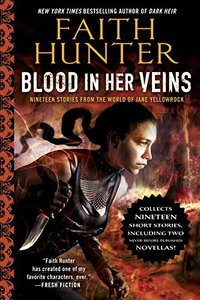 In this must-have collection of stories, experience nineteen thrilling adventures from the world of vampire- hunter Jane Yellowrock, including many fan favorites and two all-new novellas. Read about the first time Jane put the pedal to the metal in "The Early Years," and the last thing a werewolf will ever see as Jane delivers justice in "Beneath a Bloody Moon." Get a searing look into the pasts of some of the series' best-loved characters: Beast in "WeSa and the Lumber King," Rick LaFleur in "Cat Tats," and Molly Everhart Trueblood in "Haints."
In the brand-new "Cat Fight," the witches and vampires of Bayou, Oiseau, are at war over a magical talisman—and Jane must figure out how to keep the mysterious artifact out of the covetous hands of the Master of New Orleans. And in the never-before-published "Bound No More," Jane welcomes a visit from Molly and her daughter, Angie, who is about to prove she's the most powerful witch in Everhart history....
From the Big Easy to the bad bayou, from the open road to a vampire's lair—with Jane Yellowrock, it's always a given: have stakes, will travel.
4 comments posted.
I have to agree with your selection but don't forget Kitty Kat Martin from the Alien series by Gini Koch!
(Kathleen Bylsma 7:41pm February 25, 2016)
Like all three. have read the first in series for Gin Blanco and Alex Craft and enjoyed. Jane Yellowrock is in my top four, the other three being:

Kate Daniels in the Kate Daniels series by Ilona Andrews;
Elena Deveraux in the Guild Hunter series by Nalini Singh; and
Mercy Thompson in the Mercy Thompson series by Patricia Briggs

The three of them plus Jane Y are tough to beat.
(Courtney Kronk 11:26pm February 25, 2016)