Inspiration can come from anywhere for a book. News, music, other books, people in the airport, people in the car parts store, people in the news. Often it takes more than one inspiration to make a book.
A A PRINCE OF A GUY was like that. I'm not sure whether watching Prisoner of Zenda gave me the idea or the documentary on a day in the life of Prince Charles. I do know that they kind of meshed together pretty quickly. I love the idea of a normal person being cast into extraordinary circumstances. I admit I also like the idea of a normal girl enchanting a powerful, charismatic man. A star. And if not a star, a prince.
So if it were just Prisoner of Zenda that inspired me (if you haven't seen the movie, do. It's brilliant. Make sure it's the black and white version with Ronald Colman, though), Prince would be a romantic suspense. I guess it was that Day-in the-Life thing that made it a comedy.
First you should know that I'm really Irish. Really Irish. So I tend to look on the Royal Family with a certain amusement. I kind of have trouble with all that royal protocol(thank heavens I'm never going to meet the Queen. I'd probably be dragged off for smacking her in the arm when she made me laugh). And then one day I'm sitting there working on taxes or something, and PBS airs a program in which they follow Prince Charles around for the day. And while he was very busy doing good deeds and opening many businesses and clinics, every movement around him, every word was stiffened by the prescribed protocol for a prince. When he cut his middle finger on hedge-trimmers, even the bandaging and references to it were archaic (I admit I couldn't believe they didn't wait to film until that finger was able to bend again. He had his hand in a sling, with that finger wrapped white and sticking straight out. And everybody talked about it. Everybody).
As people bowed and curtsied, 'sir'd and 'your majesty'd him into a stupor, I thought, what must it be like to have every moment with other people so rigidly constructed? And what would happen if a brash young American woman found herself caught up in a court where protocol was just that rigid, that set, and she was the target....er, recipient of all that bowing and scraping? How long really could an American stand it without disrupting everything?
I guess you'll have to read A PRINCE OF A GUY to find out. Because it's Casey Phillips I put in that predicament when she travels to the tiny European country of Moritania to learn about her ancestors. What she learns instead is that she looks exactly like the current Crown Princess Cassandra, who is evidently the poster child for spoiled royals.
When the princess is kidnapped, Casey is called in to take her place. Which would be fun and all, if it weren't for the fact that the country is in as much danger as the princess, and that Casey just might be falling in love with the handsome prince. Crown Prince Eric van Lieberhaven, that is, Princess Cassandra's uncle. And poor Eric (who is, of course, handsome and suave) has known nothing but that strict protocol since birth.(He also has a grandmother who would make Catherine the Great seem like a Spice Girl). So when he finds he has to rely on a secretary from Brooklyn to pretend she's lived a royal life, he has his work cut out for him. And while he's focused on getting Casey through the impersonation without causing a state crisis, unbeknownst to him, he finds he's been falling in love all along.
So thank you to Prince Charles for giving me the idea of a day in the life of Crown Prince Eric van Lieberhaven. And I'm glad your finger healed (I'm still trying to figure out why anybody would need a white leather toilet seat, though).
New York Times Bestselling, award-winning author Eileen Dreyer has published 38 novels and 10 short stories under her name and that of her evil twin, Kathleen Korbel in contemporary romance, paranormal romance, historical romance, romantic suspense, mystery and medical forensic suspense. A proud member of RWA's Hall of FAME, she also has numerous awards from RT BookLovers and an Anthony nomination for mystery. Eileen spent 16 years as a trauma nurse and is educated in trauma, forensics and death investigation. She is now focusing on what she calls historic romantic adventure in her DRAKE'S RAKES series, the latest of which, TWICE TEMPTED, is out now. A native of St. Louis, she still lives there with her family. She has animals but refuses to subject them to the limelight.
Website | Facebook | Twitter | Blog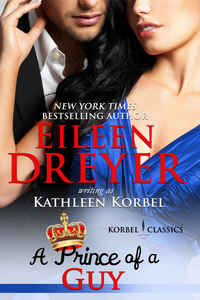 When New Yorker Casey Phillips visits the tiny country of Moritania, she simply wants to see where her ancestors came from. Instead, she's mistaken for a princess.
The real princess has been kidnapped, and Crown Prince Eric von Lieberhaven insists Casey—a dead ringer for the missing royal—step into the princess's shoes until she can be freed.
As Casey upends royal tradition, Eric finds himself hoping the cheeky American never returns home. But can a secretary from Brooklyn really find happiness with a prince?
2 comments posted.
Peggy--I admit that I troll for royal news as well. It's like my guilty pleasure. Thank you. I hope you enjoy it, and yes. I love the cover!
(Eileen Dreyer 1:15am October 14, 2015)