Enjoy this August reads.
THE VAMPIRE NEXT DOOR, Ashlyn Chase (Sourcebooks Casablanca, August 2011, $6.99)
In this third installment of Chase's lively, sexy, paranormal trilogy, we meet witch Morgaine, who is deathly afraid of the dark, and her vigilante vampire neighbor Sly, who has his reasons for hating sunlight. Sly needs Morgaine's magic to help heal a broken fang, but with further help, and sometimes hindrance, from the wacky apartment dwellers around them, they may become each other's last hope for a normal life.


BLOODLANDS, Christine Cody (Ace, August 2011, $7.99, Bloodlands)
This is the first in a compelling post-apocalyptic trilogy. It was called the New Badlands, home to the survivors of a cataclysm that altered the entire nation. Then the vampire arrived, and it was rechristened the Bloodlands. Not because of the vampire, but because of the gun-forhire who'd decided to slay every monster in the country by any and every means necessary.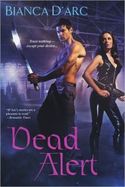 DEAD ALERT, Bianca D'Arc (Brava, August 2011, $7.99)
Pushing the boundaries of paranormal romance, e-publishing phenom Bianca D'Arc's newest in her zombie-themed series is a fast-paced adventure her fans won't want to miss. Civilian charter pilot Emily Parkington has suspicions about her employer, Praxis Air, and the recent onset of fatal crashes and mysterious cargo flights. Emily fears they might be running drugs. The reality is worse than she could imagine. Army Green Beret Lt. Sam Archer is sent in undercover to Praxis Air and teamed up with Emily. If they're trafficking in zombies and forbidden technology, he'll uncover the truth, with or without her help. But as their mutual wariness thaws, he discovers a passion he'll do anything to protect.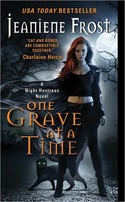 ONE GRAVE AT A TIME, Jeaniene Frost (Avon, August 2011, $7.99, Huntress)
How do you send a killer to the grave when he's already dead? Having narrowly averted an underworld World War, Cat Crawfield wants nothing more than a little downtime with her vampire husband, Bones. Unfortunately, her gift from New Orleans's voodoo queen just keeps on giving—leading to a personal favor that sends them into battle once again, this time against a villainous spirit. Centuries ago, Heinrich Kramer was a witch hunter. Now, every All Hallows Eve, he takes physical form to torture innocent women before burning them alive. This year, however, a determined Cat and Bones must risk all to send him back to the other side of eternity—forever. But one wrong step and they'll be digging their own graves.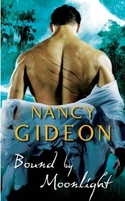 BOUND BY MOONLIGHT, Nancy Gideon (Pocket, August 2011, $7.99)
Detective Charlotte Caissie is suddenly sharing drawer space and making local news with her shape-shifter lover, Max Savoie. He's determined to be accepted by her peers—so how can she ask him to return to his criminal roots to help her solve a complex case? Working undercover with her partner to find the serial killer who's kidnapped a colleague's daughter, Cee Cee is caught between her job and her fiercely possessive lover. And when she calls on Max's preternatural talents to aid his hated enemy, she crosses a line that strains their relationship to its limit. With his secret spreading, Max is forced to protect his family and his clan. The only certainty is his love for his human mate . . . unless the loyalties that define them divide them forever.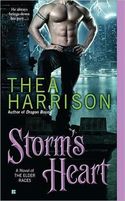 STORM'S HEART, Thea Harrison (Berkley, August 2011, $7.99, Elder Races)
Able to wield thunder and lightning, wyr sentinel Tiago Black Eagle has ruled the skies for centuries. His massive build and thunderous power make him one of the wyr's best weapons. And he's the one sent to protect Tricks, heir to the Dark Fae throne, when she's almost assassinated in Chicago. Soon Tiago and Tricks will fall prey to the stormy hunger that engulfs them—a passion that will shake the very foundation of all the worlds.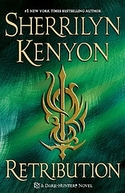 RETRIBUTION, Sherrilyn Kenyon (St. Martin's Press, August 2011, $25.99, Dark Hunters)
A hired gunslinger, William Jessup Brady lived his life with one foot in the grave. Brought back by a Greek goddess to be one of her Dark-Hunters, Jess gave his immortal soul for vengeance and swore he'd spend eternity protecting the humans he'd once considered prey. Orphaned as a toddler, Abigail Yager was taken in by a family of vampires and raised on one belief—Dark-Hunters are the evil who prey on both their people and mankind, and they must all be destroyed. Jess has been charged with finding and terminating the creature who's assassinating Dark-Hunters. The last thing he expects to find is a human face behind the killings, one that bears a striking resemblance to the one who murdered him centuries ago. Brought together by an angry god and chased by ancient enemies out to kill them both, they must find a way to overcome their mutual hatred or watch as one of the darkest of powers rises and kills both the races they've sworn to protect.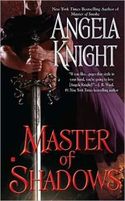 MASTER OF SHADOWS, Angela Knight (Berkley, August 2011, $7.99)
Court seducer La Belle Coeur has met her match in Tristan, a Knight of the Round Table unafraid of blood—or lust. Joining together to combat a werewolf wizard and sworn enemy of Arthur, they must put their lives on the line—while coming to grips with the rising heat between them.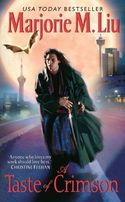 A TASTE OF CRIMSON, Margorie M. Liu (Avon, August 2011, $7.99 Reprint)
Los Angeles is no longer the City of Angels. Dark, restless things prowl the L.A. streets. A series of unexplained murders threatens to shatter an uneasy peace among humans, vampires, and werewolves. Keeli Maddox needs to find the answers. And now, if she and her kin are to survive, she must trust a man as different from her as night is from day. Michael is a slayer, a betrayer-an enemy. But Keeli, herself no stranger to shadow, knows that nobility can lurk in unexpected places— and that this remarkable being who takes her breath away is meant to be with her-forever. In the midst of gravest peril, their lives are about to change, as together they rediscover the unparalleled pleasure of skin on skin, and the sweet, forbidden ecstasy found in a taste of crimson.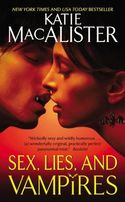 SEX, LIES, AND VAMPIRES, Katie MacAlister (Avon, August 2011, $7.99 Reprint)
Are you responsible for lifting a centuries-old curse from the sexiest vampire you've ever seen? Does a demon lord want to destroy you? Have you somehow inadvertently bound several mummies to your soul? Are you the last hope for a lost little boy? If you've answered "yes" to any of the above-you're in big trouble! Those are a few of the problems facing Nell Harris, a real charmer—no, really, a real Charmer— once she hooks up with Adrian Tomas. A devastatingly hot Dark One who's earned the unfortunate title "the Betrayer" for selling out his own kind to a very nasty demon, Adrian needs Nell in the worst way. Though she'd be way better off keeping her distance, Nell can't help but find this tormented, undead Betrayer dude just a little too tempting. And this time her penchant for bad boys might cost her more than her heart-but her immortal soul as well!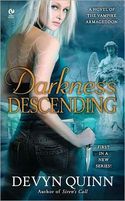 DARKNESS DESCENDING, Devyn Quinn (Signet, August 2011, $7.99, Vampire Armageddon)
Fallen angels in the form of vampires are infecting humans one by one, creating an army fit for Armageddon. Jesse Burke, driven by vengeance to destroy the vampiric angels, has been protecting New Orleans from the onslaught, unaware that she has a much greater destiny awaiting her in the face of the oncoming apocalypse.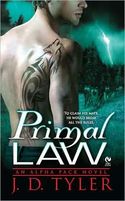 PRIMAL LAW, J.D. Tyler (Signet, August 2011, $7.99, Alpha Pack)
Meet the Alpha Pack, a top-secret military team of wolf-shifters fighting the most dangerous predators in the world, human and nonhuman. After a massacre leaves Jaxon Law crippled, he must relearn how to fight—and battle the anger and guilt threatening to overwhelm him. But when Jax rescues a beautiful woman who awakens his primal instincts, he is unprepared for the dangers that lie ahead. Soon he must decide if the deep connection he feels with Kira is worth defying the ultimate shifter law.
Enjoy- Sara Edmonds
No comments posted.