Nancy Gideon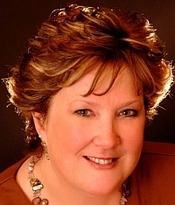 Blogging at Fresh Fiction
Nancy Gideon: Do Bad Girls Get a Bum Rap?
December 17, 2012
A good man drowning in bad deeds  . . . A bad girl denying a good heart . . . I love stories about complex characters with dark pasts searching for Read More...
Nancy Gideon | What Makes a Good Read?
May 30, 2012
I've always been a rabid reader. One of my fondest memories is the anticipation of every other Tuesday when our city's Bookmobile would Read More...
Nancy Gideon | I've got a secret!
December 2, 2011
I love a surprise! I never peeked at my Christmas gifts.  I don't read the last few pages of a book until I get Read More...
With 44 sales to her credit since her first publication in 1987, Portage, Michigan author, Nancy Gideon's writing career is as versatile as the romance market, itself. Her books encompass genres from historicals and regencies to contemporaries and the paranormal. Three of her original horror screenplays have been optioned for film. Her works have been published overseas in Romanian, Italian, Russian, Portuguese, Danish, German, Icelandic and Chinese, among other languages.
A national speaker on writing in general and romance in particular, Gideon is a Western Michigan University honor grad with degrees in Journalism and History. She's a member of the Mid-Michigan and Greater Detroit chapters of Romance Writers of America and former vice-president and award- winning newsletter editor for MMRWA. The mother of two almost independent sons, she also works full time as a legal assistant.
A prolific writer, Gideon attributes her creative output, which once peaked at seven novels in a year, to her love of history and a gift for storytelling. She also credits the discipline learned through a background in journalism and working a writing schedule around diaper changes, Scout meetings and band lessons. The due date for her third book and her second son were the same day . . . and both were early! She begins her writing day at 4:00 a.m., now that she's working 8-to-5, so she can polish a chapter while her family is still sleeping.
While the pace is often hectic, Gideon, a typical Gemini, enjoys working on diverse projects. One month, it's researching the gritty existence of 1880's Texas Rangers only to jump to modern themes of intrigue and possibly a legal thriller or two. Then, it's back to the shadowy netherworld of vampires and movie serial killers. When not working on her latest plot twist before sunrise or arranging medical depositions, she indulges in hot tub soaks under the stars, she spoils her ugly Australian Cattle dog, lazy cat, aquarium full of pampered fish and three African clawed frogs, who somehow became her responsibility at the end of a Scouting badge. Spare time is spent dissecting movie plots with her oldest son, cheerleading the radio-control flying of her youngest or pouring over hot rod magazines with her husband trying to pick the perfect color scheme for the 1938 Plymouth Coupe they're restoring.
Series
by Moonlight
Books:
Prince of Shadows, June 2013
By Moonlight #8
e-Book
Betrayed by Shadows, December 2012
By Moonlight #7
e-Book
Seeker Of Shadows, June 2012
By Moonlight #6
Paperback
Hunter Of Shadows, December 2011
by Moonlight #5
Paperback
Bound By Moonlight, August 2011
by Moonlight #4
Mass Market Paperback
Captured by Moonlight, August 2010
Moonlight #3
Mass Market Paperback
Chased by Moonlight, July 2010
Moonlight #2
Mass Market Paperback
Masked by Moonlight, June 2010
Moonlight #1
Mass Market Paperback
Warrior for One Night, April 2007
Paperback
Warrior's Second Chance, December 2006
Paperback
Warrior Without A Cause, February 2005
Paperback