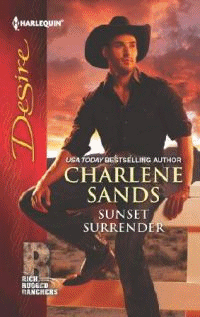 Celebrate the holiday season with one hot cowboy and "surrender" your heart from USA TODAY BESTSELLING author Charlene Sands! Win a copy of SUNSET SURRENDER, the debut book of Harlequin's Rich, Rugged Ranchers series which is the 1st book in Charlene's Slades of Sunset Ranch series. As an added New Year's bonus, Charlene is also giving away her 3 Book Set of The Worths of Red Ridge (or any other 3 books from her backlist) 4 autographed books goes to one winner! "Hunky heroes with heart!"

SUNSET SURRENDER
Order Today
"You don't belong here, Sophia."
Sophia Montrose is no stranger to Sunset Ranch. Not after the scorching kiss Logan Slade once shared with the alluring Spanish beauty in high school. Now she's back–to claim a share of his family's Nevada spread. Logan wants to hate her. After all, she's a Montrose.
Sophia hasn't forgotten that stolen moment with Logan–even if it was part of a cruel bet. Fifteen years later, she's staring into the rugged cowboy's cold black eyes–and determined to stand her ground. But will she lose her footing in the quicksand of their unquenchable love–hate passion?
"A Charlene Sands romance always leaves you with a sigh and a smile." — Cataromance
"Ms. Sands is an auto buy for this reviewer and shouldn't be missed by anyone who appreciates clean writing and a story that carries the reader on amazing and heartfelt journey." ––Honeysuckle, The Long and Short Reviews
Contest ends: January 6, 2013