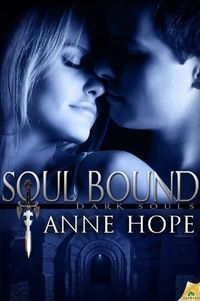 To celebrate the launch of her thrilling new Dark Souls series, Anne Hope is giving away five digital copies of SOUL BOUND, book one in the series and a Romantic Times Top Pick.

SOUL BOUND
Order Today
Sooner or later we all end up dead. Jace Cutler doesn't have the luxury of staying that way. After receiving a fatal stab wound, he awakens in a hospital room in Portland, Oregon, with no memory and a big hole where his soul used to be. Worst of all is the glow. Everyone is surrounded by a strange white aura he hungers to possess, none more compelling than the one enveloping Dr. Lia Benson.
Lia has always been ruled by reason, refusing to put stock in such nebulous things as destiny. Until Jace dies in her arms, then miraculously comes back to life. Whenever he's near, her soul responds and her body burns. And she's consumed by odd dreams she's convinced are Jace's lost memories.
When Lia is kidnapped, Jace tracks her and discovers a shocking explanation for who—and what—he is. Something no longer human, a dark legacy that until now has lain dormant within him. Something that could destroy the one woman he'd sacrifice everything to protect.
Contest ends: June 11, 2012