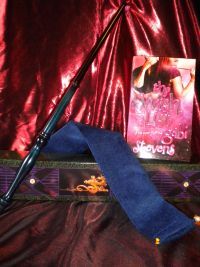 Reggie Scott, the newest of the fairy godmothers, receives a magic wand to help her focus her powers. You can win a beautiful wooden magic wand for display (or use if you have the ability!) and an autographed copy of THE WISH LIST, the first book in the Time of Transition series, featuring Kristin Montgomery and Tennyson Ritter. AS YOU WISH will be released April 26, 2011.
AS YOU WISH
Order Today
Born into a magical family, Reggie Scott is content to live out her life as a normal human until the moment she's informed that she's a newly appointed fairy godmother. Left struggling to deal with powers the never thought she'd have, Reggie faces a curse, a plot to overthrow the Arcani, and an entirely too enthusiastic mother—all in a matter of days.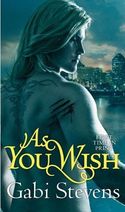 Jonathan Bastion is a man of power and wealth—and a dangerous secret. He desperately hopes that Reggie's new powers will hold the answer to his problem and he isn't above using her to achieve his goals. What he doesn't expect is how much Reggie will affect him. Her honor, her honesty, and her strength quickly make cracks in his ruthless exterior.
As danger from the Arcani swirls around them both, Jonathan realizes that what was once a ploy to get Reggie to assist him has become a battle to keep her safe and protected…in his arms.
Contest ends: March 31, 2011