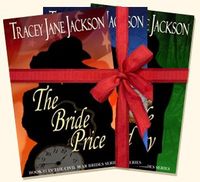 To celebrate the release of Tracey Jane Jackson's fourth release in her Civil War Brides series THE BRIDE RANSOM, Tracey is giving one lucky winner the first three books!
THE BRIDE RANSOM
Order Today
Gwendolyn Butler has been in love with Andrew Simmonds since she was fifteen years old. He saved her from a potentially harmful fall from a horse and when she looked into his eyes, she was immediately lost.
Andrew Simmonds is a complex individual. When he meets Gwen, he realizes he has met the woman he wants for life, however, she is too young.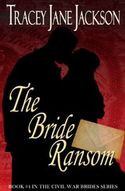 He writes to her, but does not promise a commitment. When he is badly injured at Shiloh trying to save his best friend, he makes the decision to cut ties with his beloved in order to protect her from his hideous scars.
When he realizes he can no longer deny his feelings, she rejects him.
Always seen as the jokester, he is rarely taken seriously, which is why he is perfect for his current mission. But, something goes wrong. Gwen is kidnapped and held for ransom.
Will Andrew get to her in time?
Will they make it down the aisle, or are they destined to always be apart?
Contest ends: February 28, 2011