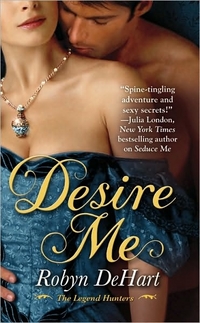 One lucky reader will win a box full of books, including Robyn's entire backlist (with Legend Hunter book 1, SEDUCE ME), as well as autographed books from plenty of Robyn's friends. But it wouldn't be spring without beautiful flowers, so in addition to the books you'll win a beautiful floral Brighton bracelet with matching earrings.
The Legend Hunters . . .
The Men of Solomon's meet in secret, their very existence only a rumor among the best of Victorian society. They are treasure hunters, men of wealth and title, seekers of myths and legends. And no legend is as mystifying as the lost city of Atlantis . . .
DESIRE ME
Years ago, Maxwell Barrett found a map to Atlantis and dedicated his life to the search for the mystical lost continent. But when an alluring woman makes a wager for the priceless artifact, he may have discovered an even greater treasure.
A descendant of Atlantis, Sabine Tobias needs the map to decipher an ancient prophecy. What she doesn't need are the sparks flying between her and Max. He's too devilishly charming to be trusted: The fate of her people is at stake as well as her heart. Yet a ruthless killer also covets the map. Now Max and Sabine must race to decode the prophecy's riddle before this criminal fulfills his deadly mission.
Early praise for DESIRE ME: "I did not just read this story, I inhaled it in one sitting. Danger, mystery, romance, suspense, and history all blend together with a healthy dose of the Atlantis legend. The result is a book destined for your Keeper shelf. Robyn DeHart has written a treasure trove of trouble that will have you reading at top speed!" ~ Huntress Reviews
Contest ends: April 12, 2010