Melia Alexander | Secret Indulgences

June 14, 2016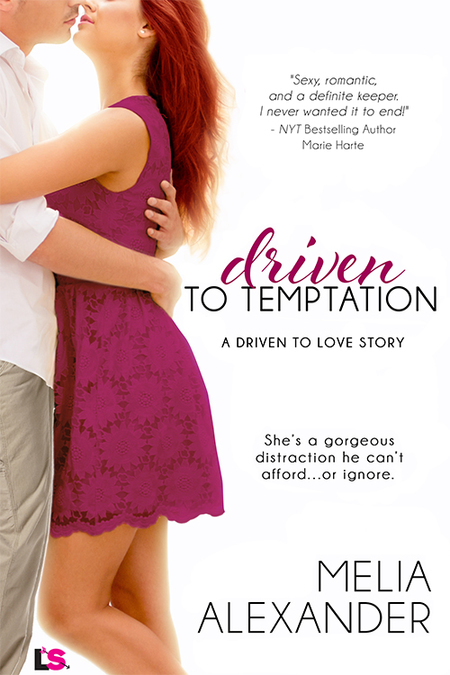 Driven to Temptation
Melia Alexander
AVAILABLE
Driven To Love #1

June 2016
On Sale: June 13, 2016
172 pages
ISBN: 1633756440
EAN: 9781633756441
Kindle: B01G1J800K
e-Book
Add to Wish List

Also by Melia Alexander:
Seduced by the Soldier, November 2019
Driven to Temptation, June 2016
Merger of the Heart, January 2015

Anyone who knows me knows just how much I adores me some dark chocolate. The 72% variety that pairs wonderfully with a cup of coffee, a glass of red wine, or a flute of champagne. Frankly, it's kinda like the perfect food! And while I'd like to claim it as my secret indulgence, in truth it really isn't.
For one thing, it's not a secret. Secondly, it's not an indulgence if it has its own space on the food pyramid – my version of it, anyway. Go on, tell me I'm wrong!
However, I do have weaknesses that, once triggered, are a bear to stuff back and overcome. So I mostly just don't indulge. Mostly. *stares at the ceiling and whistles*
But I digress…
While most people think of food, I've got three non-food indulgences:
A good book. Let's face it, there's never enough time to read. Between life at The Male Observation Lab (aka, my day – and sometimes night! – job at a construction company), raising a (drama) teen, writing-related stuff, and making sure the house is shoveled out enough so the place isn't condemned, there's just not enough time to indulge in a good story. I often stare longingly at the TBR shelf in my bookcase, and look at the book covers downloaded on my e-reader. Sigh…
A hot bath. That's right. A. Bath. I'm betting some writers would never admit this, but when the muse is channeling the story like a flash flood through the Grand Canyon, no way would I stop writing to do something as mundane as shower, let alone soak in a tub. And when in deadline mode? Well, let's just all be thankful deodorant exists…
Staring out at the Pacific Ocean. Seriously. See, I grew up on Guam, a tiny Pacific island that sports some gorgeous beaches. Only, when I lived there I never really saw them. The beaches, like the coconut trees, the warm weather, and the laid back lifestyle, just became part of the background. Which seriously sucks, now that I live more than an hour away from the coast. I do try to get over there as much as I can, and when I do, I like to stare out at the waves, toward the horizon where the water kisses the sky, and I imagine what it's like back home…
What about you? What are your favorite indulgences, food or otherwise?
Giveaway
Tell us about your indulgences and win a copy of MERGER OF THE HEART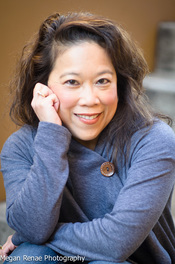 Melia Alexander is the author of sassy, sexy, fun contemporary romances, but is also fortunate to spend her week days at The Male Observation Lab (a.k.a. her job at a construction company) where she gets to observe guys in their natural habitat. Though they often behave like typical alpha males, in many instances she's seen through their personas to the heart of who they really are - the heroes of their own stories. A native of Guam, Melia traded in warm, tropical breezes for the rainy Pacific Northwest. She's an avid reader who also loves romantic comedies - preferably with a glass of CabSauv and a box of chocolates nearby. In her free time, she's busy conquering her CrossFit fears: ring dips, muscle snatches, and the dreaded 800 meter run. Her family appreciates her attempts at cooking and cleaning, although she spends it mostly daydreaming about her characters, which sometimes results in a burnt meal and a half-cleaned house.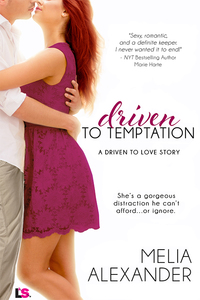 Aidan Ross might be an engineering genius, but people skills? Not this soldier's forte. Thankfully, a trusted friend is accompanying him to a make-or-break tradeshow…but then a bubbly redhead hops into his truck, claiming to be his new road trip buddy. She's a gorgeous distraction he can't afford. Or ignore.
Delaney Harper comes from a family of engineers—male engineers. With several impressive projects under her belt, she's on a mission to prove she can hang with the big boys, too. But cracking the sexy, closed-off CEO is tougher than she expects…and hotter than she could have imagined.
With the tempting woman disrupting his carefully planned schedule, Aidan can't focus on the road, much less their upcoming presentation. The future of his company is riding on this trip, and if they're to land a huge account, he has to keep his head—and his heart—in the game…
Comments
17 comments posted.
Re: Melia Alexander | Secret Indulgences

My indulgence is my grandchildren. Sometimes I don't do my everyday chores so I can spend time with them and then I fall behind. Ha But it's worth it!
(Bonnie Capuano 5:31pm June 17, 2016)
Chocolate, books, & music are my favorite indulgences.
(Kv H 11:00pm June 17, 2016)
My favorite indulgences are ice cream and playing games and entering sweepstakes on the computer . I could do that all day . But when my grandkids are here , all of the above will be put on HOLD ..Thanks for this chance to win your book .
(Joan Thrasher 10:36am June 18, 2016)
I indulge by buying gifts for the grandchildren. Books and
small toys.
(Sharon Berger 1:59pm June 18, 2016)
Chocolate. And books. and more chocolate -- dark is the
best!
(Sandy Haber 9:23pm June 18, 2016)
Hey there, all. *waves* Thanks for stopping by!

Children and grandchildren should definitely be high on the list of indulgences, with books and chocolate close behind, of course! ;)

Sandy Haber, I totally agree with you - dark chocolate is the best!!

Thanks bunches for your comments!

~Melia
(Melia Alexander 2:24am June 19, 2016)
Reading...hardly a secret...gardening...not secret either....chocolate ganache cake..again, no secret...guess my life is an open book ;)
(Kathleen Bylsma 4:02pm June 19, 2016)
For food--almost anything chocolate. Non-food--estate sales--I rarely buy anything, but I like looking at the lovely (sometimes not so lovely!) goodies, but every once in awhile there is something that I want. Can't really say I NEED them though!
(Cathy Burkhead 3:29pm June 20, 2016)
All of those sound really good.
(Kim Matlock 8:41pm June 20, 2016)
Books and chocolate are my indulgences for sure! And I love that one of
yours is staring out at the ocean. Being at our family cottage, sitting on the
deck, sipping my morning tea and watching the loons on the lake is a
blissful summer morning.
(Laura Scott 11:54pm June 20, 2016)
Books, a good steak, French fries, sinful dessert...I could go on!
(Cynthia Powers 5:49am June 22, 2016)
Books and/or Cheese Curls :)
(Vanessa Hinman 7:33am June 22, 2016)
A good book and taking my grandchildren shopping
(Anna Speed 12:58pm June 22, 2016)
cupcakes...books...and chocolate!!!!
(Bonnie Capuano 2:09pm June 22, 2016)
Books, cheesecake, & chocolate! (And spending time with my
nieces & nephews!)
(Maria Proctor 5:05pm June 22, 2016)
Be able to physically do what I want, when I want. Pain has
taken that away from me. Books take me away from the pain.
(Kathleen Bylsma 5:46pm June 22, 2016)
Hey there, everyone!

Thanks for stopping by. Great to see you here! I'm loving all the BOOKS as an indulgence!! You all know the way to my heart. :)

Cathy Burkhead -- Estate sales! Now there's something I need to do more of, too. Bet you've found some great deals, huh?

Laura Scott -- Sounds like you live in a really cool place. Lucky!! :)

Kathleen Bylsma -- Hugs to you! I know that's not easy to live with, and I'm glad you find comfort in a good book!!

Happy reading, everyone!

~Melia
(Melia Alexander 11:20pm June 26, 2016)
Registered users may leave comments.
Log in or register now!