Jaime Jo Wright | The Wildness of a Hero

February 12, 2016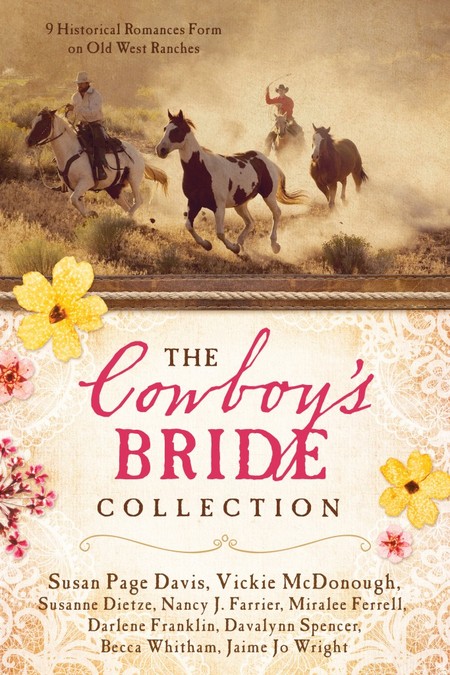 The Cowboy's Bride Collection
Susan Page Davis, Jaime Jo Wright
AVAILABLE
9 Historical Romances Form on Old West Ranches

March 2016
On Sale: March 1, 2016
448 pages
ISBN: 1634095251
EAN: 9781634095259
Paperback
Add to Wish List

Also by Susan Page Davis:
A Place to Call Home, July 2020
Seven Brides for Seven Mail-Order Husbands Romance Collection, June 2017
The 12 Brides of Summer Collection, June 2016
The Cowboy's Bride Collection, March 2016

Also by Jaime Jo Wright:
The Souls of Lost Lake, April 2022
On the Cliffs of Foxglove Manor, June 2021
The Haunting at Bonaventure Circus, September 2020
Echoes among the Stones, December 2019

Who doesn't love a cowboy? I grew up with my very own, and Uncle Dave taught me much about being strong, in-your-face, feisty, and a teensy bit gruff. He was all grizzle and toughness, wrapped with muscle, leathery skin, calloused hands, and legs that bowed. But inside? The man was as mushy as a biscuit left out in the rain.
The proverbial cowpoke is often portrayed that way in novels, but in real life, that's how Uncle Dave was. A cigarette hung from his mouth in a lazy slope, but his grumbling "Hey, Babe" was usually followed with a ruffle of my hair, a squeeze of my hand, or sometimes, I was lucky to get a kiss on the cheek.
He'd been bitten by a black widow spider, wrangled tarantulas along with mustangs, branded steers, and shot rattlers. He also read me stories, took me on burro rides, and taught me how to throw a lasso—maybe not successfully, but tossing a rope into the air is darn fun whether you rope a hay bale or a sheep.
I like to argue we love our heroes because of the heroes we knew. Maybe from afar, or maybe blessed to curl up on their lap when we were dog-tired as a kid. That familiar smell of smoke, coffee, and leather will always awaken my senses to the strength of a cowboy—and the strength of my hero. Because a good hero lives on with every memory, with every heartbeat. A good hero captivates the imagination, buries themselves in your soul, and hangs on to you like a champion.
We may not always need saving. Goodness knows, my uncle taught me to be a strong woman who didn't need to be rescued. But, he also taught me that loving hard isn't a weakness either, and needing another is something precious. Like a wild mustang, freedom is exhilarating, but as our eyes connect in that wildness, we know the chasm between independence and commitment is not as wide as we like to make it out to be.
So Uncle Dave is a hero, and as he swaggered across the desert into the horizon and Heaven, he left behind a niece, with a hopeless sense of romanticism and wild and crazy will to stand.
Giveaway
Did you have a hero growing up? Tell us who he was or your idea of a cowboy hero below and one commenter will win a copy of THE COWBOY'S BRIDE COLLECTION
Jonah Sparks thought he hired a foreman not a dictator, but when the firecracker CJ Matheson rides in to lasso the pieces of his mismanaged, New Mexico ranch, Jonah is ready to call it quits. She wasn't supposed to be pretty. She wasn't supposed be a she.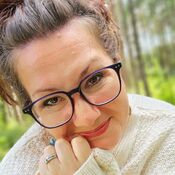 Professional coffee drinker, Jaime Jo Wright, resides in the hills of Wisconsin. She loves to write spirited turn-of-the-century romance, stained with suspense. Her day job finds her as a Director of Sales & Development. She's wife to a rock climbing, bow-hunting Pre-K teacher, mom to a coffee-drinking little girl, and a little boy she fondly refers to as her mischievous "Peter Pan". Jaime completes her persona by being an admitted social media junkie and coffee snob. She is a member of ACFW and has the best writing sisters EVER!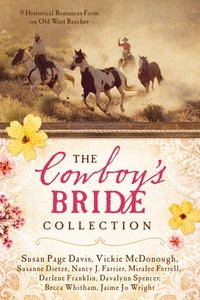 9 Historical Romances Form on Old West Ranches
Ride onto the open range alongside cowboys and cowgirls who embrace the adventures of living in the Old West from Kansas to New Mexico, Colorado to Texas. Whether rounding up cattle or mustangs, training horses, fending off outlaws, weathering storms, competing in rodeos, or surviving drought these cowboys work hard each day. But when hardheaded men have their weaknesses exposed by well-meaning women will they stampede away or will a lasting love develop? Find out in this exciting collection of nine historical romances.
Comments
34 comments posted.
Re: Jaime Jo Wright | The Wildness of a Hero

Yummy cowboys
(Marissa Yip-Young 10:49am February 12, 2016)
A good cowboy hero is a hard working protector with heart.
I love reading about rough around the edges softies.
Congratulations on your new release, Jaime!
(Beth Schwarzlose 10:52am February 12, 2016)
oh what a fun article!! My daddy was/is my hero growing up.
He told me every day that he loved me, gave me a safe place
to land, and smelled like Jimmy Olsen from Superman (don't
ask). He's definitely not a cowboy though. And for someone
who is terrified of all things horses and dirt, I do think
cowboys make quite yummy heroes :)
(Carrie Schmidt 11:01am February 12, 2016)
John Wayne was my hero and all the cowboys. I lost my dad when I was little and John Wayne reminded me of him.
(Jennifer Beck 11:47am February 12, 2016)
Love this collection of cowboys and heroes! Thanks for
the giveaway. Growing up, my dad was my hero. He worked
long hours, but every night coming home, he would come
check on my siblings and I. He would tuck us in more, if
our blankets were spewed all around. He would take us on
little excursions when he has off, which isn't often. He
worked hard to give us a safe and comforting home. He's
my hero.
(Annie Jc 11:48am February 12, 2016)
My dad is my hero... growing up and seeing him do what he could for our community as a cop and a volunteer firefighter...
(Colleen Conklin 11:53am February 12, 2016)
I was a real tomboy growing up so my heroes were Batman,
Superman, Zorro and James Bond! My cowboy heroes were on
Gunsmoke. I would watch the show with my dad.
(Maryann Skaritka 12:23pm February 12, 2016)
My hero growing up,was an older youth leader. He would drive across
town to pick my younger brother up for church Wednesday night's. That
was before I could drive. My parents weren't church goers.
My fantasy cowboy was always John Wayne.
(Gail Hollingsworth 12:33pm February 12, 2016)
I grew up watching westerns; The Lone Ranger, Bonanza, The
Ponderosa, and many others. My favorite cowboy was Little
Joe. But, my hero was my dad. He was a very generous, humble
man. He gave to others when he really didn't have anything
to give. He gave of his time, his resources, and his
finances. He also gave his heart. He cared deeply for his
family, his neighbors, friends, anybody he came in contact
with. He showed concern and tenderness and exemplified what
it means to be a decent human being. Twenty two years later
I still miss him.
(Barbara Derse 1:53pm February 12, 2016)
My hero were all the brave men who worked hard to provide for
their families, who knew what the value of work was, who had
integrity, strength of character and principles, including my
father. The men when men were men and never complained and
carried on with life no matter the adversity.
(Sharon Berger 4:27pm February 12, 2016)
I loved watching the Westerns on TV when I was growing up: Hopalong Cassidy, Cisco and the Poncho Kid, Roy Rogers, Gene Autry, Zorro - shows predate a lot of readers, lol. Guess I would have to say my father was my hero while young, God is my "Super Hero" now.
(Bonnie Roof 4:30pm February 12, 2016)
My grandfather was (my dad was a very close 2nd) my biggest
hero. He could calm a dog, cat, & even bird, I was in awe.
Everyone was drawn to him. He made you feel like you were
the most important person in the world. When I would visit
on weekends, he was always teaching me about something. And
he grew the most beautiful roses, mostly yellow for my
grandmother.
(S W 7:10pm February 12, 2016)
Love cowboys and cowgirls...my grandfather told me he lives next door to Annie Oakley for a while!
(Bonnie Capuano 8:42am February 13, 2016)
My dad was my hero .He was a very good man always had time to listen to you and would tell you he loved you . He helped everyone in our community when and if they needed help . He could fix or make whatever needed to be done . He was the one that kept our family together . When he died in 1970 our family fell apart and it never got back to what it should have been . It's so sad for families to let this happen but there seems to be one child that wants all and thanks he is the only deserving one .I would love to win this collection and I thank you for this chance .
(Joan Thrasher 11:55am February 13, 2016)
My dad was my hero. He was a preacher of the Gospel and he was dubbed the Cowboy Preacher. He has been gone many years but I miss him still. Thank you for a chance to win this book.
(Stella Potts 1:06pm February 13, 2016)
My Dad has always been my hero. He has always been there when I needed him. He is easy to talk to and has rescued me many times is many ways. I have always loved cowboys and horses and everything western. So I will be looking for the Cowboy's Bride Collection. It sounds like the perfect read.
(Arleen Lancaster 6:29pm February 13, 2016)
my favorite cowboy was John Wayne
(Diane Sallans 6:48pm February 13, 2016)
My heroes have always been cowboys
Since I was real small.
'Oaters' brought me lots of joy-
I really loved them all!
Maverick, Wyatt Earp,
The Rifleman and Cheyenne-
They all came across to me
As law-abiding men
In what I saw in shows
Tied to the old west-
Cowboys-men of honor...
Who always showed their best.
(John Dallal 7:01pm February 13, 2016)
I attended Hardin-Simmons University where the football team is the Cowboys and the band is the Cowboy Band. The college is located in West Texas where I was surrounded by lots of cowboys. They are interesting and very friendly individuals and books about cowboys are my favorites.
(Gladys Paradowski 12:00pm February 14, 2016)
My hero growing up was my dad. He always worked so hard to provide for
our family and I thought that was admirable.
(Lily Shah 1:25pm February 14, 2016)
I want to be able to say I had a hero growing up, but my
childhood was a little messed up. I love reading about cowboy
heroes because they are hardworking, don't take shortcuts,
have pride in everything they do. How could you not fall in
love with a man like that?
(Tanya Guthrie 2:39pm February 14, 2016)
Growing up, my dad was my hero! I once took a broken crayon out to his shop because I knew he could fix it. My brother would be my first cowboy hero. I can remember playing "cowboys and Indians" with him. He always rescued me! My real life cowboy hero is my husband. He's as cowboy as they get...Wranglers, boots, and black felt hat!
(Amy Morgan 4:27pm February 14, 2016)
This book sounds great. I'm like a lot of the other responders: my Dad was my hero. He was all powerful, even if he was a bit "gruff." But I always knew he could do/fix anything and everything. I always loved watching cowboy movies and programs, or reading cowboy-themed books.
(Nancy Reynolds 10:20am February 15, 2016)
lve me tose cowboys! always wanted one of my own, but i
have my dad to be my hero.
(Sandy Haber 8:42pm February 15, 2016)
my dad was my hero for all time
(Ann Unger 9:41pm February 15, 2016)
Jimmy Stewart played great in westerns!
(Martha Crutchfield 2:38am February 16, 2016)
Love cowboys!!! Love them in books!! So romantic!
(Bonnie Capuano 9:54am February 16, 2016)
My step-father who raised me. When we moved from California to
West Texas, Monahans, we saw flames from the oil fields. He
told us that is how the cowboys light their cigarettes and we
believed him.
Loved John Wayne.
(Leona Olson 10:58am February 16, 2016)
My dad is my hero. Doing for his family and community
(Patricia Wagner 11:10am February 16, 2016)
My dad was my hero. As far as I was concerned, he could do no wrong. When I was young, Gene Autry and Roy Rogers were my movie cowboy heroes. They always wore a white hat and fought against evil.
(Anna Speed 12:00pm February 16, 2016)
My Dad was my hero. I wish he was around for the Grandchildren to spend time with.
(Jane Komppa 4:47pm February 16, 2016)
My husband is my hero! He's the most wonderful person I've
ever known!
(Maria Proctor 4:50pm February 16, 2016)
Jaime, congratulations on your release! I grew up watching Saddle Up Saturdays and reading Louis L'Amour's books.
(Caryl Kane 2:22pm February 23, 2016)
Toss me in, My dad was always a hero for me.. He was a gun totin
Sheriff !
(Deanna Stevens 8:50am February 29, 2016)
Registered users may leave comments.
Log in or register now!