Look, we all know I like to write a lot of different genres—from contemporary to military to paranormal romance—but one thing I always swear by is that my characters will drive the stories. My love affair with romance began with my grandmother reading Harlequin romance novels to me instead of picture books. My love for the genre and Nan's deep affection inspired me to follow my own dreams and develop romances of my own. My uncle used to say, you only have one life—live it. I took those words to heart.
I've made some mistakes over time. I've struggled to try and make everyone happy and forgot to make myself happy, too. In the last six years, I've rediscovered that dedication to pursuing my joy and, 85 books later, I'm still chasing it full tilt. Over the last few weeks, I've also remembered so many of the choices I've made—good and bad—and how they all provided the bricks for the road I follow. RIVER WOLF is a book I'm really proud of because it's an exercise in finding that inspiration to be more—to be happy and to find your joy.
For fun, I reached out to my fellow writers, friends and family to ask them if I managed to pay the inspiration forward. Here is what they had to say to the question of: Have I ever inspired you?
To Be the Best Version of Myself
"I think you inspire me—and everyone you know—to not only be a better writer but the best version of myself." - Rebecca Royce, Award Winning Author
To Write What I Want to Read
"You inspired me to write the books I want to read. By being brave in your storytelling, you sort of gave me permission to dabble in the crazy ideas. You allowed me to play with my words, with your verb inventions... Being your friend has been both one of my greatest pleasures and honors and I'm thrilled Fate chose to entwine our paths." – Virginia Nelson, USA Today Best Selling Author
To Be in Competition with Myself
"You inspired me because of the way you do things. Your work ethic gives me both something to strive for and prove that the way I want to do things is possible. It's not a competition with you, but with myself to both produce the way you do, and maybe actually write all the stories in my head before I die and to touch people with every single story I write. To have every character's journey mean something to my readers the way yours do." – Saranna DeWylde, Award Winning Author
To Be Dedicated to Getting the Job Done
"Your work ethic. It is similar to my own and, when I get overwhelmed, I always seem to see something posted by you on Facebook about working." – Melissa Schroeder, USA Today Best Selling Author
To Embrace the Crazy
"You inspire me to embrace the crazy and just write already. Writing is a nutty life, but with friends like Heather, I know I'm not the only one out there dealing with the weirdness. Plus we share an inner geek. I'm all for that." – Avery Flynn, Award Winning Author
To Stick to It
"You've inspired me in many ways. Personally and professionally. I remember when you decided to make writing a priority and set a plan and starting writing Crazy numbers and keeping it up... Your life was no different than anyone else's—problems, struggles, etc—but you made that commitment and it's inspired me since. I watched you work your butt off and keep plugging away without "instant" success or fame... That's an inspiration. The take away for me is make your plan, have the courage to stick to it despite whatever else is going on in your life, make no excuses and get it done. Don't stop because of rejections or a book that doesn't sell as well as you'd hoped, just keep going." – Kimberly Quinton, Debut Author of Sexy, Sweet Romance
To Not Pull My Punches
"Heather inspired me to not pull my punches. Literally. She's a fast hitting author who writes gritty characters that linger with me long after I'm done reading their story. *coughCoppercough* She makes me want to get to the meat of my characters and be a better author. Love love love her stories!" – Jennifer Kacey, Award Winning Author
To Maintain a Positive Attitude
"Heather and I live in an insane world with constant deadlines, pressures and frustrations. One thing I find amazing about her is her strong, stolid perseverance! She just keeps plugging on with a positive attitude. She also goes out of her way to help her fellow authors in really meaningful ways. This is inspiring to me, because I believe in the same philosophy. Though it can be hard to maintain a positive attitude at all times, having a friend like Heather makes it possible. Thank you Heather for all you do, and continued success on your journey. You truly are my hero!" - Sabrina York, New York Times and USA Today Best Selling Author
To Find the Joy
"Of course you inspire me, you're my mom. You believe in me and it makes me believe in myself, but you also make me believe that even when I don't succeed, it's okay as long as I don't give up and I keep chasing what makes me happy. Finding my joy makes all the work worth it." – Mini Me, Award Winning Child
The answers I received to the question blew me away. Paying inspiration forward is one of the best gifts I think I can give. I can honestly say, every one of those who answered inspires me every day with their support, friendship, and love. Like Brett, sometimes I just need to know people are there. What inspires you?
National bestselling author, Heather Long, likes long walks in the park, science fiction, superheroes, Marines, and men who aren't douche bags. Her books are filled with heroes and heroines tangled in romance as hot as Texas summertime. From paranormal historical westerns to contemporary military romance, Heather might switch genres, but one thing is true in all of her stories—her characters drive the books. When she's not wrangling her menagerie of animals, she devotes her time to family and friends she considers family. She believes if you like your heroes so real you could lick the grit off their chest, and your heroines so likable, you're sure you've been friends with women just like them, you'll enjoy her worlds as much as she does.
Website | Twitter | Facebook | Blog | Goodreads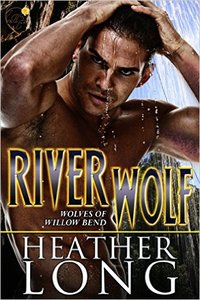 Brett Dalton, Alpha of Hudson River, isolated himself from his pack mates after one betrayed him. The once, easygoing Alpha has become taciturn, remote and unforgiving. His pack worries for him, but they too have suffered a devastating blow. When several members leave to join Three Rivers, the pack faces the threat of dissolution until Brett's best friend and Lone Wolf, Luc Danes returns to Hudson River accompanied by a beautiful young human--or is she? Something about the woman consumes Brett. Has Luc come home to help or to take the pack from Brett?
Colby Jenson wrapped up thousands of hours of community service working at the hospital in Maine when an injured Luc Danes rolled through the door. The impossible patient drove the nurses crazy, but when Danes offered her money no strings attached to drive him to New York, she agreed. The last thing she expected was to arrive in the small Westchester County town and to meet the craziest collection of residents-- especially the devastatingly sexy Brett Dalton. Part of her wants to hit the road, the rest wants to make him smile and he keeps making excuses for her to stay.
Then she sees the wolves...and is exposed to a world she can barely imagine. When Brett discovers a secret about her, nothing will be the same again. Now she will find herself torn between a world she isn't sure she can understand and the man who has taken her heart hostage...
2 comments posted.