In the center of Key West there lies a beautiful, old cemetery. On the carved stones and crypts, visitors can read snatches of stories of former islanders. Some of the gravesites are very well tended, while others are crumbling. Some are surrounded by stone walls and others by spiked metal fences.
One sunny day, I wandered through the cemetery and began thinking about the people who were buried there, and the relatives who survived them. Where could I find a better setting for a mystery?
So in FATAL RESERVATIONS, the sixth Key West mystery, I nudged Hayley Snow's roommate, Miss Gloria, to volunteer for training as a cemetery tour guide.
Hayley is not a fan of Miss Gloria's new job. Down deep inside, she's terrified that all that death will rub off on her friend and she'll and end up in one of those tombs instead of standing on the outside telling their stories. But Miss Gloria tells her: "It's important to remind ourselves about our history, about the interesting people that came before us. We'll want some little old ladies remembering us in the decades to come, won't we?"
Early in the book, a body washes up near Houseboat Row and Hayley's dear friend, Lorenzo, the tarot card reader, is accused of murder. As the mystery unfolds, Hayley and Miss Gloria realize that the people they should be afraid of are the live ones, not those already dead.
Lucy Burdette is the author of the Key West food critic mystery series, launching in January 2012 with AN APPETITE FOR MURDER (NAL.)
Lucy's alter-ego, clinical psychologist Roberta Isleib, has published eight mysteries including the golf lover's mystery series and the advice column mysteries. Her books and stories have been short-listed for Agatha, Anthony, and Macavity awards. She's a member of Mystery Writers of America, Romance Writers of America, and Sisters in Crime, and a past-president of Sisters in Crime.
Website | Twitter | Facebook | Blog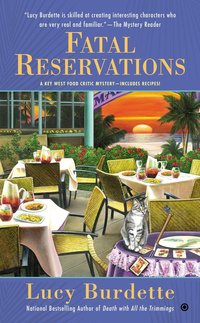 In the latest Key West Food Critic mystery, Hayley Snow's beat is reviewing restaurants for Key Zest magazine. But she sets aside her knife and fork when a dear friend is accused of murder…
Hayley Snow looks forward to reviewing For Goodness Sake, a new floating restaurant that promises a fresh take on Japanese delicacies like flambéed grouper with locally sourced seaweed. But nearby land-based restaurateurs would rather see their buoyant competition sink.
Sent to a City Commission meeting to cover the controversy, Hayley witnesses another uproar. The quirky performers of the daily Sunset Celebration are struggling to hold onto their performance space. The fight for Mallory Square has renewed old rivalries between Hayley's Tarot-card reading friend Lorenzo and a flaming-fork-juggling nemesis, Bart Frontgate—but things take a deadly turn when Bart is found murdered.
If Lorenzo could read his own cards, he might draw The Hanged Man. He can only hope that Hayley draws Justice as she tries to clear him of murder…
No comments posted.