Morgan O'Neill | Tripping Through Time

January 7, 2015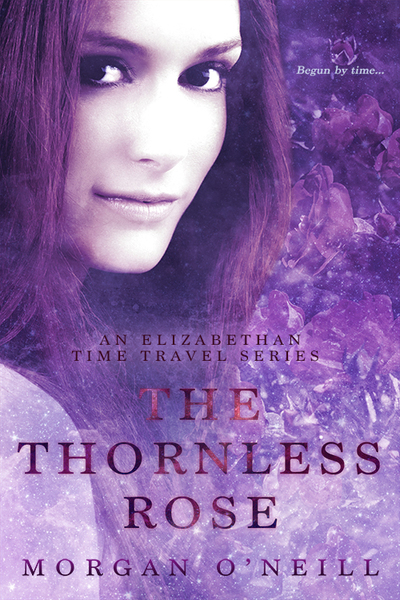 The Thornless Rose
Morgan O'Neill
AVAILABLE
Love is begun by time...

January 2015
On Sale: December 29, 2014
Featuring: Anne Howard; Dr. Jonathan Brandon; Queen Elizabeth I
577 pages
ISBN: 9781633751
EAN: 9781633751767
Kindle: B00QRW3OH6
e-Book
Add to Wish List

Also by Morgan O'Neill:
Begun by Time, September 2015
The Thornless Rose, January 2015

Did you ever wonder how authors get inspiration for scenes in their novels? We, co-authors Cary Morgan Frates and Deborah O'Neill Cordes, have used our actual experiences and things that happened to our family members, some of which occurred well before we were born. This became fodder for scenes in THE THORNLESS ROSE, An Elizabethan Time Travel Novel. What time trippy fun!
One incident was passed down in Deborah's family. On a wintry day in the 1930s, her maternal grandfather came home with something hidden beneath his coat, a bulge in his breast pocket. Everyone assumed it was a bottle of "good cheer," until it started to wiggle. Out popped the head of a dachshund puppy! Deborah's uncle, then a little boy, promptly called the pup Whiskey. The name stuck, and Whiskey became a beloved family member. Deborah incorporated some of this story into THE THORNLESS ROSE, in the scene where Dr. Jonathan Brandon gives a Christmas gift to his fiancée, Catherine, just before he vanishes. The amusing incident takes on poignancy as time goes on and Jonathan doesn't return, for Catherine realizes the dog was his last gift to her.
And Cary recalls a visit to a wonderful pub in London that has existed in the same spot since the 1540s. Atmospheric and inviting, she remembers having a pint or two on a cold, damp day––or was that a Scotch whiskey? She hopes to go back in the near future, perhaps to meet up with that special someone, a handsome man with deep blue eyes. And so, it seemed natural it should become our fictional pub, The Bishop's Crook, where Jonathan Brandon and our other characters meet their futures headlong––in the past.
Another inspiration for Deborah took place at Westminster Abbey. While visiting for the first time many decades ago, she was stuck by the feeling of "being home," as if she belonged there, as if someone were calling her name. It wasn't until years later, while researching her family history, that she discovered she is a direct descendant of many of the English kings and queens buried there, like King Edward III and his wife, Philippa of Hainault. Deborah's also a distant cousin of Queen Elizabeth I, who figures prominently as a character in THE THORNLESS ROSE. How she sensed these connections beforehand is a mystery, but sense them she did, because it's the only time she's ever felt such a compelling "presence." So, it seemed natural for the Abbey to become one of the pivotal places in our novel, magnificent in its haunted beauty - and a great spot for trips through time!
It's interesting that Cary may also have a familial connection to Queen Elizabeth I via Mary Tudor, the sister of Elizabeth's father, King Henry VIII. One of Cary's family names is Brandon, and her grandmother told her of a direct connection to Charles Brandon, 1st duke of Suffolk, who was the second husband of Mary Tudor. Cary has always felt a deep connection to Queen Elizabeth I, and it was her inspiration, perhaps coming via her own Tudor genes, that was the spark igniting the quest to create a novel in which Elizabeth plays such a great role.
We hope you enjoy THE THORNLESS ROSE. Thank you so much––and happy reading!
When and where would you go if you could travel through time? Leave a comment below to be entered to win e-book copies of the Italian time travel duo, THE OTHER SIDE OF HEAVEN and TIME ENOUGH FOR LOVE.
About THE THORNLESS ROSE
No one ever knew what really happened to Dr. Jonathan Brandon back in 1945. He simply disappeared from a London pub, leaving behind an unsolved mystery and his fiancée— Anne Howard's grandmother. Seventy years later, Anne herself is haunted by the strange tale, along with inexplicable hallucinations straight out of Elizabethan England. Including a scarred, handsome man whose deep blue eyes seem to touch her very soul….
Anne wonders if there isn't something more to the story. Is it even possible that Jonathan disappeared into England's dark past? And why does Anne keep hearing him whisper her name? Because now she too feels the inexorable pull of the past, not to mention an undeniable attraction for a man she doesn't even know.
It's just a matter of time before Anne will step back into history, and face a destiny and a love beyond imagining…
Read Fresh Fiction's review of THE THORNLESS ROSE here.
About Morgan O'Neill
Two authors writing as one, Cary Morgan Frates and Deborah O'Neill Cordes specialize in recreating pivotal moments in history, epic adventure, and romance––with a time travel twist. Their newest novel, The Thornless Rose, an Elizabethan Time Travel novel, debuted from Entangled in December, 2014. They are also the authors of time travel series set in medieval Italy and ancient Rome.
Comments
42 comments posted.
Re: Morgan O'Neill | Tripping Through Time

Thank you, Fresh Fiction. It's wonderful to be here to share some of our writerly inspirations. The Thornless Rose was a joy to research and write, and I hope your readers have a great time journeying with Anne and Jonathan to Elizabethan England. Happy New Year to one and all!
(Deborah Cordes 1:00pm January 7, 2015)
Thank you so much for hosting Morgan O'Neill and The
Thornless Rose today. Lovely and appreciated. We had a
wonderful time creating this tale, and sincerely hope our
readers will have just as much fun reading.
(Cary Morgan Frates 1:18pm January 7, 2015)
Love the story about the dachshund. I've just barely cracked open your new
book, but I can tell from the first paragraph that it's going to be an enjoyable
read. Love your time travel books.
(Becky Lower 2:14pm January 7, 2015)
Thank you, Becky! Happy reading!
(Deborah Cordes 2:21pm January 7, 2015)
Thank you, Becky!! Curl up with a warm beverage of your
choice and enjoy!!
(Cary Morgan Frates 2:28pm January 7, 2015)
Fabulous insight into the background behind this story --
which, btw, is on my kindle waiting to be read. Morgan O'Neill
spin fantastic stories that I highly recommend and I can't wait
to start this one!
(Terri Herman-Ponce 2:37pm January 7, 2015)
Great post. It's always fascinating to see how authors get inspiration and how they weave it into their stories! I loved The Thornless Rose. Cary and Deborah write such wonderful time-travel novels that are not to be missed.
(Erin Richards 3:25pm January 7, 2015)
I read this story about two weeks ago and I still think
about it. I love love love it. I was very delighted and
satisfied by the time I reach the end. I would never travel
to the past though...heck no! LOL...The future is where I
would go.
(Stacy Reid 3:32pm January 7, 2015)
I have always been curious about the parties during the regency era... the clothes, the dances, the etiquette, etc.
(Colleen Conklin 3:38pm January 7, 2015)
Thank you for your kind words ladies!
(Cary Morgan Frates 4:24pm January 7, 2015)
Terri, Erin, Stacy, and Colleen, thank you for stopping by. I'm thrilled you enjoyed The Thornless Rose (or that you are looking forward to the read). It is fun remembering what led to various scenes. I think my grandfather would have enjoyed see the "Whiskey" scene, too.
(Deborah Cordes 4:26pm January 7, 2015)
Seeing the "Whiskey" scene. SEEING. :)
(Deborah Cordes 4:27pm January 7, 2015)
Where and When. That would depend on a few things but I
would have to say Scotland would be where but the when is
hard to pin point. I would want it to be a time when it
was no so much hardship, like the famine era, that would
not be a good time to be there. nor during the Jacobite
war era, too much loss... But I would love to have me a
HIGHLANDER!
(Tina Ullrich 11:10pm January 7, 2015)
Thanks for stopping by, Tina. I have to agree with your desire to visit an era with little hardship and no major wars. The Gay Nighties might be right up my alley - except I'd be sure to bring some penicillin!
(Deborah Cordes 12:02pm January 8, 2015)
So many choices---but I would have to say Paris during
WWII.
(Sue Farrell 12:18pm January 8, 2015)
I would love to go to Scotland, surprise me on the era but
I would just love to end up in Scotland :-)
(Wendy Hoffman 12:55pm January 8, 2015)
It would be interesting to travel to the PAST anywhere in the world because it would be like reliving the (slightly true) history we've read in books. However, I think it'd be more exciting to travel into the FUTURE (again, anywhere in the world) because the future is unknown and that's what makes it so exciting!
(Lisa L. 1:28pm January 8, 2015)
I would love to travel to the past, but I would miss today's technology.
(Seanna Yeager 1:38pm January 8, 2015)
Love time travel novels...
(Michelle Bauer 1:53pm January 8, 2015)
I have not read one of yur books yet. Would be nice to win one.
(Judy Ferguson 2:24pm January 8, 2015)
Sue, I've never considered Paris during WWII. Interesting choice! I think it would be dangerous and very daring to work with the French Underground.
(Deborah Cordes 2:36pm January 8, 2015)
Wendy, Scotland it is. I think I see a kilted warrior in your future! :)
(Deborah Cordes 2:37pm January 8, 2015)
Lisa, I love thinking about the future - that's why I also write science fiction. What will the world be like in fifty or one hundred years? How about a thousand? It's fascinating!
(Deborah Cordes 2:39pm January 8, 2015)
Seaanna, thanks for stopping by. Yes, I agree. I think I'd miss dental floss most of all. :)
(Deborah Cordes 2:40pm January 8, 2015)
Judy, thank you! Fingers crossed you do!
(Deborah Cordes 2:41pm January 8, 2015)
Michelle, thank you! It should come as no surprise that I love time travel, too. I really like seeing history through the eyes of a modern-day heroine or hero. Makes for some interesting scenarios and interactions.
(Deborah Cordes 3:07pm January 8, 2015)
Thank you for stopping by, L Lam!
(Deborah Cordes 4:56pm January 8, 2015)
Thanks so much for stopping by, Elaine. I started out with my great-grandparents' names (all eight of them, but no great-greats), and now I have around 8500 people on my family tree. It's been a lot of fun "meeting" the ancestors. Happy New Year to you, too!
(Deborah Cordes 12:52pm January 9, 2015)
I like late 1880's to 1920's period in Australia. I would love
to travel there.
(Vikki Wright 12:19pm January 9, 2015)
This theme gives me a shivery feeling, but I would love to read the book and find out what happened.
(Anna Speed 1:17pm January 9, 2015)
Sounds like such an interesting book. I have not read a time
travel novel before.
(Denise Austin 5:27pm January 9, 2015)
I would love to travel to the future. Always wanted to know how much technology will advance.
(No Way 7:31pm January 9, 2015)
Vikki, thanks for stopping by. I would love to visit Australia at any time!
(Deborah Cordes 8:15pm January 9, 2015)
Anna, how wonderful! It's an author's dream to give a reader that "shivery feeling." Thank you.
(Deborah Cordes 8:16pm January 9, 2015)
Denise, thanks for your kind comment. Time travel is wonderful to write - and read. :)
(Deborah Cordes 8:17pm January 9, 2015)
Aleen, thanks for stopping by. The future isn't yet written - or is it? What's really funny is that it's almost the time when Marty McFly and Doc went to the future in the Back to the Future films (summer of 2015?). The films got some things right, but I'm still waiting for that hover technology!
(Deborah Cordes 8:20pm January 9, 2015)
I really don't know where I'd like to go back in time to. I love romantic books but in reality the 1700's in Scotland wasn't so romantic. HA I'm really happy right here wit my romantic husband. I do love the cover of the book and can't wait to read it too! Thanks for the chance to win it!
(Bonnie Capuano 10:10pm January 9, 2015)
Real experience makes it more believable
(Hope Clippinger 12:09pm January 10, 2015)
Bonnie, thank you for your kind words. I agree - our cover is beautiful. Entangled did a great job on it, and the gown is a gorgeous blue (one of my favorite colors - anyone notice that's also the color of Dr. Brandon's eyes?). :)
(Deborah Cordes 11:26am January 10, 2015)
Thanks for stopping by, Hope. Cary and I strive to make our novels believable by mixing our life experiences with our fiction. For example, I was a history teacher in real life, and so is our heroine Anne! And the auburn hair and green eyes of Anne's family run in my family, too. Several of my cousins and my niece share the same green eye color with me - and we even have similar prescriptions for our glasses, to the point that we can interchange them. Funny how things like that filter into a novel. I would imagine other authors have similar tales; real life blending with imagination.
(Deborah Cordes 11:33am January 10, 2015)
Sounds intriguing! I love the idea of hisory coming alive
in books!
(Kelly Braun 5:34am January 20, 2015)
Thanks so much for stopping by, Kelly!
(Deborah Cordes 10:54am January 21, 2015)
Registered users may leave comments.
Log in or register now!