Robin Bielman | Getting Your Feet Wet

August 19, 2014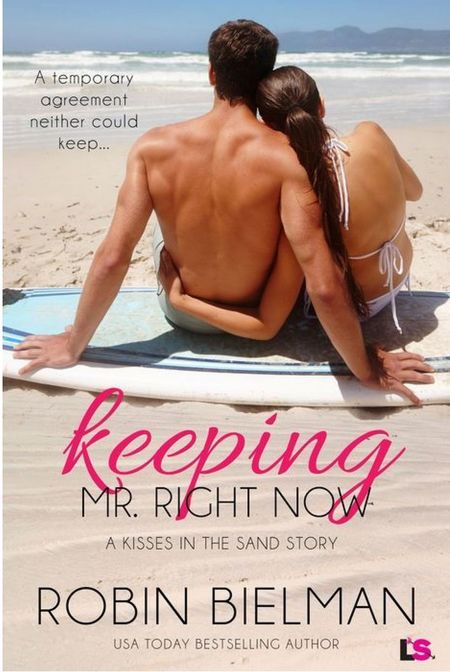 Keeping Mr. Right Now
Robin Bielman
AVAILABLE
Kisses in the Sand

August 2014
On Sale: August 18, 2014
Featuring: Sophie Birch; Zane Hollander
ISBN: 1633750566
EAN: 9781633750562
Kindle: B00M65AWEG
e-Book
Add to Wish List

Also by Robin Bielman:
The Matchmaker and the Cowboy, November 2022
Add to review list
The Wedding Crasher and the Cowboy, November 2021
Written for You, September 2021
Promise Me, April 2019

I don't remember my first time in the ocean, but I do remember the last time. It was just over a week ago during a weekend getaway with my hubby. You know how when you're young, you're gung-ho to race into the water? Who cares how cold it is? Yeah, that wasn't me this time. I had to get acclimated to the chilly temperature before I moved anywhere. After my DH and I sat back down in our beach chairs, my gaze was stuck on the cutest little guy. He was probably three or four-years-old and stood carefully at the edge of the water holding his dad's hand. His bright blue board shorts practically reached his ankles, and I had the strong feeling it wasn't the temperature keeping him from moving deeper into the sea, but trepidation.
I know the feeling.
You do, too, right?
Fear is something we all face at one time or another. I think it's especially potent when we're about to embark on something new or different. And okay, for some of you it might also be when you see that big, black ugly spider. No worries! Call me and I'll come get it for you! Spiders don't bother me. Now if a scary clown shows up at my door, you can bet I'll run screaming.
But back to the new or different… The unknown is scary. Being unsure of success can make those doubts we try so hard to keep at bay rise to the surface. And that's just plain not fair. Because uncertainty shouldn't hold us back from reaching for new goals and dreams.
Or letting the waves reach higher. The little boy took a few more steps, but as soon as the next wave got close, he turned to hightail it back to shore. His dad didn't let him. He picked up his son and lifted him playfully into the air, putting him down when the wave had passed.
This is thankfully what family and friends do. They lift us up when we're intimidated and anxious and not sure what our next step is. When we're not sure we can do it. Whatever IT is. I never would have made it this far in publishing without the amazing support and encouragement from my family and writer pals.
Sophie, my heroine in KEEPING MR. RIGHT NOW, feels quite a bit of apprehension when she sets foot in the ocean. Not only is it the first time she's seeing and feeling the ocean, but she's also got a surf lesson. There's no acclimating for her! Not if she wants to come off as hip and experienced like everyone else at the beach. Combine that with the hottest surf instructor—and hottest man—she's ever laid eyes on and well, sometimes the best beginnings start off on the wrong foot. Or in this case, the wrong surfboard.
The key is to keep going. Get your feet wet and don't look back.
So tell me Fresh Fiction readers, if you could cast anyone as your very own surf instructor, who would it be?
Comments
11 comments posted.
Re: Robin Bielman | Getting Your Feet Wet

chris hemsworth!he would be a beautiful zane too! this was a
really nice post robin! it is so difficult to overcome our
fears but our family and friends are always there to support
us and give us a boost of cofidence.
(Elena k 10:17am August 19, 2014)
My pick, off the top of my head, considering the fact that I
really don't watch many movies, would have to be Robert
Downey Jr.!! That doesn't mean that we would get much
surfing in, but I'd be all for rolling around on the sand,
or just strolling along the beach with him!! I really
enjoyed your posting today, and found it to be insightful,
and the type of posting that makes you stop and think a
little bit. I'm looking forward to reading your book, and
am sure I'll find it to be an excellent read. Thank you
again for a great posting!!
(Peggy Roberson 10:49am August 19, 2014)
Chris Pine, the actor! Hunky with humor, the best kind of instructor for ANYTHING!! He just HAS to have humor to teach anything...
(Shirley Bennett 11:18am August 19, 2014)
The unknowns are big for me... sometimes it takes me awhile to work myself up to doing something new... who would I choose... maybe Chris Evans... have Captain America help me...
(Colleen Conklin 2:12pm August 19, 2014)
Colin Firth
(Patricia Wagner 12:11pm August 20, 2014)
Sean Astin is a cutie.
Marilyn Collins
(Marilyn Collins 4:47pm August 20, 2014)
Someone qualified to teach me! A handsome actor sounds ok, but
I'd rather have someone who knows what they're doing.
(Jen Barnard 2:01am August 21, 2014)
I would pick Chris Hemsworth. I think he is just so adorable and so ripped!! HA
(Bonnie Capuano 11:21am August 21, 2014)
Does John Stamos know how to surf? He would be my first
choice!
(Maria Proctor 11:35am August 21, 2014)
chris hemsworth. it might make it worth all the embarrassment of falling off. I have no athletic ability at all.
(Angela Parrish 12:25pm August 21, 2014)
George Clooney!
(Denise Austin 3:25pm August 21, 2014)
Registered users may leave comments.
Log in or register now!