Jennifer St. George | Weddings

December 15, 2012
One of my favourite movies is Four Weddings and a Funeral.  It's a fun movie because, as viewers, we are able to attend so many weddings and I love weddings.  I love the beautiful outfits, the gorgeous flowers, the speeches and of course, significance of the ceremony. But when the bride enters the church and looks down the aisle at her husband to be I always cry.  My favourite moment every time.
Stupidly, I didn't remember this for my own wedding. When I walked through the church door the tears began to rain down and there wasn't a tissue in sight.  At least my flowers were well watered.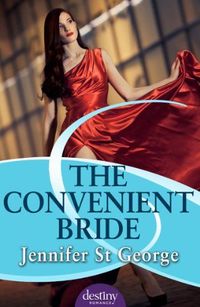 My strong, brave heroine Sienna in THE CONVENIENT BRIDE doesn't dream about being married, but if she were to do so, she'd definitely wear her mother's wedding dress. Her mother has died and wearing her dress on that special day, would make Sienna feel as though her mother were close by.  Each year on the day of her mother's death, she holds that precious garment and remembers her hard-working, feisty Italian mother. Then, she carefully wraps it up, stores it and returns to running the family hotel in her mother's place.
But in Antonio's marriage of convenience, he wants everything on his terms. So will Sienna wear her mother's dress on the big day?
I would love to hear people's stories of special things done for their wedding day (or a friend's).  I wore my mother's pearls and the wedding was held in my home city although I had lived overseas for a long time. One commenter will receive a copy of The Convenient Bride.
Sienna De Luca will do anything to save her family's hotel, and ruthless Italian businessman Antonio Moretti knows it. With problems of his own, he proposes a marriage of convenience and plans to use Sienna to secure his next business deal. But things don't go quite according to plan.
In keeping with her part of the bargain, Sienna travels to Venice to be with Antonio, who introduces her to a life of great luxury and opulence. As befits the fiancée of the famous Antonio Moretti, Sienna is given a new wardrobe of designer gowns and outfits and instructed exactly how to behave when out in public. But after thinking he can manipulate her at will, Antonio begins to realize he has seriously underestimated Sienna, her intelligence, her skills, her courage - and her beauty. Unexpectedly, Sienna gets too close and when she discovers his dark secret, Antonio's perfectly planned life begins to unravel.
Buy links for THE CONVENIENT BRIDE
Comments
40 comments posted.
Re: Jennifer St. George | Weddings

Ooooh - I also love 4 weddings - it's so clever and the characters are fab :)

Congrats on the release of The Convenient Bride - well done!!!!!!!
(Joanne Levy 1:33am December 15, 2012)
The Church ceremony at the Church where we got married was so beautiful. We wore crowns on our heads and ribbons were wrapped around our hands. It was very special for me. We were very young and had to cut back on other things but the ceremony still made it special.
(Kathleen Yohanna 4:22am December 15, 2012)
Thanks Joanne!! Four weddings is fun isn't it!
(Jennifer St George 8:15am December 15, 2012)
Kathleen, that sounds so beautiful. I love going to weddings, they are always so
special.
(Jennifer St George 8:16am December 15, 2012)
I love the cover! My Mom's wedding veil was falling apart but my florist was able to save a lot of the beading and put it in my bouqet. Best of luck on your book!
(Renee Pajda 8:25am December 15, 2012)
Can't wait to read your book. I love them all
(Bonnie Capuano 9:10am December 15, 2012)
I still have an ivy plant that I grew from a cutting from my wedding bouquet.
I would love to win your book. I love marriage of convenience stories.
(Monica Vargo 9:33am December 15, 2012)
Good idea for a book - we all love to recall our wedding day. We went to the Botanic Gardens in Dublin to take the wedding photos and luckily the sun shone for us.
Good luck with the book.
(Clare O'Beara 10:38am December 15, 2012)
I always cry thinking of the bride's dad. My dad is gone now, but I will always cherish our walk down the aisle.
(Kathy Martocci 11:43am December 15, 2012)
Wedding of convenience is always a good story line. Would
love to win it. thanks.
(Mary Hay 11:48am December 15, 2012)
This sounds like a great story. For my twin sisters wedding we tied my favorite sapphire ring that I always where to her bouquet. Next to my ring was my mothers, grandmother, and great grandmother's rings. It was a really awesome that she wanted to borrow from me for her something borrowed.
(Emily Bowes 11:57am December 15, 2012)
Having one's closest family and friends there is so special... hope to one day have the chance.
(Colleen Conklin 1:03pm December 15, 2012)
I WORE MY MOTHER'S BEAUTIFUL WEDDING DRESS. SHE WAS SO HAPPY
THAT I WORE HER WEDDING DRESS. HAVING MY DAD WALK ME DOWN THE
AISLE. ITS WAS THE HAPPIEST DAY OF MY LIFE.
(Shelly Caggiano 5:35pm December 15, 2012)
That would have made your bouquet very special, Renee.
(Jennifer St George 6:09pm December 15, 2012)
Thanks, Bonnie.

Growing your own ivy Monica, what a good idea!

I love Dublin Clare, such a fun city. But when I visited it did rain, a lot!
(Jennifer St George 6:12pm December 15, 2012)
Such a lovely memory, Kathy.

I'm with you Mary...I love a marriage of convenience story and they are good
fun to write.

Emily, that's such a lovely story about the rings!
(Jennifer St George 6:14pm December 15, 2012)
That is my favorite moment in a wedding also, but while everyone else is
looking at the bride, I look at the groom - at his first look at his bride as
she walks down the aisle. I love THAT moment!

Years ago, I was a bridesmaid in a friend's wedding. We were the "Honey
Bears". I was wondering just what jewelry I was going to wear the next
day to the big event when she gave us our bridesmaids' gifts - a stuffed
bear that she had put blush on and glue on it's paws so it had honey and
in it's ears were pearl earrings and around it's neck was a pearl necklace!
:D
(Kelli Jo Calvert 6:19pm December 15, 2012)
Getting married was the best party I've ever been to, Colleen. All my favourite
people in one room.

Ah Shelly, there is a scene in The Convenient Bride that covers almost exactly
what you've described.
(Jennifer St George 6:20pm December 15, 2012)
I carried the handkerchief in my wedding that my paternal Grandmother carried in her wedding back in the late 1800's.
Blessings,
Marjorie
(Marjorie Carmony 7:13pm December 15, 2012)
your book sounds like my life, beign Italian and my grandfather at the age of 14 had my husband picked out for me, but his plans didn't go as planned...so many things helped along the way,the guy who I suppose to marry died at the age of 21 which was sad but we were just friends my grandfather did have many others but I didn't marry any of them, did finally get married at 35 and maybe his choices would of been better then the one guy I married and getting divorce now after 23yrs/its funny for the 2 guys that I was suppose to marry have reconnected and you never know what will happen in 2013...love to read your book! My mom and grandfather are no longer with us so they must be laughing at me...I know one for sure my mom is smiling...
(Carole Fiore 7:20pm December 15, 2012)
moms old garter. thanks for the chance
(Debbi Shaw 7:22pm December 15, 2012)
I have a sister who has been married twice. The first time
was a big church wedding with 6 attendants, 2 flower girls
and 2 ring bearers. She had the big reception, with all the
frills and all the headache associated with planning and
putting together a big blow out wedding.Needless to say, it
didn't last. Her second marriage, her and her groom had a
friend officiate, did it lakeside, and had a very casual
outdoor reception. The day was perfect and planning it was
nearly hassle free. This marriage is still going strong
nearly 8 years later.
(Judith Cauthan 8:00pm December 15, 2012)
My husband and I had struggled to try to plan a wedding that would make everyone happy and we ended up having a casual, (VERY) small, wedding at our home. It was beautiful and intimate, and turned out to be extremely meaningful to us. Thank you for the terrific post and giveaway!
(Michele Hayes 8:52pm December 15, 2012)
Because I had known my Husband-to-be since I was 16, and knew in my heart that we would be married someday, this was a dream-come-true for me!! We had both gone our separate ways in life, and gotten back together through a mutual friend several years later. That friend and his Wife were our witnesses, as a bit of a Thank You. It was a small ceremony at our age, unfortunately not a church wedding, but the dress I purchased for myself (knee-length), was dressier, with sheer sleeves, thick lacy cuffs, and lace covering the top half. It was in mauve with off-white lace. The skirt had a sheer overlay to it. I know it sounds gaudy, but it was on the plain side, just done up a bit with the lace enough so when someone looked at me, they knew it was something special. I still have the dress, and can still wear it, almost 30 years later!! My soon to be Brother-in-Law threw us a party at his house, so we could invite some family members and friends to help us celebrate our special day. I remember the night before we had had an ice and snow storm, and the roads were a sheet of ice, but everyone showed up at the party. The roads were a nightmare, and it was hard to walk on the sidewalks, let alone drive!! I can't wait to read your book, and see how the story ends. Have a wonderful Christmas, and a Happy New Year!!
(Peggy Roberson 9:17pm December 15, 2012)
This sounds like an intersting book. Love the cover:)
(Kimberly LaRoche 10:08pm December 15, 2012)
Never been married, myself - still hoping, though, but at 49, I doubt it - LOL - however, a few years ago, I was maid of honor for my best friend - first time in a wedding party for me - it was crazy and convoluted getting ready for it - but it was a blast!
(Felicia Ciaudelli 10:18pm December 15, 2012)
Sounds like an interesting book. Thanks for a chance to win. Happy Holidays to everyone.
(Linda Hall 11:09pm December 15, 2012)
My favorite wedding movie is My Best Friend's Wedding. There is a seen in the movie where Juliann and Michael were on the boat, Juliann could have told Michael that she loved him but she allowed that moment to passed.

Anyway I will be attending my cousin's wedding in San Francisco next month. It would be something to start off a New Year with.
(Kai Wong 12:23pm December 16, 2012)
The bears sound so cute, Kelly.

Wow, Marjorie, that's very special!
(Jennifer St George 3:00am December 16, 2012)
What a story, Carole. Wishing you the best for 2013!

That's a fun borrowed thing, Debbie.

The second marriage sounds so lovely, Judith.
(Jennifer St George 3:04am December 16, 2012)
Your wedding sounds lovely, Michele.

Thanks for your lovely comments, Peggy. Living in Australia, I don't come across
ice and snow much (well never really). So great that everyone made it to your
big day despite the weather.
(Jennifer St George 3:07am December 16, 2012)
All the Destiny Romance covers are fabulous, Kim. Penguin has a great designer.

It's so much fun being in a wedding party, Felicia.

Thanks, Linda. Wishing you Happy Holidays!
(Jennifer St George 3:10am December 16, 2012)
That is a fun movie, Kai. I know exactly the moment you are talking about, a big
turning point in the movie.
(Jennifer St George 3:11am December 16, 2012)
sounds like a great read:) I always watch the groom for the exact moment he sees the bride!!
(Barbara Studer 10:36am December 16, 2012)
I like watching the groom too, Barbara.
(Jennifer St George 3:37pm December 16, 2012)
My sister & I wore the same gown for each of our weddings. I
kind of liked that. THE CONVENIENT BRIDE does look fabulous.
(Mary Preston 9:19pm December 16, 2012)
I make jewelry for additional income, so when my nephew was getting married last month, his bride to be (who is a from a very poor family) had no pearls to wear, I traded a couple pairs of gold earrings for some high-quality pearls and made her a beautiful wedding set (necklace and earrings). She cried when I gave them to her, and positively beamed every time someone told her how beautiful they looked on her. I loved her before he married her, and now she's officially a permanent part of my family.
(Donna Holmberg 9:38pm December 16, 2012)
That sounds lovely, Mary.

Donna, that is such a great story. I think there is something a little bit special
about wearing pearls on your wedding day, especially if they are a gift or in my
case, my mother's.
(Jennifer St George 10:54pm December 16, 2012)
Grandma and the 2 moms but of course she didn't listen, and then when I turned to come back down the aisle someone gave me 3 long stemmed roses.

My wedding gown was REALLY tight, plus I was wearing an industrial strength long line bra, so I couldn't bend to pass out the flowers. I ended up sort of leeeaning to awkwardly hand the roses and give a hug to my mom, mother-in-law and grandma while trying not to topple over..

I was glad in the end, as it was a touching moment and made a great picture.
(Dana Wong 6:00am December 21, 2012)
When I married my soulmate, I wore a sachet pinned to my petticoat. It contained a lace cuff worn by one on my ancestors when she fled from France in 1873. If it could talk, what stories it could tell. Her lace cuffs and collar had been passed down through the family until the Great Depression when the collar and one cuff were stolen (my Nanna took in boarders to help feed her family and unfortunately some were not honest). The remaining cuff has been the 'Something Old' at every family wedding since, and will continue to be so for as long as it holds together.
To make it even more special, I took it to a lace fair about five years ago, and one of the lacemakers went into raptures over it. She believed it to be a lost pattern from a reknown lacemaker of the time so she photocopied it to see if it could be verified. Hopefully the pattern has brought joy to others as it has to me and my family.
(Natasha Devereux 8:50am December 21, 2012)
Registered users may leave comments.
Log in or register now!