Looking to add to your Christmas list? Check out some of these new paranormal titles coming out this December. Perhaps Santa will put of them in your stocking.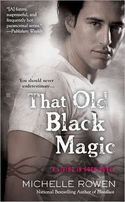 THAT OLD BLACK MAGIC by Michelle Rowen (Berkley, 12/6/2011, $7.99, Living in Eden)
When it comes to magic, sparks aren't the only thing that ignite in the latest novel from national bestselling author Michelle Rowen. Reluctant witch Eden Riley knows that codependent relationships aren't good, especially when you're possessed by a sexy but troublemaking demon. Darrak's physical form makes good girl Eden want to go bad, but the constant itch to use the soul-destroying black magic she's recently acquired might force Eden to explore her dark side in an entirely different way. And when her magic starts manifesting itself without conscious effort, both Eden's life and the possibility of a future with Darrak are threatened-since only one of them might be able to survive this.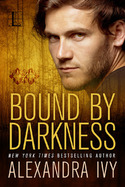 BOUND BY DARKNESS by Alexandra Ivy (Zebra, December 2011, $7.99)
New York Times bestselling author and rising paranormal star Alexandra Ivy will impress readers with the eighth book in her highly-acclaimed Guardians of Eternity series. The Sylvermyst have a reputation as sinister cousins to the fey, and none are more mysterious than Ariyal and his tribe. To save his people from banishment, he sold himself to the evil Morgana. Finally free, he faces a new challenge: Jaelyn, an elite vampire warrior sent to capture him. By rights, he should kill her on sight. Yet he cannot bring himself to hurt her- or to resist her. Jaelyn is stunningly beautiful, utterly lethal- and always alone. Until Ariyal. From their first encounter, she knows that what's between them is more dangerous than simple lust. And as they unite to thwart a terrifying prophecy that will mean the end of his clan and of the world they know, she will risk everything to fulfill her destiny by his side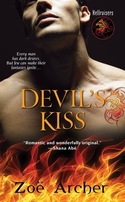 DEVIL'S KISS by Zoë Archer (Zebra, December 2011, $6.99)
Award-winning author Zoë Archer follows up her beloved Blades of the Rose series with a dark paranormal series about five men, the Hellraisers, who make a deal with the Devil. In exchange for their souls, they each receive a power of sorts, but love is their only chance at redemption and saving themselves from Hell. James Sherbourne, Earl of Whitney, is a gambling man. Not for the money. But for the thrill, the danger-and the company: Whit has become one of the infamous Hellraisers, losing himself in the chase for adventure and pleasure with his four closest friends. Which was how Whit found himself in a gypsy encampment, betting against a lovely Romani girl. Zora Grey's smoky voice and sharp tongue entrance Whit nearly as much as her clever hands-watching them handle cards inspires thoughts of another kind. Zora can't explain her attraction to the careless blue-eyed Whit. She also can't stop him and his Hellraisers from a fiendish curse: the power to grant their own hearts' desires, to chase their pleasures from the merely debauched to the truly diabolical. And if Zora can't save Whit, she still has to escape him.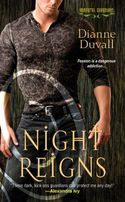 NIGHT REIGNS by Dianne Duvall (Zebra, December 2011, $6.99)
This dazzling second book of an innovative paranormal romance series from talented newcomer Dianne Duvall beckons readers into a world of vampires, immortals, and humans with extraordinary gifts- a world where danger and desire walk hand in hand. Ami isn't much for trusting strangers. She has a hard time trusting anyone. But she's no coward, and she's no pushover in the protection department either. So when she comes across a mysterious warrior taking on eight deranged vampires on his own, she doesn't hesitate to save his bacon. Of course, that was before she realized what one little rescue would get her into. Marcus Graden has been an Immortal protector of humanity for eight hundred years, and he's not interested in backup. From the moment Ami arrives in his life, he can't deny that she's strong, smart, and extremely skilled at watching his back. But she's also destroying his protective solitude and stirring desires he can't bear to awaken. After all, whatever her secrets-how can she defeat death itself?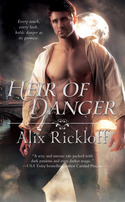 HEIR OF DANGER by Alix Rickloff (Pocket, 12/05/11, $7.99)
After seven years outrunning enemies, friends, and his own soulcrushing memories, Brendan Douglas is risking everything on a desperate mission. He has vowed to thwart the evil mage Máelodor's plans to unlock the past and reshape the future; unfortunately, the precious treasure that is his key to success lies with a woman Brendan jilted seven years before. When her golden-eyed childhood hero abandoned her at the altar-disappearing in a storm of magic and mayhem, destruction, betrayal, and disaster-Elisabeth Fitzgerald struggled to put away her humiliation and loss. Finally, she has found a new fiancé and a comfortable future. Then, the one man she thought she would never see again appears-among her wedding guests. Brendan Douglas has returned. It's not just that Elisabeth is promised to another; Brendan knows he is drawing her into terrible danger. But he cannot resist the bewitching, brave, wholly unexpected woman his youthful nemesis has become. He promised to sacrifice everything, but is he willing to sacrifice Elisabeth?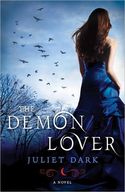 THE DEMON LOVER by Juliet Dark (Random House, 12/27/11, $15.00)
Since accepting a teaching position at remote Fairwick College in upstate New York, Callie McFay has experienced the same disturbingly erotic dream every night: A mist enters her bedroom, then takes the shape of a virile, seductive stranger who proceeds to ravish her in the most toe-curling, wholly satisfying ways possible. Perhaps these dreams are the result of her having written the bestselling book The Sex Lives of Demon Lovers. Callie's lifelong passion is the intersection of lurid fairy tales and Gothic literature-which is why she's found herself at Fairwick's renowned folklore department, living in a once- stately Victorian house that, at first sight, seemed to call her name. But Callie soon realizes that her dreams are alarmingly real. She has a demon lover- an incubus-and he will seduce her, pleasure her, and eventually suck the very life from her. Then Callie makes another startling discovery: Her incubus is not the only mythical creature in Fairwick. As the tenured witches of the college and the resident fairies in the surrounding woods prepare to cast out the demon, Callie must accomplish something infinitely more difficult-banishing this supernatural lover from her heart.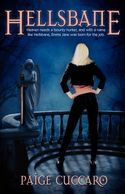 HELLSBANE by Paige Cuccaro (Entangled Publishing, 12/6/11 ,$15.99, Hellsbane)
Emma Jane Hellsbane always knew she was different, but she had no idea she wasn't even human. Well, at least she's half-human. She's half-fallen angel, too, and now dear ol' dad wants her dead. All the Fallen angels want all their troublesome offspring removed from the mortal coil so she's trying not to take it personally. Besides, she wants him dead just as much. Her father's death is the only way she'll be forgiven for his sin, stop those pesky demons from trying to hack off her head, and have any hope at all of getting back to a normal life as a wicked slick Intuitive Consciousness Explorer. Of course, first she'll have to figure out which fallen angel is her father, avoid accidentally seducing her angelic mentor, help an old friend conquer his own fallen sperm donor, and basically save the world from a cataclysmic divine smack down. No problem. With a last name like Hellsbane, Emma Jane was definitely born for the job.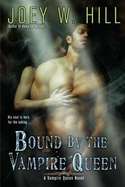 BOUND BY THE VAMPIRE QUEEN by Joey W. Hill (Berkley Trade, 12/6/12, $16.00)
His soul is hers for the asking, as this phenomenally arousing series continues. Sworn to obedience, compelled by loyalty, and threatened with damnation for betrayal, Jacob is Lady Lyssa's vampire servant. But as Lyssa struggles with the powers that have come alive in her paternal Fae blood, she is challenged by two deadly enemies.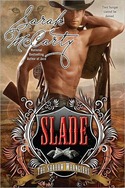 SLADE by Sarah McCarty (Berkley Trade, 12/6/11, $15.00,Shadow Wranglers)
Slade needs a cure, but what he finds is a savior in the latest paranormal romance from the national bestselling author. As the backbone of The Renegades' defense, vampire technological genius Slade Johnson hasn't met a problem he couldn't solve. But when Slade is tasked with saving the life of his nephew, he must get in bed with the one woman who has the power to destroy them all: his enemy...his mate.

Enjoy- Sara Edmonds
No comments posted.