One of my favorite things about cozy mysteries are the possibilities of bonus content, like how to knit a one-of-a-kind scarf or arrange the flowers from my garden into beautiful summer centerpiece, or maybe carve that Christmas ornament for your first grandchild. (I could teach you;) If those skills are more than you want to tackle and you just want to keep those experiences on your bookshelf, I know the perfect craft for you to indulge in—Scottish scones!
Who better to teach us then the Scottish Scone sisters creator, Lucy Burdette. After traveling to Scotland five years ago with a fellow writer, I decided to go back with my family in tow, but this time, we visited other parts of the UK as well. I've tried scones at that addictive American coffee house and just shrugged. (It's their Frappuccino that keeps me going back, not their baked goods.) It was a different story, however, when we went to the U.K. And having tried Lucy's recipe, I can guarantee it will bring you much closer to the real thing than any coffee shop's pastries in the states!
So of course, when the Scottish Scone sisters came stateside to visit food critic Hayley Snow in Lucy Burdette's latest release, A CLUE IN THE CRUMBS, I had to pick up a copy of this wonderful mystery and get us all a few new clues to great treats!
Kym: Hi Lucy! Welcome back to the Cozy Corner!
Lucy: It's such a pleasure to be here, thanks for the invitation!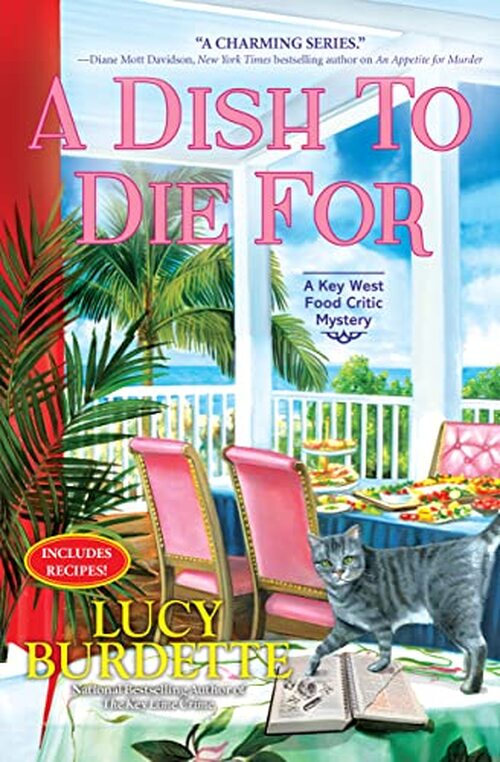 Kym: Food critic Hayley Snow is back this month with the release of A Clue in the Crumbs, your 13th Key West Food Critic Mystery! Other than long hours, junk food, and editing (because all authors love editing), what makes this series fun for you to create as the author?
Lucy: I'm passionate about trying something new in each book so that I am not foisting a retread of the same plot on potential readers. Luckily, Key West has so many layers that it's easy to find potential threads and motives for murder. For example, in A DISH TO DIE FOR, there was an historical angle based on the Woman's Club and an old cookbook. In A CLUE IN THE CRUMBS, the Scottish Scone sisters (from book 11) come to visit Key West to launch a baking contest. Everyone seemed to love those sisters, and they definitely adore senior citizen Miss Gloria, so I knew I could have fun with that trio. I work hard to think and write about how the characters will grow and change over the course of the books, as that's the part of a long running mystery series that I love most.
Kym: You start the book out with the perfect opening: "Since when has a bad restaurant review been a motive for murder?" LOL, I loved that. Your opening paragraph is so much fun and really for me, that's when an author has the biggest chance of snagging my attention. So do you struggle with your openings, or is that where the novel actually all begins for you, as well as the reader, - with one line, or one paragraph that expands into a wonderful whodunit?
Lucy: The opening is so hard for exactly the reason you suggest - a lot of readers won't read further if you don't pique their interest right away! It feels amazing when I nail an opening, especially in the first one or two sentences. Here are two examples. The first is from book 6 in the series, called FATAL RESERVATIONS. The first time Miss Gloria almost died, she came out of the hospital rigid with fear. The second time, just before Christmas, she came out fighting. And then this, from a short story called The Itinerary that was included in the MWA anthology edited by Nelson DeMille: Detective Jack Meigs knew he'd hate Key West the moment he was greeted off the plane by a taxi driver with a parrot on his shoulder.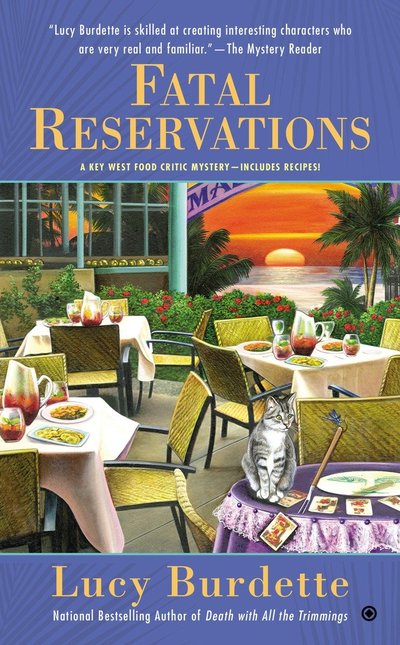 Kym: LOL, depending on the parrot, that might change my mind as well. Then again, probably not. In A Clue in the Crumbs there is a local bake-off in Key West with the Scottish Scone Sisters traveling from the U.K. (yay, they're back!) as one of the entrants. Because of the food, and these great characters finding themselves in the middle of a recipe for murder, I found myself wondering about real Scottish scones. (You do have a knack for making me hungry and wanting to bake!) What is your personal favorite when it comes to scones?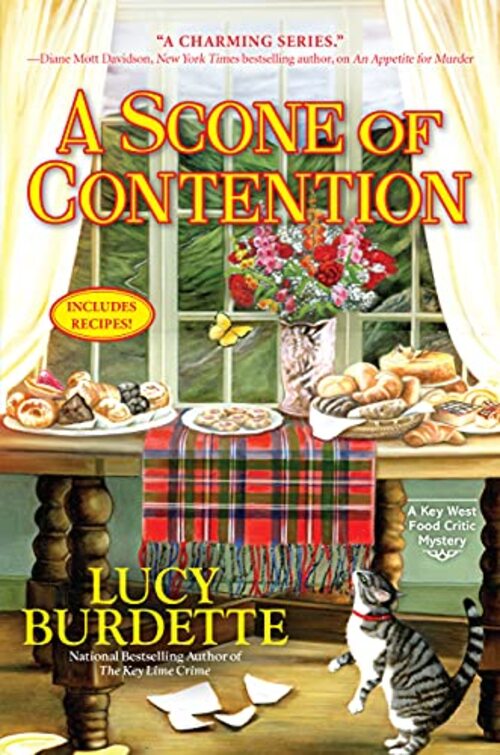 Lucy: As you can imagine, I had to eat and also bake a lot of scones when I was working on A SCONE OF CONTENTION. My favorites were probably the cinnamon scones https://www.mysteryloverskitchen.com/2021/08/cinnamon-scones-lucyburdette-recipe.html
And peach scones https://www.mysteryloverskitchen.com/2021/09/peach-scones-lucyburdette.html
Kym: (I tried them and I can vouch for their scrumptiousness!) I recently traveled to the U.K. and I think they get kind of a bad rap about food. I mean fish and chips, shepherd's pie, toad in the hole, and scones, yum! Other than scones, what is your favorite food from across the pond?
Lucy: I loved their dessert called Scottish Cranachan, which is basically layers of whipped cream, raspberries, and toasted oats—so yummy!
Kym: How did I miss that!? I had sponge cake for the first time this past spring in Scotland. The first wasn't anything to write home about. But the spongecake at the Palace of Holyroodhouse—to die for. Yet when you think about it, I guess royalty should have the best ;) If Hayley wrote a critique about a dessert at the king's home, would it be a royal mess, or a majestic confection? (I would love to read that!)
Lucy: Oh boy, that would be a pretty pickle! Imagine getting invited to dine royally and then criticizing the menu and or the food? I think Hayley would tread very, very carefully.
Kym: I have no doubt she (you) could pull it off with flair. Since we're talking about Scottish things in Key West, how do you think Hayley would fare living through an entire Scottish winter with the Scottish Scone Sisters? Would she write whatever her editor wanted just to come back home, or would she embrace the weather and travel through the bitter cold highlands to taste every dish possible in the country?
Lucy: Hayley grew up in New Jersey, so I don't think cold weather would faze her. Although it is true that Key West people's blood tends to get thinner the longer they live in the tropics. But here's an insider publishing tip that may or may not surprise you: the most negative feedback I've gotten on a book is probably on A SCONE OF CONTENTION. Lots of readers love this series because they love Key West—they don't want these characters traveling, even to Scotland!
Kym: What?! I loved seeing Hayley out of her element, but I guess you make the town come so alive, some readers may feel like you're killing off their favorite character—which you didn't. Key West is alive and kicking;) What are you working on now?
Lucy: I'm on the home stretch of the 14th book, which doesn't yet have a title. There's still work to do, but I'm very excited about the way it's turning out. Here's the description:
Key West food critic Hayley Snow is working on this week's articles for Key Zest magazine when an intriguing e-mail hits her inbox, titled Hemingway's toxic love and an old story. Catherine Davitt tells Hayley that she has returned to the Keys to research a book, but she also wants to investigate the disappearance of an old friend back in the late 1970s. The two young women were part of a group of lost souls camping in the mangroves on Big Pine Key, until Catherine's friend Veronica disappeared, and the Sheriff's Office cleaned out the camp. Ever-curious Hayley agrees to help her, and they travel up the islands to Big Pine Key to talk to some other Islanders who were around in the 70s, including a man who was on the outer edges of this commune. Instead of answers, they find him murdered. Then Catherine disappears, leaving Hayley and Miss Gloria to unravel two possible murders, one old and one new, and track down a murderer who might very well have them in his or her sights.
Kym: Looking forward to another great mystery from you. Thank you for joining us once again at the Cozy Corner. We love talking about your writing and food! Where can our readers find you on social media?
Lucy: Thanks so much for the invite! My website (Where you can sign up for the mailing list and receive a free short story.), Facebook, Instagram, and Bookbub. I also share two blogs with other writers:
https://www.jungleredwriters.com/
https://www.mysteryloverskitchen.com/
Until next month, get cozy and read on!
A Key West Food Critic Mystery #13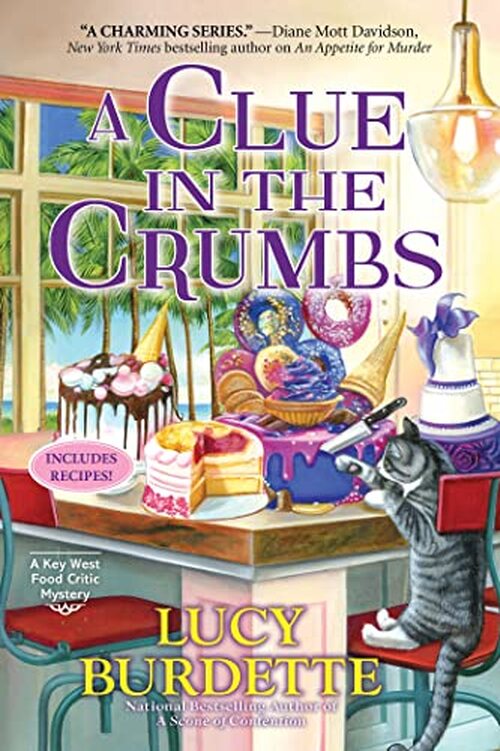 Bestselling author Lucy Burdette turns up the heat in the next installment of her Key West Food Critic mystery series, perfect for fans of Joanne Fluke and Laura Childs.
Food critic Hayley Snow and her pal Miss Gloria are overjoyed to welcome Violet and Bettina Booth, aka the Scottish Scone Sisters, to Key West. The sisters will host The UK Bakes!—Key West Edition. But the same day they arrive, the bed-and-breakfast the sisters are staying in gets torched.
The contest begins the next morning featuring three local bakers. One is the inn owner's wife, Rayna, who is not only the most talented chef of the group but now a person of interest in the fire. The next night, a dogwalker discovers a body near the bed-and-breakfast. The victim appears to be Rayna's husband, and the murder weapon points directly to the Scottish Scone Sisters.
But the show must go on. In between filming sessions, the three elderly ladies and Hayley must search for clues to the brutal murder in order to find out who wants to force them out of the kitchen. But as they draw closer to the answer, the threats from a murderer grow closer too. Are they now in danger of getting baked off?
Mystery Amateur Sleuth | Mystery Cozy | Mystery Culinary [Crooked Lane Books, On Sale: August 8, 2023, Hardcover / e-Book, ISBN: 9781639104307 / eISBN: 9781639104314]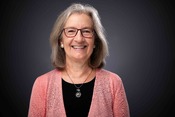 Lucy Burdette is the author of the Key West food critic mystery series, launching in January 2012 with AN APPETITE FOR MURDER (NAL.) Lucy's alter-ego, clinical psychologist Roberta Isleib, has published eight mysteries including the golf lover's mystery series and the advice column mysteries. Her books and stories have been short-listed for Agatha, Anthony, and Macavity awards. She's a member of Mystery Writers of America, Romance Writers of America, and Sisters in Crime, and a past-president of Sisters in Crime.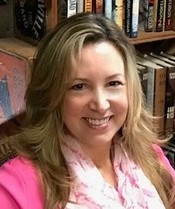 Kym Roberts writes by day and is a pro-surfer in her dreams by night. Her humor is often raunchy, her jokes are often bad, but her hunger for a story keeps the adventures coming fast. Experience the thrill & catch the wave of passion, mystery, and suspense with her on her website, on Facebook, and on Twitter.
No comments posted.