Instead of trying to find your perfect match in a dating app, we bring you the "Author-Reader Match" where we introduce you to authors you may fall in love with. It's our great pleasure to present Zarqa Nawaz!
Writes:
Zarqa Nawaz has just written a hilarious black comedy about the price of success. When Jameela Green's memoir doesn't make it to The New York Times bestseller list, she decides to ask the local imam for help in convincing God to get her what she wants. He insists she's a little too selfish and maybe if she helps a homeless person, things will turn around for her. And boy, do they ever! This book is a biting look at what happens when one woman's ambition draws her into an epic adventure that defies description.
About:
Zarqa Nawaz loves making people laugh. She created the sitcom, Little Mosque On The Prairie, the first television show that depicts the lives of Muslims living in the west. It currently airs on Amazon, and she also wrote a memoir, Laughing All The Way to the Mosque, a heartwarming tale about a young Muslim woman growing up in Canada. Zarqa lives in Regina, Saskatchewan which is just above Montana, with her four children and one husband.
What I'm looking for in my ideal reader match:
My ideal reader match for my latest book, Jameela Green Ruins Everything must love…
Comedy
A plucky and resourceful heroine
Mad cap adventure
Bad guys who need taking down
Mother/daughter relationships that grow into mutual understanding
International locales
What to expect if we're compatible:
High-concept plots as a woman saves the world
Characters who are stubborn and believe they can beat the odds
Twisty plots that you won't see coming
High adventure that will make you want to see the world
Old -fashioned love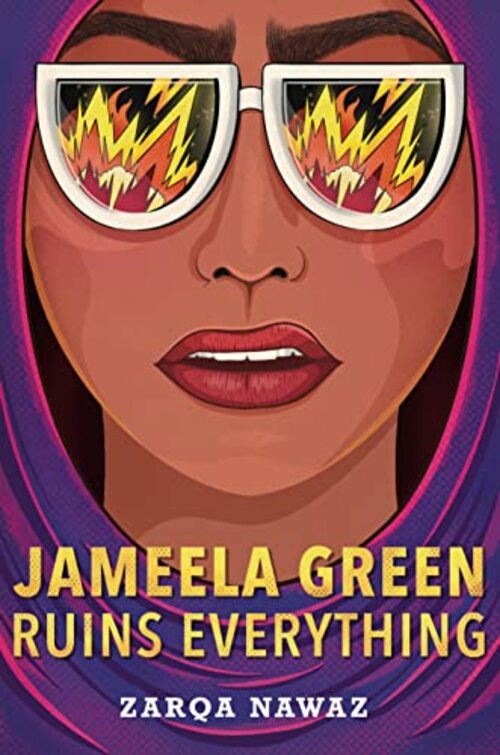 To see her memoir on the New York Times bestseller list. When her dream doesn't come true, she seeks spiritual guidance at her local mosque. New imam and recent immigrant Ibrahim Sultan is appalled by Jameela's shallowness, but agrees to assist her on one condition: that she perform a good deed.
Jameela reluctantly accepts his terms, kicking off a chain of absurd and unfortunate events. When the person the two do-gooders try to help is recruited by a terrorist group called D.I.C.K.—Dominion of the Islamic Caliphate and Kingdoms—the federal authorities become suspicious of Ibrahim, and soon after, the imam mysteriously disappears.
Certain that the CIA have captured Ibrahim for interrogation via torture, Jameela decides to set off on a one-woman operation to rescue him. Her quixotic quest soon finds her entangled in an international plan targeting the egomaniacal leader of the terrorist organization—a scheme that puts Jameela, and countless others, including her hapless husband and clever but disapproving daughter, at risk.
Literature and Fiction | Women's Fiction Family Life [Mariner Books, On Sale: May 10, 2022, Hardcover / e-Book, ISBN: 9780358621232 / eISBN: 9780358621201]
No comments posted.