A MISTLEOTE KISS by Eloisa James
It was humiliating to admit, even to herself, but Cressie knew precisely when they had met, at least, as adults. It was her debut ball, and her cousin had walked over to her and said, "Here, Cuz, dance with Elias; he'll be a marquess someday so he's good to practice conversation that's not about that infernal Revelry."
She had looked up into the eyes of the most beautiful man in the ballroom and managed a wavering smile. Elias hadn't said more than a few words to her and ignored her the rest of the evening.
"Other than passing encounters as children, we met when I debuted," Cressie said now.
"Years before that," Elias said impatiently.
"In that case, I have no idea what you are referring to," she said, managing to make it sound as if she was uninterested.
"You were five years old," he said, rather surprisingly. He took a long stride and caught her right hand. "Show me the last structure? I already missed the other grottoes. I don't want to miss anything of this one."
Cressie didn't roll her eyes, but it was a near thing. "Right." She tugged her hand free, nearly losing her glove in the process, and walked over to Queen Guinevere's bower.
"We follow a pattern," she said briskly, ducking her head. "There's always a glittering chamber like the one we were just in—Merlin's cave, or Neptune's jewel chest—and there's always a bower. One year it was Queen Titania's; this year it is Queen Guinevere's."
Elias stopped short inside the door. Her eyes followed his to the strings of fresh flowers crisscrossing the roof, and from there to the white fur thrown over elaborate fainting couches carved from snow and ice. All around the room, ice lanterns flickered, their light hidden behind more flowers and holly berries frozen in the ice.
"How on earth did you achieve this?" he asked, turning in a circle and looking upward as well.
"Those are sugared flowers draping the lanterns," Cressie said, softening despite herself, as he looked genuinely interested. "They keep their color because the air is so cold."
"The lanterns?"
"A round glass container, with a smaller one inside, and water, flowers, and berries in the space between. We freeze them, and then add a small candle to each. The grooms light them in the morning, and they will burn well into the night. First thing in the morning, all the lanterns are replaced with fresh ones."
"I'm astounded," Elias said, bending to look closer at a lantern.
"People relax on the furs," Cressida told him. "We make certain the cave is always attended."
Elias was thinking to himself that likely Guinevere's bower had been the site of many a chilly kiss and perhaps more.
"What's this?" He stooped over a musical instrument lying in a small cradle. The flute was carved like those in Arthur's castle, from ice but much smaller, every hole painstakingly cut in a perfect circle.
"Oh, nothing much," she said dismissively. "Just another instrument."
Elias took another look at the little flute, realizing that the cradle was lined with fur, and turned back to her. "This is astounding, Cressida. You do know what a genius you are, don't you?"
She turned a little pink. "Nonsense. It's just . . . just entertainment, that's all."
"No," Elias said. "This is a work of art and I'm furious at myself for missing years of grottoes."
"We've only started the tradition seven years ago," she told him, a smile lighting her face. Elias took a step closer.
Cressie tilted her head back to look up at him, which gave her a peculiar feeling, even if she wasn't already feeling a little dizzy from the warmth in his eyes. And his compliments.
"May I kiss you?"
Cressie couldn't believe her ears. "What? Why?"
"Surely someone has told you that you have beautiful lips?"
Her lips opened to say "No," but no sound emerged.
"Perfectly shaped, and a remarkably erotic color," he said thoughtfully. "I've been thinking that, by the way, ever since yesterday's soup course."
Words reeled through her mind but none of them seemed to connect into sentences. He wanted to kiss her? Elias? It was impossible. It was—"Cressida?" he asked, bending closer. "May I?"
His breath warmed her cheek. Even though every ladylike sensibility should rebuff him, she couldn't. But she couldn't speak, either. She felt as if she were turned into one of those frozen instruments, waiting to be woken.
She managed a nod.
He bent his head and kissed her.
***
WISHING UNDER THE MISTLETOE by Christy Caldwell
As she left her sister to the countess's latest lesson on propriety, Isabelle found herself smiling. She'd been gone for nearly four years, but it seemed little had changed. There was an unexpected comfort to be found in that constancy. Sometime later, after she'd sent around a request to speak with Derham, Isabelle headed above stairs to quickly bathe and change into new garments, before heading for their meeting. Humming the cheerful tune of "Nos Galan" under her breath, Isabelle made her way down the stairs, focused on the matter at hand—just what she intended to say to her cousin, Val. She had to convince him to let her run the production alone.
Determination fueled her steps. She needed to see to this herself. Nay, she wanted to. As a woman in her propriety-driven family, she'd never been given the responsibility over a single production during The Revelry.
But in the years she'd been gone, Isabelle had dedicated herself to writing original plays and studying all of the most famed ones. As such, she knew theatre. She knew drama. To Isabelle, the Pantomime held at the Revelry wasn't simply a diversion. Surely, she could put in an appeal to Cressie. Her cousin, as a fellow woman, could relate to Isabelle's desire for this control.
"Snobbish," she muttered, cradling the leather volume of Cinderella against her chest. She wasn't snobbish. Why, there wasn't anything wrong with her wishing to oversee the task herself.
Isabelle slowed. Was there? She paused beside a paint- ing in a gilded frame depicting the rolling emerald hills of the duke's estate. Or . . . she hadn't thought there was anything wrong with her wish to single-handedly direct the performance. And she wouldn't have, had it not been for Maeve. Maeve, who'd also correctly pointed out the unforgivable length of time that had lapsed since Isabelle had come 'round to visit her family. But that was not what this visit was about. That was not what the Revelry, or any of it, was about.
Rather, it was about coming together as the duke wished so that he might enjoy the grand event he so loved. The one he was famous for hosting, that all members of Polite Society clamored for an invitation. She'd simply been looking at the assignment given her in the incorrect light: her own. Maeve was right. She would accept whatever arrangements Derham had made because this was about her grandfather, not about her. Springing into movement, Isabelle resumed her march to the duke's music room. This time, a different purpose fueled her steps.
When she at last reached the music room, mentally preparing a neat list on the way, she was feeling excited again. The door hung ajar, and she let herself in. Derham stood with his back to her at the window, his hands clasped behind him as he stared out. He was taller than she recalled and broader of shoulder, hardly the boy she'd ofttimes played with during her visits to her grandfather's estate.
"Hello," she called in greeting. "It is so lovely to see you. I confess I felt some trepidation at finding I'd been assigned a partner until I found out it was," Isabelle stopped in her tracks.
"You."
He turned.
The earth ceased moving, and she was left there, floundering, trying to find unsteady legs through it.
Her mother . . . had been wrong. So very wrong about whom Cressie had paired Isabelle with. It wasn't him, as in Val, her cousin. This was an altogether different him. A man she'd never expected to see again . . . and never here. Never like this.
She blinked. Perhaps she was merely imagining him.
After all, her journey had been long, and given the difficulty with the team, the snoring passengers aboard the mail coach, and the lack of sleep, exhaustion was surely to blame.
When the sight of him remained, she jammed the heel of one palm against her eyes, and rubbed it back and forth hard enough that little flecks danced before her vision. When her eyes cleared, she looked again at the man across from her.
He was still broad of shoulders and slim of waist, but he looked more muscular, and there were slight streaks of silver at his temples. They didn't age him. They lent him a distinguished air, as if he'd ever needed it. Yet he had changed. He used to have an eager look in his eyes, and his clothes had been those of a stablemaster's son, not that she cared for such things.
Now?
Even to her eyes, his coat was tailored to perfection. And the space between them did little to diminish the cynical glint in eyes that had once been filled with warmth. They were a stranger's eyes. But then, that was what he was now. Ten years apart would do that. As would a severed betrothal. For the first time in all the years she'd ever known Cyrus Hill, the unthinkable happened: the laconic man given to careful silences spoke first.
"Lovely to see me, is it, Isabelle?"
***
COMPROMISE UNDER THE MISTLETOE by Janna MacGregor
As Caroline waited patiently for Stephen to finish talking with Twist, three more couples arrived. Luggage and servants crowded into the entry that grew loud, with a frantic energy, like a cacophony of chaos. The duke's over boiled sweets in bowls placed strategically around the room. Above it all, the din of female laughter echoed around her while male voices guffawing over some story joined in the chorus.
It was overwhelming after living quietly on her own. When she turned away from the clatter, Stephen was staring straight at her as if he would devour her. Her heart somersaulted in her chest.
Of course, it was all part of their act. He was expressing desire, not love. She had to remember that critical part and not let her heart lead her brain down the wrong path. In two strides, he stood before her and took her hand in his.
"What's wrong?"
She inhaled and shook her head slightly. "It's nothing."
"You look as if you'd rather be anywhere else but here."
He bent ever so slightly and whispered in her ear. "If it's any comfort, I agree with you. Perhaps we could visit the duke's cowshed."
"You're incorrigible," she answered.
"If it brings a smile to your lips, then I don't care."
She dipped her head to hide how much Stephen could affect her. When he brought her hand to his lips, she tried to pull away. He tightened his grip slightly.
"Don't, Caro. People are watching," he murmured.
She released a shaky breath and nodded. Unfortunately, such false shows of affection were necessary over the next fortnight. How was she ever going to survive?
"Look, Doretha," a haughty voice said behind them.
"There's nothing more romantic than a couple mending their differences."
"Lady Riverton," Stephen whispered. "She's directly behind you."
"I'm not certain she understands the word mending," Caroline said with a syrupy smile. She tamped down the urge to turn around and stare. Instead, she batted her eyes at Stephen in a show of modesty. "When she used to visit my mother, they would embroider together. Lady Riverton never could stitch a sampler, let alone actually mend a garment."
Stephen tilted his head back and laughed. Really laughed, one of those jovial sounds that stopped all conversation around them.
Ignoring the rest of the guests, he bent down and brushed his lips against the sensitive skin below her ear, then whispered, "I can't attest to your mending abilities being any better than hers. I never saw you with a needle."
She leaned back in feigned outrage. "I'll have you know I can sew a straight line with my eyes closed."
Still chuckling, he shook his head. "Well then, darling. I can't wait to see how you'll mend our differences."
She blinked at him. Did he think that was even a possibility? She'd never entertained the thought.
With a wink, he continued, "I have every confidence that, between the two of us, we'll become excellent tailors before this holiday is over."
"What does that mean?" she asked, frowning at him.
"Let's investigate the possibility later." He linked her arm around his. "Twist mentioned that your uncle's illness delays our greeting him, but the duke's solicitor is ready for us." Then he said the words that only she could hear.
"It's time to break a leg. The real performance is about to begin."
***
MISCHIEF UNDER THE MISTLETOE by Erica Ridley
In the past, the Revelry had been a respite from the desperate rivalry of the Marriage Mart. Her mother had flocked with her friends to enjoy the activities Cressida planned for every day, leaving Louisa to join the younger crowd—or secretly retire to the library.
"Very well," she whispered from behind a biscuit. Perhaps she ought to carry a fan in the wintertime. Once this raisin biscuit ceased being usable as a shield, Louisa was going to have to eat the blasted thing.
"I will spend Christmas throwing myself at every unwed lord beneath this roof." No matter how badly her nose itched.
"Inelegant, but accurate." Mother surveyed the room. "If the dancing includes waltzes, make certain one of yours is with one of Derham's set. Start with Lord Paxborough. I heard that his father has issued an edict: he must marry within the year."
Wealth, property, prestige, an absentee husband . . . An arrangement like that would yield considerably more freedom than Louisa could achieve as a spinster. If her newly fattened dowry failed to bring Paxborough up to scratch, well, there was his flock of followers. They fawned over the viscount as if he laid a golden egg every time someone told him how clever and handsome and witty he was. Fools. Paxborough wasn't going to marry them.
Her mother murmured from behind her fan, "Are you thinking what I'm thinking?" Louisa doubted it.
"What are you thinking?" she whispered in trepidation. Mother's eyes sparkled. "That Lord Paxborough is a witless, feckless child driven primarily by lust and gluttony." Louisa's mouth fell open in shock. They were thinking the same thing!
"Very much," she stammered in relief, unused to being Real Louisa openly. "He is as obvious as he is odious."
"Which is why," Mother continued with growing excitement, "the most direct way to his heart is to pretend your romantic interest lies with one of his friends. Charm both Derham and Paxborough. They'll fight each other to win your hand. Derham is the better catch, of course, but if you must settle for Paxborough . . . I'll allow it."
No. Louisa's shoulders deflated. They were not thinking the same thing.
She sent a defeated glance over the possibilities in the room. Wilkinson, who was laughing harder than Paxborough's wit merited. Meekings, who nodded enthusiastically without pause. The newest sycophant, Mr. Ewan Reid, whose chiseled jaw tightened almost imperceptibly every time Paxborough made yet another thoughtless, self-absorbed observation.
Wait. What?
Louisa snatched the scarlet fan from her mother's fingers and flapped it before her own face to hide her stare. Tall, wide-shouldered, an air of casual languor. And yes, a tic at his temple whenever Paxborough said something abhorrent.
Perhaps Mr. Reid wasn't like Viscount Paxborough's other social-climbing companions. Mr. Reid might be willing to play the game, but he didn't always like it. He could be pretending. Just like Louisa.
"Has Lady Cressida ever said anything about Mr. Reid?" she whispered urgently. Why, oh why, had she allowed her Automaton Alternate to doze through the introductions?
"Poet." Mother's voice dripped with scorn. "Thinks himself the next best thing to Byron, or at least Derham claims as much."
Good God. Louisa started fluttering the fan in earnest. She had never met a fellow poet. Her heart pounded in equal parts excitement and terror. Would he be pleased to make the acquaintance of someone else driven by the same creative passions? Or would he dismiss a "poetess" out of hand, shrugging off a lifetime of inspiration and hard work because she was a woman?
She did not dare find out, she realized with a sinking sensation. Any friend of Derham's was not to be trusted. Even if Mr. Reid did not laugh at her outright, he might mention her secret passion to the others, who would declare her quaint and unmarriageable. No amount of competitiveness could compel Paxborough—or Derham, for that matter—to take a wife with thoughts in her head.
The more she looked at Mr. Reid, the more she noticed. Long, lean body. Clothes no longer in the first stare of fashion, but well-made, showing off his musculature to best advantage. Dark, thick lashes, stern jaw. The brooding air, and mysterious half smile playing at the edges of his lips.
The wisest course of action—the safest, only path to take—was to stay far, far away from Ewan Reid. Her mother would never give her daughter to a man of low birth. But this was a house party. For the next fortnight, guests would dine together, dance together . . . Louisa swallowed hard. She definitely would not be dancing with Ewan Reid. Or conversing with him. Or—
"I know!" Mother's scarlet fan concealed her triumphant expression from the others. "Trap him with an 'accidental' compromise."
Mother's words merged with Louisa's thoughts and for a brief, mad moment, she thought her mother was suggesting Louisa throw herself at a poet.
"Paxborough loves his drink." Mother's eyes shone. "You can lure him with a glass of brandy and he'll follow you into a private room like a dog after a bone. Just think," the baroness whispered, giddy with excitement. "You'd be a marchioness one day."
"Not like that!" Louisa recoiled, aghast. "Swear to me we'll employ no underhanded tactics."
"Perhaps I won't need to. An entire fortnight, trapped beneath the same roof . . ." Mother gave a conspiratorial wink. "Anything might happen."
© Eloisa James, Christi Caldwell, Janna MacGregor, Erica Ridely; Avon Books/HarperCollins; 2021. Shared with permission from the publisher.
--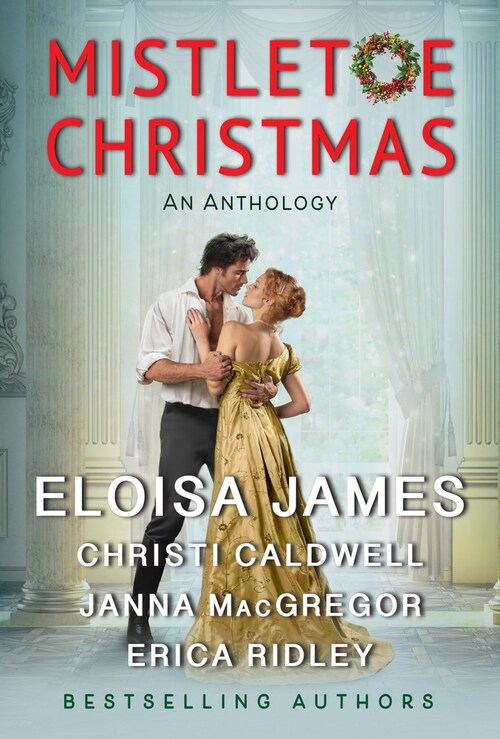 From four beloved writers—Eloisa James, Christi Caldwell, Janna MacGregor, and Erica Ridley—come four original stories that tell a hilarious tale of a Christmas house party that serves up love and scandal in equal measure!
The Duke of Greystoke's Christmas Revelry is famous throughout the British Isles for its plays, dancing, magical grotto… not to mention scandals leading to the marriage licenses he hands out like confetti.
But not everyone welcomes a visit from Cupid.
Lady Cressida, the duke's daughter, is too busy managing the entertainments—and besides, her own father has called her dowdy. Her cousin, Lady Isabelle Wilkshire, is directing Cinderella and has no interest in marriage. Lady Caroline Whitmore is already (unhappily) married; the fact that she and her estranged husband have to pretend to be together just makes her dread the party all the more. But not as much as Miss Louisa Harcourt, whose mother bluntly tells her that this is her last chance to escape the horrors of being an old maid.
A house party so large that mothers lose track of their charges leads to a delightful, seductive quartet of stories that you will savor for the Season!
Romance Holiday | Romance Historical [Avon, On Sale: September 28, 2021, Paperback / e-Book, ISBN: 9780063139695 / eISBN: 9780063139701]
A Party to Remember and a holiday to celebrate
No comments posted.