Welcome back to Fresh Fiction! Can you tell us a little bit about yourself, and your book, MOON WATER?
Hi! Many thanks to Fresh Fiction for the warm welcome. Career-wise, I'm a family nurse practitioner and a long-time nursing educator. In 2015, I switched from writing nursing research articles and texts to writing novels. Creating meaningful historical fiction is the more difficult yet most rewarding writing I've ever done. It is an art form that requires a significant amount of time and skill to develop, especially if you want to write literary fiction. While completing my first novel, The Wiregrass, I knew I had a good story, but needed help with designing the infrastructure supporting the story.
Consequently, I began taking creative writing classes with a New York Times bestselling author. The classes were difficult but incredibly valuable. Hopefully, what I learned is evident in Moon Water, a stand-alone sequel to The Wiregrass. Interestingly, the classes also made me a more astute reader of fiction as well.
In Moon Water, the protagonist, sixteen-year-old Nettie, comes home to the Blue Ridge Mountains of Virginia and gets hit with sucker punches coming from all directions. Her boyfriend since grade school wants to break up just as they are beginning to figure out the sex thing, her lifelong nemesis is jabbing her with perfectly polished nails, and her hellfire and brimstone preacher refuses to baptize her. Then, in the midst of this turmoil, an old Native American medicine woman gives her a cryptic message about an approaching darkness: a blood moon whose veiled danger threatens Nettie and those she loves. To survive, Nettie and her best friend, Win, have to build a mysterious dreamcatcher–one that requires them to scour the perilous mountains for nature's ancient but perfect elements.
Nettie is on the cusp of adulthood - she and her boyfriend are trying to navigate where things are headed, her social life at school and church is in turmoil, and she just feels like something is missing. What led you to decide to focus on these aspects of Nettie's life?
I wanted the characters to struggle with issues everyone struggles with: leaving childhood behind, puberty, young love, loss, and the resilience of the human spirit. I wanted them to demonstrate that while struggling is part of life, struggle does not define life. Happiness is a choice, regardless of hardships and struggle.
I also wanted my characters to examine the social issues of child neglect and sexual abuse, to see that evil can hide in plain sight. More importantly, I wanted them to show we're not powerless to stop it.
In Moon Water, Nettie's struggles are more far-reaching: sex, girl-on-girl conflict, Native American mysticism, faith, fear, and tragedy in the natural world. To explore these issues and events, I introduced some new and diverse characters, including Nibi, a Monacan medicine woman and her granddaughter, Win. Hopefully, the story lines and how these characters intersect with Nettie will start readers thinking and talking about some of the shared struggles.
Nettie and her best friend Win spend a lot of time with Win's grandmother, Nibi, a Monacan Medicine Woman. Win is learning more about her Monacan side of her family, and Nettie comes along. Tasked with making their own dream catchers, learning more about the Blood Moon and the traditions surrounding it, what do Nettie and Win learn about themselves throughout the process?
They learn what I hope we'd all learn under similar circumstances, that achieving the impossible is possible, but not easy. It takes faith, strength, wisdom, courage, commitment, and hope. They also learn the difference between worry and fear and how not to let either get in the way of doing what has to be done.
The setting of the Blue Ridge Mountains was beautifully described! What do you love about this part of the country?
I grew up in Amherst, Virginia, which is in the foothills of the Blue Ridge. On the weekends, my parents used to take us exploring and picnicking along the Parkway. Central Virginia was a great place to grow up. Even today, when traveling, I know I'm not home until I see the Blue Ridge Mountains.
I love asking authors about what they've recently read. What's the last book you absolutely love and want to recommend?
Without a doubt, it is Where the Crawdads Sing. This novel is extraordinary, and I don't say this lightly. I pick up a lot of novels, read a little, then lay most of them down. Few capture my undivided attention as Delia Owens did on the first page. She kept me side-by-side with the main character, Kya, throughout the story. Her detailed description of the Carolina coastline was impressive, and her use of marsh life to foretell events in the story was masterful.
I noticed in your bio that you're also a nurse practitioner! Are you ever surprised by how your "day job" and your job as a fiction writer overlap?
Constantly. The fascinating aspect of both roles is that they are an ongoing study of human behavior. Patients constantly surprise me, most of the time in good ways. I think the ability to surprise is important when authors are creating characters and storylines. Who wants to read a boring and predictable story?
What can readers expect from you next?
I just started my third novel and am trying some different approaches, such as using two points of view and parallel storylines.
Rapid Fire Random Questions
Favorite animal: Dogs. My husband and I had our first dog for nineteen years. She helped us raise our three kids. I also love birds and playful squirrels.
Coffee or tea: Coffee. Really good coffee.
Favorite book to re-read: To Kill a Mockingbird by Harper Lee. It was fascinating to read Go Set A Watchman, the prequel to TKAM, and to find out how much influence Lee's editor, Tay Hohoff, had on developing the final version of TKAM.
Beach or mountains: Mountains. I love an occasional beach trip, but the mountains are infinitely more fascinating and refreshing.
When you were younger, what did you want to be when you grew up?: The only thing I remember wanting to be is a nurse. I read the Cherry Ames series as an adolescent. As a teen, I saw what nurses were doing in the MASH units of Vietnam and knew that was what I wanted to do.
Dream vacation: Anywhere with my family.
Aside from reading and writing, what are your hobbies?: I love to travel to exotic places and do unusual things. For example, I spent time at an ecology research station with a treetop canopy walkway in the Amazon. I hiked the Inca trail from Cusco to Machu Picchu and came into the ruins through the ancient sun gate at the top. The view was phenomenal. The farthest travel destination was a photo safari in Botswana, Africa. The people were warm and welcoming, the wildlife incredible, and the scenery magnificent. However, some of the best trips have been right here in the USA, such as a week-long rafting trip down the Colorado River through the Grand Canyon, flying around the peak of Denali on a crystal-clear day, and exploring the many faces of Yellowstone and other national parks.
Five people you'd invite to your book club (dead, alive, fictional, etc.!): Maya Angelou because of her beautiful soul. Samuel Clemons/Mark Twain for his sharp wit. Patricia Cornwell because of her analytical skill. C. S. Lewis because of his insight into faith and humanity. And, Ernest Hemingway because he is a writer's writer.
Favorite movie: This is a tough question! I love well-made movies with strong life messages. One of these is The Legend of Bagger Vance. It's a great analogy for life and knowing when to lay down the burdens we insist on carrying. Fried Green Tomatoes is a close second, with a powerful message for women of all ages.
You have a totally free afternoon - no deadlines, no obligations, no Twitter notifications! What do you do?: That's easy. I'd curl up on my porch with a really good book.
**BE SURE TO COMMENT BELOW FOR A CHANCE TO WIN A SIGNED COPY OF MOON WATER BY PAM WEBBER**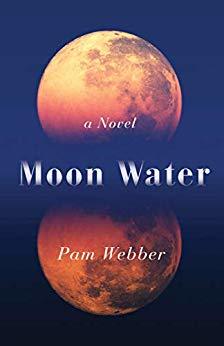 Set in the Blue Ridge Mountains during the summer of 1969, Moon Water finds Nettie, 16, with her boyfriend wanting to breakup just as they are figuring out the sex thing. Nettie's lifelong nemesis is jabbing her with perfectly polished nails, while her hellfire and brimstone preacher refuses to baptize her. Amid this turmoil, a Monacan Indian medicine woman gives her a cryptic message about a coming darkness, a blood moon whose veiled danger threatens Nettie and those she loves. To prepare for the darkness, Nettie and her best friend, Win, make a treacherous journey into the mountains to build a mysterious dreamcatcher of ancient elements.
Women's Fiction Historical | Historical | Fiction [She Writes Press, On Sale: August 20, 2019, Paperback / e-Book, ISBN: 9781631526756 / ]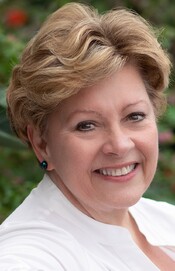 Pam Webber is author of the bestselling debut Southern novel, The Wiregrass and its standalone sequel, Moon Water, coming August 20, 2019 from She Writes Press.
The award-winning university nursing educator and nurse practitioner had previously co-authored a nursing textbook and peer-reviewed research articles before she was invited to be a Panelist at Virginia Festival of the Book.
Pam lives with her husband, Jeff, in the Northern Shenandoah Valley.
***
Fresh Fiction Editorial Manager Danielle Dresser is an avid reader, lackluster-yet-mighty crafter, and accomplished TV binge-watcher. Once upon a time, she was a publisher publicist and continues to cultivate her love of books and reading by chatting with the best authors in the business. She lives in Chicagoland with her very own romance hero husband, darling daughter, and two tempestuous cats. Follow her on Twitter and Instagram, @dj_dresser.
9 comments posted.
This looks like a great story. I like the conflict and diversity of this book. I
look forward to reading this! Great cover!
(Annette OMullan 4:42pm August 22, 2019)
The setting in the Blue Ridge mountains drew my attention. I enjoyed a family trip in that area and would enjoy doing it again.
(Anna Speed 2:48pm August 24, 2019)