Samantha Chase | What's on Your Christmas List?
GIVEAWAY: a bundle of Shaughnessy Brothers books!

December 6, 2016
Hey, Everyone! Samantha Chase here getting ready for my favorite time of year!! Besides having a new book out – which is always a cause for celebration – I am super excited for the holidays. I love the decorating and sending cards and seeing friends and family…I love it all!
So with celebrating the release of THIS IS OUR SONG, I got to thinking about this being Riley and Savannah's first Christmas together. How cute is that? They'd be decorating the house together and making plans for holiday parties…and then agonizing over what to get each other as the "perfect" Christmas gift.
Here's what I imagine would be the top five things on Riley and Savannah's Christmas list:
A new laptop. Savannah's very practical and she's going to want the most up-to-date computer to keep her going with her writing career. And it's going to need to be lightweight and easy to travel with since she'll be on the road with Riley so much.
A new guitar. For Riley, there will never be such a thing as too many guitars. He won't care if it's acoustic or electric, it will just be something new to play with and inspire him while he's on the road and looking to start working on the next project.
Sexy lingerie. Riley is TOTALLY going to buy some sexy things for Savannah even though it's mostly for his own pleasure. He truly loves her in just about anything she wears, but he's a guy so he's definitely going to want to get her something slinky and lacy just so he can have the fun of taking it off of her!
Stuff for the house. Again, the ever-practical Savannah is going to want things for the house. She's moved in with Riley and even though his house was professionally decorated, she's going to want to put her stamp on it – give it more of a feminine touch. I imagine her starting with something like a new comforter set for the bedroom – something that they'll both enjoy!
A romantic getaway. Even though they're going to be on tour for Riley's new album, he's going to surprise her with a romantic trip for just the two of them. And with her fear of flying, he's going to make it someplace that won't cause her anxiety to get to like a skiing in Colorado – so they can cozy up next to the fire – or perhaps someplace in the Florida Keys so the only thing she'll need to bring is a bikini!
Giveaway
What is on your Christmas list? Tell us below in the comments, one reader will get a Samantha Chase bundle!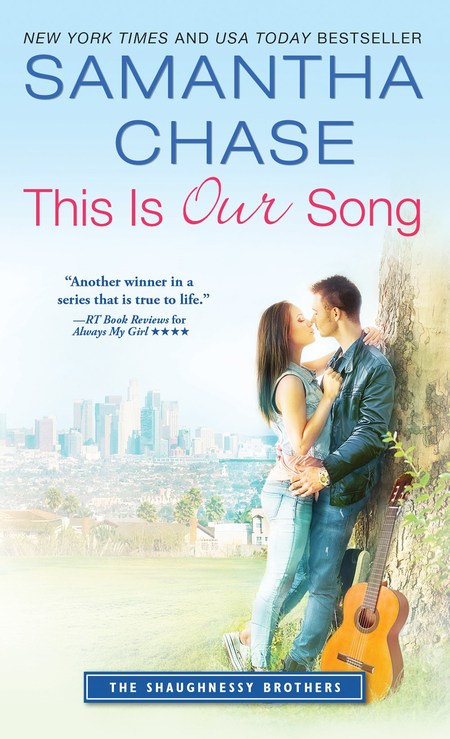 She knows him by reputation
Making a name for himself as a musician wasn't easy, but he followed his dreams to rock-star success. But the relentless expectations of fans is not helping the slump he's in now. So of course the person who attracts him is the woman who is not impressed by fame.
Which gives Riley Shaughnessy a lot to prove
Entertainment reporter Savannah Daly is completely unfazed by pretty-boy rock stars. She's just here to get her interview and write her story. But spending an entire month with the Shaughnessys is going to show Savannah a side of Riley she never could have guessed.
Romance Contemporary [Sourcebooks Casablanca, On Sale: December 6, 2016, Paperback, ISBN: 9781492616313 / ]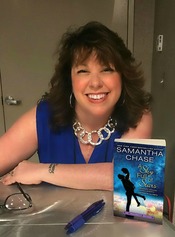 New York Times and USA Today Bestseller/contemporary romance writer Samantha Chase released her debut novel, Jordan's Return, in November 2011. Although she waited until she was in her 40's to publish for the first time, writing has been a lifelong passion. Her motivation to take that step was her students: teaching creative writing to elementary age students all the way up through high school and encouraging those students to follow their writing dreams gave Samantha the confidence to take that step as well.
When she's not working on a new story, she spends her time reading contemporary romances, playing way too many games of Scrabble or Solitaire on Facebook and spending time with her husband of 25 years and their two sons in North Carolina.
Comments
42 comments posted.
Re: Samantha Chase | What's on Your Christmas List?

These books and their summary looks quite catchy. I would love
to read these books and I'm so proud of every single author
for writing such amazing books.
(Tarushi Kaur 12:35pm December 6, 2016)
Well, books are always on my list. A new pair of boots might be nice, too!
(Sharlene Wegner 3:43pm December 6, 2016)
My Christmas list? Well, if I can't have RILEY, I guess
I'll take some books, anything in that hot new Vera Bradley
Elderberry purple color, some CD's, some movies, and the
rest is yet to be determined! :)
(Lynn Brooks 3:54pm December 6, 2016)
All I really want for Christmas this year is peace in my
own immediate family!!
(Linda Herold 3:58pm December 6, 2016)
new boots
Trip to AZ to see my parents
Spa day
(Ramona Kekstadt 5:30pm December 6, 2016)
Fit bit for all the nights I stay awake reading and when I sit
all day reading.
It can be my keeper monitoring my sleep and exercise patterns.
(Cyn Pak 5:36pm December 6, 2016)
For Christmas I want a new kindle and some new books.
(Dana Tillack 5:40pm December 6, 2016)
My wish is that this family can go through the Christmas Hoildays with out having to go to the ER. 3 years ago I had to go to get my hand stitched up as I cut my hand with a knife peeling potatoes. That next year our oldest daughter had to go because she was coughing badly and we find out she had walking Pneumonia, then last year my husband was sick, we are hoping this year will be better. Penney
(Penney Wilfort 5:42pm December 6, 2016)
Books, books, and more books.
(Sue Farrell 5:48pm December 6, 2016)
Books, of course!!
(Jamie Stein 6:15pm December 6, 2016)
I want/need a new Kindle. Mine died :( Overload I guess.
I also want an Amazon Echo or Google Home :)
I also want to have Christmas on Christmas day. I always
end up with Christmas eve since grown children are married!
(Bev Sten 7:01pm December 6, 2016)
To make it through my first Christmas without my dad
(Margie Greenhow 7:22pm December 6, 2016)
Peace... and more books, of course!
(Linda Townsend 8:26pm December 6, 2016)
What my family wants is time. We want to make it to and
through Christmas. My dad has stage 4 cancer so we want to
make the most of this time and be able to have Christmas at
home with Dad.
(Beth Paulsen 8:37pm December 6, 2016)
Books, some Anime, things I could use, etc...
(Colleen Conklin 8:53pm December 6, 2016)
Would love a set of Samantha Chase's Books.
I would love for my daughter to tell me she is pregnant that would be the
best Xmas present ever!
(Anita Byars 9:41pm December 6, 2016)
That book collection is definitely on my list. I am a new
fan of Samantha and have a lot of catching up to do. :) I
guess one of my favorite gifts is Amazon gift cards so I can
keep one-clinking away! 😀
(Amy Moore 10:10pm December 6, 2016)
I want a visit from my son who is away in military, Peace on
Earth, most importantly I want to be able to afford to see my
dad in Dallas who is old and dying and suffering from bad heart,
cancer, and Alzheimer's.
(Angela Reed 10:36pm December 6, 2016)
A healthy grandson, my daughter is due next week. Books are always nice
too!
(Shari Bartholomew 10:45pm December 6, 2016)
A new laptop that is more travel friendly because mine is on
its last leg... Need it for edits...
(Shelly Small 10:51pm December 6, 2016)
I would really like to receive a family picture from each of
our kids, warm fuzzy socks, a 'Mom' necklace and books.
(Tina Shobe 11:21pm December 6, 2016)
I don't want much for Christmas. Maybe a new and improved Kindle.
(Cheryl Castings 10:36am December 7, 2016)
I would love my great health back after 4 years of serious
difficulties.
(Sharon Berger 10:55am December 7, 2016)
I would like book & stationery gifts!
(Jennifer Heacox 3:14pm December 7, 2016)
I'm with Sharon Berger! This bone on bone business is
verstchunken! At the risk of sounding greedy: more books! ;)
(Kathleen Bylsma 7:13pm December 7, 2016)
I always ask for gas gift cards.
(Jana B 7:45pm December 7, 2016)
Spend more time with family and less stress at work
(Julie Parrish 8:35pm December 7, 2016)
I just enjoy watching the grandkids open their gifts. That's all I need!!!
(Bonnie Capuano 9:47am December 8, 2016)
Books or better yet, Amazon Gift Cards so I can pick the
books I want. Merry Christmas everyone!
(Deb Diem 6:55pm December 8, 2016)
On my list is a foot massager... I saw a super nice one and
told hubby that would be the perfect gift. But if he gets
me soft socks or slippers I would be happy also :)
(Jeannie Platt 9:14pm December 8, 2016)
Oh my gosh, I would LOVE to win this! Samantha Chase is
one of my all time favorite authors! For Christmas, I
secretly want a Kindle Oasis since I swear the battery on
my kindle is dead all the time. But I also really want
some of those shea butter socks; I just love those and
they are so comfy and cozy.
(Kayla Hemmerle 1:13pm December 9, 2016)
I always want books as a present, especially ones I can donate to a local
needy library for others to enjoy too.
(Nadine Stacy 6:25pm December 9, 2016)
A roof over my head!
(Lisa Baldwin 8:39pm December 9, 2016)
Books are always on any list. A special gift for my handicapped son. My hubby needs a new pair of shoes, but he is hard to fit and we are having trouble finding him a comfortable pair. Moat of my wishes are for those I love, not myself.
(L Green 9:37pm December 9, 2016)
I need some new boots to keep my feet warm for Christmas. Other than that my family knows I can always use Amazon gift cards.
(Linda Henderson 10:03pm December 9, 2016)
I love reading. This bundle of books looks awesome. My
Christmas list is basically making sure my four kids get and
have a wonderful Christmas.
(Stacie Williams 1:53pm December 11, 2016)
Gift cards or cash is on my list! Things are really tight,
so they'd be put to good use!
(Maria Proctor 11:23am December 12, 2016)
The most precious gift I can receive is time with my family.
(Anna Speed 1:15pm December 12, 2016)
I would like laptop and a television for Christmas.
(Tanja Dancy 7:07pm December 12, 2016)
The top of the list is Books then a new winter coat in black.
(Jackie Wisherd 9:10pm December 12, 2016)
this series has been on my TBR lsit for a while now, just
have to retire first! and if i could get some new flooring
for my downstairs too i'd be all set for quite a while!
(Sandy Haber 10:14pm December 12, 2016)
Amazon gift cards for purchasing books
(Bonnie Hometchko 9:05pm December 13, 2016)
Registered users may leave comments.
Log in or register now!