Into the Night
The Latest in Paranormal Romance and Urban Fantasy
Poll: Are Novellas Worth the Read?
Annie Tegelan
April 21, 2016
Are you a fan of short stories or novellas? Frankly I have a love/hate relationship with them. I love them because they are a great way to discover new authors and to try out a series before investing.
This is especially important for series that are long-standing (i.e. have over ten books in the series already). Short stories are also fun if you're anxiously awaiting the newest installment to your favorite series and require something to "tide you over" until the next release. However, there can be some drawbacks and I really truly believe personal enjoyment depends on the book.
The only time I don't enjoy short stories is when the length of the story compromises the book. I prefer short stories that have a conflict in it and the characters must find a resolution. These are my favorites because they almost act like a mini book in the series where the readers get a sample of the author's style. But I will admit there are a few short stories that employ the more "slices of life" style and I've found that I can enjoy those too. The slices of life style simply gives readers a brief look into a character's lives without going deeper into plot or conflict. It's simply a way to entice readers but I really think this works if an author has a character who is well-loved already. I don't find it as effective if it's a way to introduce a new character. So for me, it all depends on how the author approaches the book.
All that being said, I would love to know your opinions on novellas. Do you read them? Do you like them?
Keeping with the theme, my recommendations for this week are all novellas from best-selling authors. If you haven't read them before, this is the perfect opportunity to check them out!
Z by Larissa Ione
Z is a story set in Ione's Demonica world. As a side character in the series, Z finally gets his chance to shine.
About Z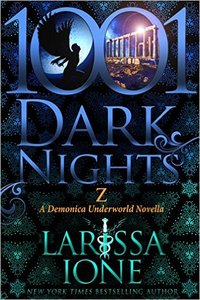 Zhubaal, fallen angel assistant to the Grim Reaper, has spent decades searching for the angel he loved and lost nearly a century ago. Not even her death can keep him from trying to find her, not when he knows she's been given a second chance at life in a new body. But as time passes, he's losing hope, and he wonders how much longer he can hold to the oath he swore to her so long ago…
As an emim, the wingless offspring of two fallen angels, Vex has always felt like a second-class citizen. But if she manages to secure a deal with the Grim Reaper — by any means necessary — she will have earned her place in the world. The only obstacle in the way of her plan is a sexy hardass called Z, who seems determined to thwart her at every turn. Soon it becomes clear that they have a powerful connection rooted in the past…but can any vow stand the test of time?
ALPHA: ORIGINS by Ilona Andrews
This story features a new character named Karina Tucker. It's a great way to try out Ilona Andrews' writing style.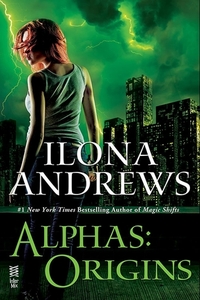 From Ilona Andrews—#1 New York Times bestselling author of Magic Shifts and the Kate Daniels novels—comes a stark, seductive tale of a world torn asunder by supernatural gifts and irresistible passions...
Karina Tucker is driving a van of children home from a field trip when an unplanned detour to a seemingly ordinary rest stop changes her life. There, she witnesses a world beyond humanity's sight, of frightful powers and chaos, where she is in death's grip...before an irresistibly dangerous male saves her—only to take her captive.
For she is a rare commodity in the shadowy realm she's entered.
Karina soon finds herself caught in a violent civil war where those with inhuman powers strive to destroy each other without mercy. And it becomes all too clear that she must make a choice: submit and become a pawn, or take hold of her own destiny and fight for survival against impossible odds.
Alphas: Origins originally appeared in Angels of Darkness.
WAYLAID by Kim Harrison
This is probably the most interesting of the bunch because it mashes up two series from a single author. Merging the Peri Reed Chronicles with the Hollows, this is a great way to crossover readers from one series to another.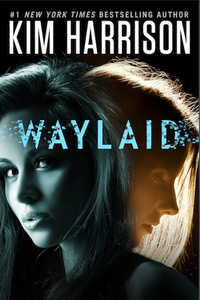 Worlds collide when Rachel Morgan of THE HOLLOWS meets Peri Reed of THE DRAFTER in this exciting new short story from #1 New York Times bestselling author Kim Harrison.
The paranormal and the futuristic meet in this thrilling novella featuring your favorite badass heroines from two of "the amazingly gifted" (RT Book Reviews) Kim Harrison's most beloved series: the Hollows and the Peri Reed Chronicles. The magic of the Hollows runs full force into the technological sophistication of The Drafter when a device capable of carrying a city's data stream pulls Rachel, the bounty hunter witch of the Hollows, between realities, marooning her in a world where the supernatural holds no sway. To get Rachel and Jenks home, Peri, the dangerous renegade of 2030, must decide what will chart her future: her blind trust in those who grant her power, or her intuition telling her to believe.
Comments
14 comments posted.
Re: Poll: Are Novellas Worth the Read?

Yes, I do like novellas because they introduce me to new
authors.
(Kathleen Bylsma 6:37pm April 21, 2016)
I love novellas because they give me a tiny taste of the
author's world.
(Debbie Wiley 6:40am April 22, 2016)
Yes, especially in anthologies.
(Cheryl Castings 11:53am April 22, 2016)
I do not like novellas or short stories. They always leave me disappointed. I usually refuse them even when they are offered for free. Most of the books I read are over 300 pages.
Are novellas and short stories the same thing? Is there a page or word count associated with them?
(Lynn Bruce 9:47pm April 22, 2016)
Lynn, I can totally see where you are coming from. A lot of them can be
disappointing however, some can be fun to read. The word count of onvellas
and short stories can also depend on the genre its from but short stories are
8,000 and novellas can be 20,000 to 40,000 words.
(Annie Tegelan 9:30am April 24, 2016)
I usually make it a point to not read anything under 100
pages. It isn't because of anything negative, I just read too
fast to properly enjoy them.
(Candy Voisine 6:34pm April 24, 2016)
I'm a slow reader and wish there were more novellas offered by mainstream publishers. I would read a lot more if the books were shorter.
(Greta Picklesimer 6:48pm April 24, 2016)
I like anthologies, especially around holidays when there isn't much time to read a long book. Novellas have to be about people in a series I am reading or a prequel.
(Joan Phillips 9:01pm April 24, 2016)
Yes, but only as prequels or interludes between releases of full-length
books in anthologies. They are the perfect medium for exploring minor
characters in a series. However, short stories that don't lead anywhere
generally leave me wanting.
(Samantha Morris 10:30pm April 24, 2016)
No I find novellas too short and the stories hurried. I much
prefer long books where I can get to know the characters and
there is a much more fleshed out story.
(Tammy Gowan 10:30pm April 24, 2016)
I love short stories. Sometimes I just want a short read
to fill time, like dr office where you will get
interrupted. Or before bed. If I start a full length
novel late in the day, I will most likely stay up and
continue to read. So short reads are fun little breaks
from reality without the commitment of time. Happy
writing.
(Nancy Schreib 11:59pm April 24, 2016)
No, I don't think Novellas are worth the read. They are
like cliffhangers.
(Sandy Pochapin 7:57am April 25, 2016)
I love short stories and novellas. I'm currently reading the Jane Yellowrock anthology "Blood in Her Veins" and Faith Hunter has written short stories and novellas that flesh out plot points to the overarching series and delve into secondary characters. I'm loving getting to know the Trueblood clan most of all!
(Mary Greenawalt 10:37am April 25, 2016)
Looks like there's a mixed bag when it comes to novellas. Loving all your
comments, everyone!
(Annie Tegelan 6:03am May 23, 2016)
Registered users may leave comments.
Log in or register now!