Sierra Donovan | Holiday Fudge

December 26, 2015
Christmas is over, you say? BAH! I say. Now that the shopping-and-mailing crunch is over, this is a time we relish at my house. It's a time to sit back, relax, and enjoy the rest of the season. The house is decorated, the deadlines are over, and there are still Christmas movies and music to enjoy, all at a more leisurely pace!
And, confession time: The first chance I had to bake was the day before Christmas. My daughter and I whipped up a quick batch of chocolate chip cookies, perfect for running over to the neighbors on Christmas Day.
Another favorite recipe I plan on getting to this week: Fred and Lindsay's fudge. When I was writing NO CHRISTMAS LIKE THE PRESENT a few years ago, my heroine, Lindsay, had a beloved fudge recipe. But I didn't. I'd never made fudge before! So, to make the cooking process more authentic, I did a little (somewhat fattening) research. I experimented with several different recipes, and when I was done, I consolidated my findings into my own favorite recipe.
In the book, mysteriously, my hero's batch of fudge turned out to be even better than Lindsay's – despite the fact that Fred followed her instructions exactly. That's the way it goes with Christmas magic!
FRED AND LINDSAY'S FUDGE
2-1/4 cups white sugar
2/3 cup sweetened condensed milk
1/4 cup butter or margarine
16 large marshmallows
1 teaspoon vanilla extract
1 cup semi-sweet chocolate chips
3/4 cup chopped walnuts or almonds (optional)
Note: Candy thermometer required!


Butter an 8 x 8" pan.

In a medium-size saucepan over medium heat, mix sugar, condensed milk, butter or margarine and marshmallows. Bring to a rolling boil and reduce heat, stirring constantly, until mixture reaches 234-236 degrees. Remove from heat.

Add vanilla, chocolate chips and (if desired) nuts. Stir until chips are melted.

Pour into buttered dish. Let fudge cool completely before cutting the squares.

Merry Christmas ... and Happy New Year!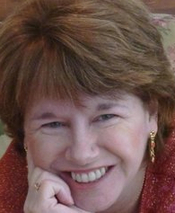 Sierra Donovan is a wife, a mother of two and a writer, though not always in that order. Her greatest joy is helping people find true love on the printed page. She believes in classic movies, Christmas, happy endings and the healing power of chocolate.
Sierra's first novel, LOVE ON THE AIR, was a Holt Medallion finalist. Her Kensington debut, NO CHRISTMAS LIKE THE PRESENT, won the Golden Quill for Sweet Traditional Romance. Her October 2015 book, DO YOU BELIEVE IN SANTA?, marks the beginning of her new Evergreen Lane series.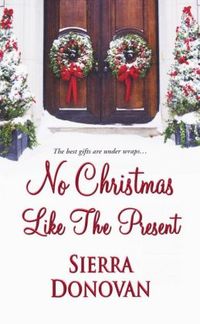 Lindsay Miller is knee-deep in Christmas cards and homemade fudge, but she's never felt more like a Grinch. Why can't Christmas be full of magic, like in her favorite movie, A Christmas Carol. . .?
. . .Enter Fred, a sexy and eccentric stranger who arrives at Lindsay's door out of the blue. Dressed like he just stepped out of a Dickens novel, complete with British accent, Fred claims he's a Messenger, sent from "Headquarters" to help her discover the joy of Christmas. But is Fred an angel from above--or just stone cold crazy?
Fred's used to dealing with skeptics. Telling a stranger you've been ordered to inspire holiday cheer is a tough sell. But there's a further complication. Fred's mission is to help Lindsay right the wrongs from her past that have been holding her back. But somehow along the way, they've become wildly attracted to each other--and falling in love is not part of the plan. Fred only has 'til the stroke of midnight on Christmas Eve to guide Lindsay to the magical future she deserves--even if it's a future without him. . .
Buy
NO CHRISTMAS LIKE THE PRESENT
:
Kindle
|
BN.com
|
iTunes/iBooks
|
Kobo
|
Google Play
Comments
4 comments posted.
Re: Sierra Donovan | Holiday Fudge

I love fudge. I will try the recipe.
(Gladys Paradowski 1:32am December 27, 2015)
Book sounds interesting; I would like to read more of Fred. One
of my sons makes the fudge each year. It is the best and one it
took years to get it just right. Thanks for your recipe, I will
share it with him.
(Leona Olson 10:13am December 27, 2015)
Now this is a fun premise! Nothing like budging a skeptic's mind!
(Kathleen Bylsma 1:15pm December 27, 2015)
Thanks, Gladys and Leona. I wish you magical results!
(Sierra Donovan 1:34am December 28, 2015)
Registered users may leave comments.
Log in or register now!