Ashley Barrow, Ash to friends.
- Detective, Davenport PD
- Portland University, BA in Criminal Justice with Minor in Psychology; MA in Criminal Justice
- Lives Davenport, Oregon
- Single
- From Los Angeles, one sister

Ashley Barrow
Friday, March 15
New Case. A nasty one. Hope it has a quick run, but I have a bad feeling about this one.

Hunter Graham
Gee, what part of what we saw today makes you think that Detective?
Ashley Barrow Likes This

Hunter Graham
Dinner with Janey and me tomorrow. Promise smiles.
Movies I Watch
Butch Cassidy and the Sundance Kid
Princess Bride
Spy Games

Music I Listen To
The Beatles
Greenday
Air Supply

Ashley Barrow
Sunday, March 31
I need a vacation. Somewhere far, far away where they won't find me.
Hunter Graham
You can't hide from me.
Ashley Barrow
No one said you had to look.
&nbsp Hunter Graham
&nbsp Like that's going to happen. Go to bed. It's past two.
&nbsp Ashley Barrow
&nbsp For you, too.
Places I've Visited
Hard Rock Café, Fisherman's Wharf, San Francisco
Portland Japanese Garden, Portland Oregon
Broadway Playhouse at Water Place, Chicago

Notes
Favorite quote: "To be yourself in a world that is constantly trying to make you something else is the greatest accomplishment." ~RW Emerson


Ashley Barrow
Monday, April 1
Hunter Graham likes this
Dinner at desk and home too late to work on the secret project. Maybe this weekend. I need a vacation or they can rack me up in the body count.
Hunter Graham What secret project? Is that for me?
Ashley Barrow
In your dreams you Irish bastard.
Hunter Graham
Next time you want cream and sugar … hum?
Ashley Barrow
LOL … go away. I see you enough at work.
Bucket List: Travel to someplace I've never been.
Read Lord of the Rings.
See Andy Warhol's Soup Cans.
See The Southern Cross.
Visit Costa Rica and New Zealand.

Ashley Barrow
Tuesday, April 2
Janey Graham Like This
Too wired to go home after shift. Finally tried that place Coopers. Interesting staff who like to annoy the customers. Nice ass, though.
Hunter Graham
What?
Janey Graham
What?
Ashley Stuart
His name is Ian. Ian Stuart. Accent to die for and prefers books to sex, so I hear, though I'm not seeing that side of him.
Hunter Graham
What?
Janey Graham likes this
Ashley Barrow
Saturday, April 6
Janey Graham likes this
He's Scottish, fun, teases to just the right point and I have to admit, not at all bad on the eyes.
Janey Graham
Does he have a brother?
Hunter Graham
Ha Ha Ha

Ashley Barrow
Sunday, April 7
Have put away current project and begun work on an afghan for Ian. He liked the one I made that's in the living room. Thinking I might keep him around long enough to finish.
Hunter
Wasn't that other project for me? I know your weak spots Detective. Get back to work.
Ashley Barrow and Janey Graham Like This
Ashley Barrow
Thursday April 11
Travis Ricci and Ian Stuart Like This.
Met Ian's oldest friend tonight at Cooper's. Travis. Not bad on the eyes either and full of confidence and fun. I think he might be talking to the rest of the roommates about me at the house. Will have to dig deeper.
Travis Ricci
Told you I would leave Scotland in the dust.
Ashley Barrow
And I believe I remember what I said back.
Travis Ricci
Yeah, I told them that, too. Ha Ha
Ian Stuart Likes this
Ashley Barrow
Monday April 20
Ian Stuart, Travis Ricci, Jason Sullivan, Quinn Nelson and Evan Harris Like This
Finally meeting Ian's roommates for a birthday party for the youngest, Evan. Nervous. He never talks about them, really. They just show up now and again unannounced. I've never been in the same room with all of them at once.
Jason Sullivan:
Looking forward to it.
Quinn Nelson
I get first dance.
Ashley Stuart
Sunday, June 23
Ian Stuart, Travis Ricci, Jason Sullivan, Quinn Nelson and Evan Harris Like This
Never learned as a kid what family really meant. Funny for it all came together here. Ian Stuart Welcome Home Sweetheart.
GIVEAWAY
How do you connect with friends? Leave a comment below and be entered to win a $5 Amazon GC and Kindle copies of WITH A VENGEANCE and DEAD MEN PLAY THE GAME!
Award-winning author, Jacqui Jacoby lives and writes in the beauty of Northern Arizona. She is the owner of Body Count Productions, Inc, which keeps her career moving. Currently adjusting to being an empty nester with her first grandchild to draw her pictures, Jacqui is a self-defense hobbyist. Having studied martial arts for numerous years, she retired in 2006 from the sport, yet still brings the strength she learned from the discipline to her characters. She is a working writer, whose career includes writing books, teaching online and live workshops and penning short nonfiction.
Website | Blog | Facebook | Twitter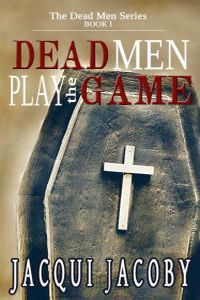 For a hundred years, Ian Stuart has fought the monster controlling his life. Living as a human among humans, he wants to fill the void that has followed him from one empty, lonely relationship to another. Ashley Barrow is working the worst murder case in Davenport, Oregon's history. She needs a drink to forget the detailed images in her mind.
When she walks into Ian's pub, Ian knows their lives are about to change, if only for a short while. Vampire and human, their relationships can only last so long. But an enemy from Ian's past has his own agenda about their future. His sadistic revenge changes Ashley forever, leaving Ian and his long time friends – Travis, Jason, Quinn and Evan -- desperate to ease her into her new life and find a way to defeat their enemy.
Comments
18 comments posted.
Re: Jacqui Jacoby | Ash to Her Friends

How do I connect with my friends? I personally connect
with them. I find the internet to be unsatisfying.
(Deb Philippon 2:29pm July 9, 2015)
Most of my friends are imaginary LOL ... typical writer
infliction. I use a lot to play with them and the Internet
to help them develop. I use FB because I enjoy it and a
lot of the real kind of friends don't live in town.
(Jacqui Jacoby Wilson 2:41pm July 9, 2015)
I contact them mainly by phone. I connect mainly by sharing things like: real thoughts, advise and events.
(Trish Fesmir 3:59pm July 9, 2015)
Sometimes e-mail, letters, and phone calls...
(Colleen Conklin 4:52pm July 9, 2015)
Sorry you don't agree. Don't see a problem with this
subject heading.
(Jacqui Jacoby Wilson 8:27pm July 9, 2015)
Propose of this post, to introduce you to the characters in
an unusual format.
(Jacqui Jacoby Wilson 8:29pm July 9, 2015)
** Purpose ... man I'm tired
(Jacqui Jacoby Wilson 8:48pm July 9, 2015)
Facebook
(Marissa Yip-Young 5:34am July 10, 2015)
I connect on email, texting, facebook & at the gym or meeting
for lunch or shopping. I guess it helps that we're retired. I
haven't read your books yet, and I'm glad to find a new-to-me
author to read!
(Sharon Shearouse 11:01am July 10, 2015)
Anyone have any questions about Ashley? Or the cast?
There are five guys listed toward the end, all willing to
live or die for each other or the people they love, which
we would be Ashley.
(Jacqui Jacoby Wilson 4:27pm July 10, 2015)
I still use snail mail a lot for many of my friends live out of town. I always send them greeting cards for various holidays. They seem to appreciate them.
(Gladys Paradowski 10:38pm July 10, 2015)
I make personal phone calls
(Christine Schultz 3:17pm July 11, 2015)
Yes I wish to be entered in today's contest. I make calls or text or email as my niece is deaf.
(Michelle Bauer 8:42am July 12, 2015)
My closest non-family friends live across the country, and I online chat with
them almost daily.
(Mary Ann Dimand 1:05pm July 12, 2015)
I would just rather read.
(LaCinda Jameson 2:27pm July 12, 2015)
Phone calls and texting and planning to have lunch or dinner once a month.
(Kai Wong 5:55pm July 12, 2015)
I call them on the phone and make plans for lunch and/or shopping! I have some
awesome friends.
(Teresa Stebbins 6:22pm July 12, 2015)
I call them , sometimes a letter or card.
(Deb Pelletier 9:15pm July 12, 2015)
Registered users may leave comments.
Log in or register now!