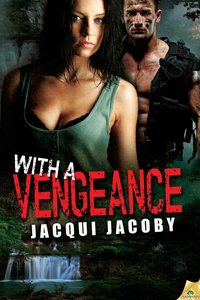 Purchase
Samhain Publishing
April 2014
On Sale: April 9, 2014
266 pages
ISBN: 1619217171
EAN: 9781619217171
Kindle: B00B18C30U
Paperback / e-Book
Add to Wish List

Other Editions
Paperback (April 2013)
The more she wanted out, the more they dragged her back in.
Daughter to murdered CIA officers, niece to a deputy director, Jaime Walsh has never known life outside the world of espionage. Until a high-action case in Buenos Aires leaves her gutted. Physically, emotionally…and professionally.
She'd planned for her long-overdue vacation to be a time to rest and reassess. With her longtime partner Stephen not far behind, it's a tropical paradise away from work. A paradise where boundaries will be tested.
From their training days, Stephen Reid has watched Jaime kick ass while performing what has become his second job— watching her back. But now his feelings have grown.
As best friends look at each other in a new light, they like what they see. And Jaime dreams of a new life outside "the company".
Except someone from their past won't be satisfied until Jaime and the man she loves are hunted to the brink of death. Now Jaime must find the strength to trust her heart and let go of her fear. Before she loses everything…
Warning: This book contains world travel with stops in exotic locations, a kick-ass heroine who just wants to be left alone and a sexy hero who can't seem to stop himself from watching her back.
Comments
22 comments posted.
Re: With a Vengeance

I agree, it's great to be able to take care of yourself, I love tough heroines. Your book sounds great, I'd love to win a copy.
(Jen Barnard 4:21am April 7, 2014)
I am definitely a kick-ass heroine wannabe! Awesome story - I am hooked already!
(Felicia Ciaudelli 9:14am April 7, 2014)
My daughter is one heck-of-a kick-ass Momma. She can do anything!!! I admire her so much for that. I can't wait to read this book!!!
(Bonnie Capuano 10:20am April 7, 2014)
It sounds like your book has a little bit of everything thrown in to take us for the ride of our lives!! I also get a slight hint of your life in there for good measure!! The setting sounds pretty exciting as well!! Congratulations, and good luck on what I'm sure is going to be a hot book - in more ways than one!!
(Peggy Roberson 10:36am April 7, 2014)
i am a kickass momma I think i would love this book
(Denise Smith 10:40am April 7, 2014)
totally someone unlike me but whom i would admire...
(Mal Kaplan 10:56am April 7, 2014)
I enjoy tough heroines... sounds really interesting!
(Colleen Conklin 12:55pm April 7, 2014)
Oooh this book sounds really good!
(Denise Austin 1:28pm April 7, 2014)
this book sounds good to read
(Ann Unger 5:06pm April 7, 2014)
This romantic suspense book sounds like an exciting read, especially with the kick-ass heroine, Jaime. I can't wait to read it!
(Linda Luinstra 6:14pm April 7, 2014)
Must apologize, death has been following me for a little
while in the form or a cold that even Jaime couldn't beat
back ... if the germ dared to get near her int he first
place!! But I have laid up and missed alot. So sorry!!
(Jacqui Wilson 4:36pm April 9, 2014)
Jen, I am a firm believer
that every woman needs not only basic self defense to keep
them safe, but the confidence that comes with it. Both my
girls took ten years of martial arts, one of them obtained
the rank of 2nd degree. NO one messes with either.
(Jacqui Wilson 4:38pm April 9, 2014)
Felicia, go for it!! Never too late to start!! I was thirty
two when I took up Tae Known Do and older when I picked up a
sword.
(Jacqui Wilson 4:39pm April 9, 2014)
Bonnie, very nice!!
(Jacqui Wilson 4:39pm April 9, 2014)
Peggy, my husband once asked me if Jaime was my alter ego and
if he should be afraid. Not quite, but I still dress like
her!!
(Jacqui Wilson 4:40pm April 9, 2014)
Denise, glad to hear it!!
(Jacqui Wilson 4:40pm April 9, 2014)
L Lam ... my fav is the mom in Poltergeist. What she did to
save her kids ...
(Jacqui Wilson 4:41pm April 9, 2014)
Ann ... I hope you enjoy it.
(Jacqui Wilson 4:41pm April 9, 2014)
Linda, I hope it fulfills your expectations.
(Jacqui Wilson 4:42pm April 9, 2014)
I love tough strong take charge women as characters in books. I can't wait to read the story. Thanks for the giveaway.
(Kathleen Beale 7:10pm April 9, 2014)
I love a kick-ass heroine who isn't afraid of taking chances.
(Kai Wong 11:32pm April 9, 2014)
Unexplained noises in the night keep me awake. Looks like such
great reading.
(Mary Preston 4:48am April 11, 2014)
Registered users may leave comments.
Log in or register now!