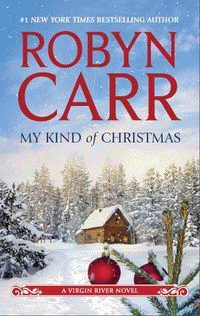 Jack's Bar is abuzz with gossip about the new couple in town, Angie LaCroix, Jack's very attractive niece, and Navy pilot Patrick Riordan. Yes, it's Christmas; there's snow on the ground, and everyone is trimming the giant tree across the street from the bar. But Jack's as grumpy as Scrooge. He's not happy with this pairing.
But Angie and Patrick are. They both came to Virgin River for some time alone, Angie to decide what her future holds for her now that she's barely survived a life–threatening car accident, and Patrick to think on his future after losing his best bud in a plane crash.
But now that they've met, they want to be alone . . . together.
For Robyn's November contest, she's giving away not one but two grand prizes. Two lucky winners will each receive a copy of MY KIND OF CHRISTMAS and a limited edition, bright–red–for–Christmas Virgin River jacket.

MY KIND OF CHRISTMAS
Order Today
The Riordan brothers may have a reputation for being rough and tumble, but Patrick has always been the gentle, sweet–natured one. These days, his easy–going manner is being tested by his high–octane career as a navy pilot. But for the Riordan brothers, when the going gets tough, the tough find the love of a good woman.
Except the woman who has caught Patrick's attention is Jack Sheridan's very attractive niece.
Angie LeCroix comes to Virgin River to spend Christmas relaxing, away from her well–intentioned but hovering mother. Yet instead of freedom, she gets Jack Sheridan. If her uncle had his way, she'd never go out again. And certainly not with rugged, handsome Patrick Riordan. But Angie has her own idea of the kind of Christmas she wants—and the kind of man!
Patrick and Angie think they want to be left alone this Christmas—until they meet each other. Then they want to be left alone together. But the Sheridan and Riordan families have different plans for Patrick and Angie—and for Christmas, Virgin River style!
Find out more about MY KIND OF CHRISTMAS on www.RobynCarr.com, on her app for IPhones and Androids, and on Robyn's Facebook page. Robyn says, lend a hand and help give our deployed heroes an enjoyable holiday season. Visit theSoldiers' Angels website and find out how you can help share the gift of Christmas by participating in their 6 months of Christmas campaign.
Contest ends: November 30, 2012