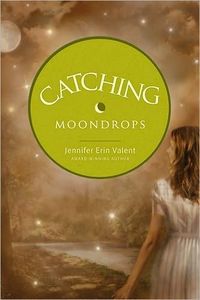 Five readers to correctly answer the Jen's Jewels trivia question will win a copy of Jennifer Erin Valent's latest release, CATCHING MOONDROPS.
CATCHING MOONDROPS
Order Today
Jessilyn Lassiter no longer has to convince people she's not a child. Having just turned 19 in the summer of 1938, her love for Luke Talley has never been more real. And Luke is finally beginning to care for her in the way she's always dreamed of.
But their budding romance is interrupted when Tal Pritchett—a young, black doctor—comes to Calloway, stealing the heart of Jessilyn's best friend, Gemma, and stirring up the racial prejudice that has been simmering just beneath the town's surface.
The tension starts to bubble over when Jessie's elderly neighbor Miss Cleta becomes the first white townsperson to accept Tal's treatment.
And when a young black man is lynched, Calloway is brought to its knees once again as Jessilyn realizes that her anger can make her heart as full of hate as the klan members who have terrorized her town and her family.
Contest ends: October 31, 2010