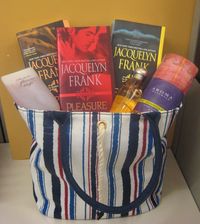 The dramatic conclusion to the innovative and successful paranormal Series—The Shadowdwellers—from New York Times bestselling author Jacquelyn Frank.
The Pleasure overnight bag includes:
• Estee Lauder's PLEASURES DELIGHT Eau De Parfum Spray
• Estee Lauder's PLEASURES DELIGHT Shower Gel
• A passion aromatherapy candle, that combines the essential oils of nutmeg & ylang ylang to create a warm and passionate blend
• The entire Shadowdwellers series: Ecstasy, Rapture, & Pleasure
DOUBLE YOUR PLEASURE; ENTER TO WIN TODAY!
Beyond our world lies a land where darkness reigns—the land of the virile, sensual Shadowdwellers—yet their mysterious abilities are no match for the power of desire.
As Chancellor of the Shadowdwellers, Malaya's first duty is to her people, and her bodyguard, Guin knows this only too well. For tradition's sake, Malaya must marry, and the thought of this lush, vibrant, woman in a loveless union is impossible for him to bear. Guin loves Malaya—not as a subject loves his queen, but as a man craves a woman—and even if he cannot keep her, he'll show her everything she stands to lose.
Discipline. Penance. Order. A Sanctuary priest's life revolves around such things. But when Sagan is taken captive and thrust into the Alaskan wilderness, he encounters a woman who challenges his faith and his self- control. Valera is a natural born witch who almost lost herself to the lure of dark magic. By rights, Sagan should shun her, but convention will count for nothing in the face of a passion that could change the world of the Shadowdwellers forever…
"Suspenseful, romantic and richly drawn."—Emma Holly on Rapture
Also available as an e-book! For more information visit: www.kensingtonbooks.com/JacquelynFrank
Contest ends: September 30, 2009