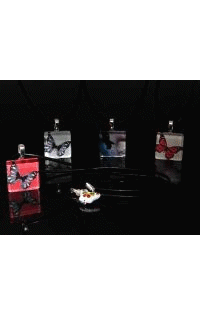 Anna continues the countdown to the August 25th release of Dark Legacy by giving away another Dream Flutters necklace (from the line of custom-designed jewelry she's raffling off every month on her website, and donating to Brenda Novak's Diabetes Research auction.
This beautiful leather necklace is finished with sterling silver and a variety of seed pearls and other embellishments, with an enamel and cloisonné charm at the clasp for that perfect finish you expect from a designer piece.
With the necklace you'll receive a set of two (2) flutter charms (a butterfly charm of your choice, plus one of the limited edition Dark Legacy charm that features images from the Dark Legacy cover).
Don't miss Dark Legacy, Anna's amazing psychic paranormal creation, a contemporary story of romantic suspense that will make you wonder if... Your Next Daydream Could Be Your Worst Nightmare...
DARK LEGACY
Pre-Order Today

"Die!" scream her nightmares. The voice is her sister's, the compulsion stronger than any ordinary dream.
Maddie Temple can't go through this again. Her twin has been in a coma for the last ten years. Their psychic link was severed. At least, that's what she thought.
But there's a lot Maddie doesn't know—about the 200-year- old curse on her family, about the shadowy group that wants to exploit the Temple twins' powers for themselves, about the sexy psychiatrist offering to help her.
The only way to find the answers and avoid being pulled into the abyss of madness is to trust her heart and confront her... DARK LEGACY
Don't miss more giveaways and contests, including ARCs, on Anna's blog.
Contest ends: May 31, 2009