Hope. It's a concept that can feel out of reach during tumultuous times. When our eyes and ears are flooded with the reality of national disunity and violence, a difficult family situation, broken finances, career disappointment, or frustration with ourselves for a multitude of reasons, hope can feel flimsy. Like it belongs to some other person in some other time.
But hope is something that we can have and hold on to in any time and circumstance. And here are a few ways to help you do just that:
Develop perspective.
No matter what is happening in our own lives, it is likely that there are others going through even more difficult circumstances. This doesn't mean that our pain doesn't matter. It means that we are not alone. There are people out there who understand what we're going through because they've been through it—and worse.
The struggles others have experienced in the past and in other parts of the world—war, genocide, displacement, religious persecution, lack of medical care, and more—help our own troubles become smaller, less scary, less insurmountable. Reading the account of a Holocaust survivor or a quadriplegic athlete is sure to put things in perspective.
Count small blessings.
I don't believe that within every dark cloud is a silver lining. Some things are just bad. Cancer. Familial discord. The loss of a loved one. It's not that they all have a good side to them. Yet when we go through trials, small blessings act as stepping stones to help us cross the turbulent waters.
A sickness can bring together far-flung family members who can hold each other up. A friendship can deepen as we pour out our hearts to each other about an unfaithful spouse or a prodigal child. A loss can cause us to drill down to the essentials of life: what we believe and the legacy we want to leave.
Celebrate beauty.
Emily Dickinson famously wrote that hope is the thing with feathers "That perches in the soul" and naturally we imagine it to be a small bird. Birds are, I think, the loveliest creatures on the earth to watch and to listen to. They seem to have been created with our pleasure in mind. There is so much in this world that is beautiful, from birds to blooms to babies to Broadway shows. When we take joy in the good things in life it buoys our spirits. And when we look for beauty, we will find more and more of it.
In order to see beauty, though, we have to clear our eyeline of distractions—like our ever-present smartphones. When we make a practice of taking our noses out of our newsfeeds we will inevitably find that there is beauty in our homes, our families, our neighborhoods, our churches, our workplaces. Unplug and reconnect with the beautiful world around you.
Ground your hope in faith.
It's fine to hope in other people, but unfortunately other people so often let us down. A hope that lasts is grounded not in fallible human beings, but in something higher. Something unchanging.
Personally, I can only hold on to hope through faith in God. When terrible things happen in this world, when I see people suffer, when I fret about politics or cultural upheaval, the only thing that keeps perched in my soul is my belief that someone else has everything in control when I so clearly do not. That that someone has a plan. And I can trust it to be good.
Read hopeful books.
Life doesn't always give us happy endings, and the loose threads are not always tied up neatly in the end. But in a good book we may find forgiveness, redemption, reconciliation, and hope on display. Experiencing hope through a story can help us make it a practice in our own lives.
Where is your hope found? How do you keep your troubles in perspective? What are some books that have inspired you? When did you last count your blessings? Where do you see beauty?
A new year is upon us. It is my hope that you live it well.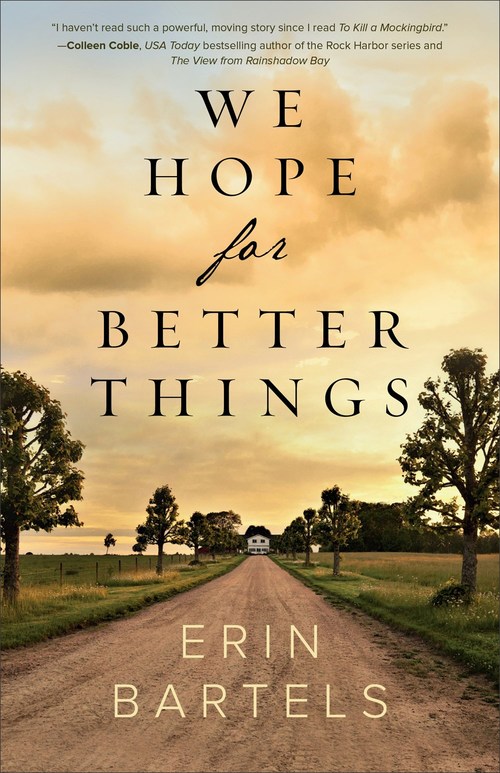 When
Detroit Free Press
reporter Elizabeth Balsam meets James Rich, his strange request--that she look up a relative she didn't know she had in order to deliver an old camera and a box of photos--seems like it isn't worth her time. But when she loses her job after a botched investigation, she suddenly finds herself with nothing but time.
At her great-aunt's 150-year-old farmhouse, Elizabeth uncovers a series of mysterious items, locked doors, and hidden graves. As she searches for answers to the riddles around her, the remarkable stories of two women who lived in this very house emerge as testaments to love, resilience, and courage in the face of war, racism, and misunderstanding. And as Elizabeth soon discovers, the past is never as past as we might like to think.
Debut novelist Erin Bartels takes readers on an emotional journey through time--from the volatile streets of 1960s Detroit to the Underground Railroad during the Civil War--to uncover the past, confront the seeds of hatred, and discover where love goes to hide.
Inspirational | Women's Fiction Time Slip [Revell, On Sale: January 1, 2019, Paperback / e-Book, ISBN: 9780800734916 / eISBN: 9781493416431]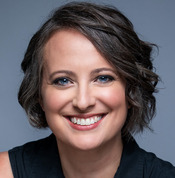 Erin Bartels has been a publishing professional for more than 15 years. Her short story "This Elegant Ruin" was a finalist in The Saturday Evening Post 2014 Great American Fiction Contest. A freelance writer and editor, she is a member of Capital City Writers and the Women's Fiction Writers Association and is former features editor of WFWA's Write On! magazine. She lives in Michigan and can be found online at www.erinbartels.com.
No comments posted.