When I first began writing historical fiction as a young girl, I was a blank slate about petticoats, bum rolls, stays, jumps, busks, stockings and garters, and whatnot. Fast forward many years and nine published novels later, and I'm still learning with each novel I write, and have discovered that the best way to dress my heroine is to dress myself.
I don't want to create heroines who dress in fashions and underpinnings I know little about. The best way to authenticate a character is to dress like she would, for a day, an hour, or whatever time and event inspires you. Historical dressing is surprising and delightful and educational! And I have a confession. I love stays, the 18th-century equivalent of the 19th-century corset. Stays provide a lovely silhouette and improve my posture, plus they are excellent back support. The stay naysayers, I think, may never have been laced up in them. I highly recommend them and gladly dress my heroines in them!
During the recent holidays, I was made merry with the acquisition of a striped petticoat from Fort Boonesborough, and a lovely pair of clocked stockings and straw hat with paper flowers from Fashions Revisited, a beautiful and most excellent site. In my small collection I'm happy to have a linen shift, bum roll, stays, fan, petticoats, pocket hoops, stockings, garters, fichu, and a beautiful 18th-century styled gown of silk taffeta with lace trim that is a century old as well as a matching hat.
For shoes, I'm smitten with anything by American Duchess, complete with beautiful buckles. Pick your style and even paint them red or blue to match your attire if you choose. I'm very fond of my lovely powdered wig with those lovely spiraling curls popular in that era. Jewelry from such gifted artists as K. Walters at Sign of the Gray Horse completes your costume. Colonial Williamsburg also has a wealth of shops and products to help you dress historically.
In my just released novel, THE LACEMAKER, set in Colonial Williamsburg, I had an inspiring time dressing the heroine, Lady Elisabeth, since she is on the cusp of fashion as an earl's daughter as well as being the confidante of Lady Dunmore, the fashion-savvy wife of Virginia's royal governor. And I was delighted when my publisher, Revell, designed a cover focusing on the sleeve and lace trim of a stunning blue gown from a museum collection, once worn by a woman of that era.
Dressing like a historical heroine is truly a blast from the past, pun intended!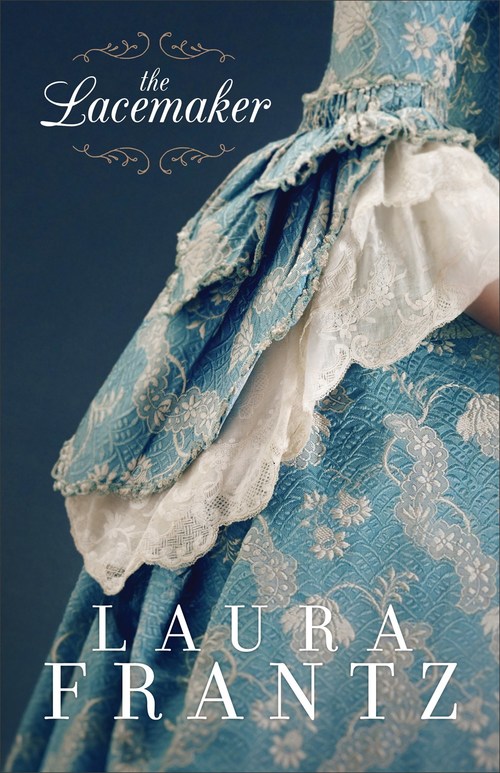 On the eve of her wedding, Lady Elisabeth Lawson's world is shattered, as surely as the fine glass windows of her colonial Williamsburg home. In a town seething with Patriots ready for rebellion, her protection comes from an unlikely source--now if she could only protect her heart.
When colonial Williamsburg explodes like a powder keg on the eve of the American Revolution, Lady Elisabeth "Liberty" Lawson is abandoned by her fiancé and suspected of being a spy for the hated British. No one comes to her aid save the Patriot Noble Rynallt, a man with formidable enemies of his own. Liberty is left with a terrible choice. Will the Virginia belle turned lacemaker side with the radical revolutionaries, or stay true to her English roots? And at what cost?
Historical romance favorite Laura Frantz is back with a suspenseful story of love, betrayal, and new beginnings. With her meticulous eye for detail and her knack for creating living, breathing characters, Frantz continues to enchant historical fiction readers who long to feel they are a part of the story.
Inspirational Romance | Inspirational Historical | Romance Historical [Revell, On Sale: January 2, 2018, Paperback / e-Book, ISBN: 9780800726638 / eISBN: 9781493412501]
Laura Frantz is a Christy Award finalist and the author of several books, including The Frontiersman's Daughter, Courting Morrow Little, The Colonel's Lady, The Mistress of Tall Acre, and The Ballantyne Legacy series. She lives and writes in a log cabin in the heart of Kentucky.
What is your favorite piece of historical garb? Tell us below and you could win a copy of THE LACEMAKER!
12 comments posted.
I have not worn historical clothing but I enjoy the fancy many layered dresses I see in historical movies.
(Melanie Rosen 6:58pm January 14, 2018)
I love going to Renaissance Fairs. I have a costume that I always wear that I call my wench dress. It's really fun to wear but uncomfortable in hot weather.
(Nancy Marcho 7:19pm January 14, 2018)
I'm glad you love dressing up if it influences your writing. I recently retired and am so delighted to wear yoga pants and a tee nearly every day. The idea of stays is bone chilling to me!!
(Lorena Keech 5:04pm January 15, 2018)
The dresses are lovely, but I'm fascinated by the fans used by the ladies and the way they are used to create a mood.
(Anna Speed 12:10pm January 16, 2018)