We're giving away a copy of DRESSED TO CONFESS

August 21, 2017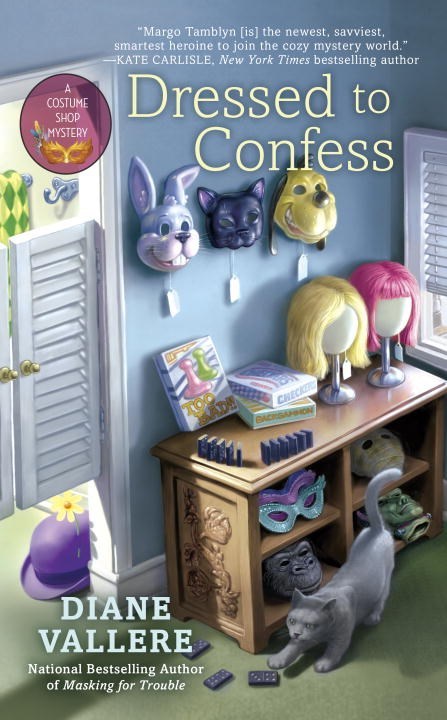 Dressed to Confess
Diane Vallere
AVAILABLE
A Costume Shop Mystery

August 2017
On Sale: August 1, 2017
Featuring: Margo Tamblyn; Don Digby
304 pages
ISBN: 0425278301
EAN: 9780425278307
Kindle: B01N2GJ2TP
Mass Market Paperback / e-Book
Add to Wish List

Also by Diane Vallere:
The Kill of it All, March 2022
Fahrenheit 501: A Samantha Kidd Mystery, November 2021
Teacher's Threat, July 2021
Tough Luxe, March 2021

Ready for a murder mystery cloaked in a "costume?" Fear not, Diane Vallere is here!
Someone is masquerading as a murderer at Proper City's annual Sagebrush Festival—and it's up to costume shop owner Margo Tamblyn to solve the case.
It's time for the annual Sagebrush Festival in Proper City, Nevada, and this year's theme is family game night. Margo Tamblyn and her dad, owners of the Disguise DeLimit costume shop, have provided costumes for local dance troupe the Domino Divas, who each wear a different color domino mask. When head dancer Ronnie Cass misses the performance, Margo finds her dressed to kill in her costume—and dead.
As the police investigate, Margo learns that Don Digby, her father's best friend, is the prime suspect, tied to the victim by a long-ago unsolved robbery. Now Margo must unmask the real killer before her dad's buddy winds up in prison stripes.
Mystery Cozy [Berkley Prime Crime, On Sale: August 1, 2017, Mass Market Paperback / e-Book, ISBN: 9780425278307 / eISBN: 9780698183452]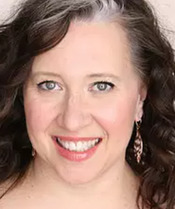 After two decades working for a top luxury retailer, Diane Vallere traded fashion accessories for accessories to murder. She also writes the Madison Night and Style & Error Mystery Series. Diane started her own detective agency at age ten and has maintained a passion for shoes, clues, and clothes ever since.
Costume Shop
Comments
21 comments posted.
Re: We're giving away a copy of DRESSED TO CONFESS

Sounds like a great story. I can't wait to read it!
(Dynal Roberson 7:18pm August 21, 2017)
Love cozy mysteries! Looking forward to reading it!! Thanks
for the chance to win a copy!!!
(Teresa Ward 9:34pm August 21, 2017)
Poor Don Digby! He sounds like the odds are stacked against him!
(John Smith 9:56pm August 21, 2017)
Cute cover. The book sounds like a fun read. Thanks for the chance to win.
(Nancy Reynolds 10:33am August 22, 2017)
What a wonderful cozy mystery. Thanks.
(Sharon Berger 11:59am August 22, 2017)
Sounds good. Love the costume storyline. Thanks for the
chance.
(Tanja Dancy 6:42pm August 22, 2017)
Cool!
(Jessica Nathan 11:45pm August 22, 2017)
Costume shop! How fun. But after Halloween, how do they
get enough customers to stay in business? Thanks for the
opportunity!
(Marcia Berbeza 3:15pm August 23, 2017)
A fashion mystery is just what the doctor ordered for me.
(Allyson Becker 2:13am August 24, 2017)
I love the mystery books this is a new AuthoPenney
(Penney Wilfort 5:59pm August 24, 2017)
sounds really good
(Sandy Pipp 7:59pm August 24, 2017)
Sounds like a fun book!
(Brenda Rupp 8:35pm August 24, 2017)
Thanks for the chance.
(Tm Occhip 4:44am August 25, 2017)
I really enjoy Diane's cozies. Thanks for this opportunity.
(Nancy Luebke 7:39pm August 25, 2017)
enjoy your books
(Linda Bogash 7:43am August 26, 2017)
Sounds like a great book!
(Nicole Bouchey 8:58am August 26, 2017)
Two of my friends will devour this book so I'm entering for them.
(Nadine Stacy 10:13am August 26, 2017)
Thanks for the chance to win. A good mystery is my way of ending a day.
(Anna Speed 5:01pm August 26, 2017)
Love to read a good mystery so hope I get to read yours.
(Jean Benedict 12:30pm August 27, 2017)
Looking for something new to read.
(Nicole Davis 10:14pm August 28, 2017)
I need a new mystery book
(Linda Knowles 12:37pm August 29, 2017)
Registered users may leave comments.
Log in or register now!