Falguni Kothari | Interviews Simeen, the voice of MY LAST LOVE STORY

May 18, 2016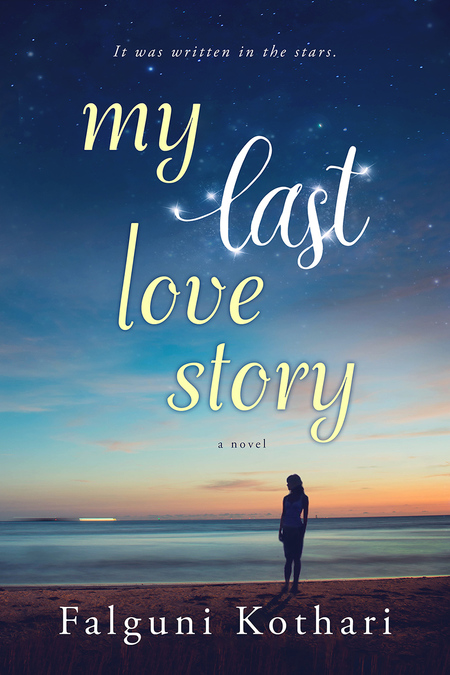 My Last Love Story
Falguni Kothari
AVAILABLE

May 2016
On Sale: May 15, 2016
Featuring: Simeen; Nirvaan
308 pages
ISBN: 1944048030
EAN: 9781944048037
Kindle: B01E9P90OS
Paperback / e-Book
Add to Wish List

Also by Falguni Kothari:
Once Upon a Wedding, June 2019
The Object of Your Affections, February 2019
My Last Love Story, February 2018
My Last Love Story, May 2016

First off, thank you for doing this interview for us. I know you don't have time for frivolous activities these days, what with your IVF cycle and your husband's chemo.
Simeen: It's okay. I actually could use a break from all that. And from checking off items on Nirvaan's tedious Titanic Wish List.
What's the Titanic Wish List?
Simeen: Nirvaan's bucket list. You know he doesn't have long, so he wants to do all the things that matter to him before…he succumbs.
I'm very sorry about Nirvaan's cancer…
Simeen: Thank you. But it's okay. We're okay. We're dealing. So ask away.
Right. Um, so…let's start with, What's the secret to having a good marriage?
Simeen (grinning): A kinky spouse.
Interesting answer. It certainly broke the ice. Next question, What's the most fun party you ever attended?
Simeen: The beach party where Nirvaan, Zayaan and I met for the first time. It was our fifteenth birthday—you know the three of us share our birthdays, right? So, we met at Dandi Beach, one hot summer night long ago.
Wow. That's some coincidence—the three of you sharing a birthday.
Simeen: That's not all we share. No pun intended. We also lived on the same street back in Surat, while growing up.
I know that you've been best friends for fifteen years. So, what are the most important qualities in friends?
Simeen: Giving each other space. Trust. Unequivocal support, to begin with.
What got you into trouble when you were young?
Simeen (laughing out loud): With those two rascals flanking me, what didn't I get in trouble about? We were not called the Shaitans of Surat for nothing!
(Shaitan means devil, for those who didn't get the reference.) What's the funniest advice your mother gave you?
Simeen: Mumsy always gave me good advice. It's Daddy who was weird about things. He made me wear rubber bands on my teeth for a whole month when I was twelve because I'd asked for my teeth to be straightened. He refused to pay an orthodontist for something that had a home remedy.
You're kidding. Rubber bands on your teeth? Did it work?
Simeen shows her not-quite-aligned teeth: It did not, as you see.
Ah. Hm. So, what's your favorite quotation?
Simeen: Something my father used to say and which Nirvaan has taken to quoting with gusto: Love is a dish best served naked.
I like that one. It rings of fun and seriousness both. On a more serious note, is justice or forgiveness more important?
Simeen: Justice. But that's not in our hands. Forgiveness is though. But I'm not big on it.
What's the hardest thing you've ever done?
Simeen: Saying goodbye.
Oh. Yes, that is tough. And, appropriate as we seem to have run out of time for this interview. Once again, thank you for indulging us, Simeen. And we wish you the best with the Wish List.
Giveaway
Simeen has a really hard road right now, but the idea of a "Titantic Wish List" is intriguing. What would be on YOURS? Tell us below and one reader will win an e-copy of MY LAST LOVE STORY!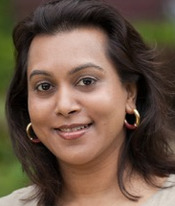 Falguni Kothari is a New York-based hybrid author, and an amateur Latin and Ballroom dance silver medalist with a semi-professional background in Indian Classical dance. She writes in a variety of genres sewn together by the colorful and cultural threads of her South Asian heritage and expat experiences. She's published in India in contemporary fiction with global e-book availability, and launched her mythic fantasy series, The Age of Kali, in November of 2015. When not writing or dancing or being house-wifey, she fools around on all manner of social media, and loves to connect with readers.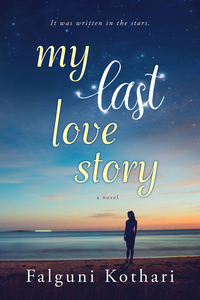 Love is meant to heal wounds.
Love was meant to make my world sparkle and spin.
Love has ripped my life apart, and shattered my soul.

I love my husband, and he loves me. But Nirvaan is dying.
I love my husband. I want to make him happy. But he is asking for the impossible.
He is asking me to make lemonade with the lemons life has handed me.

I can't.
I don't want a baby. I don't want to make nice with Zayaan.
I don't want another chance at another love story.
Comments
8 comments posted.
Re: Falguni Kothari | Interviews Simeen, the voice of MY LAST LOVE STORY

A Titanic Wishlist? Hmm. Never heard it phrased that way before. I guess my wish
list would be to earn my Ph.D, travel the world, and immerse myself in life so
that I have little to no regrets.
(Reava Bennett 8:02am May 18, 2016)
Traveling to Europe with my kids would top my Titanic Wishlist!
(Jamie Stein 11:14am May 18, 2016)
My wish list consists of hoping for better health for my husband ...Then I can wish for a trip or whatever but at our age health is the most important...the fun things come with family and friends.
(Karen Dieffenbaugher 2:28pm May 21, 2016)
Thank you for the giveaway!
(Lori Byrd 6:55pm May 21, 2016)
Thanks for the giveaway
(Michael Kutan 9:14pm May 21, 2016)
Thanks for giving me a chance to win.
(Linda Hall 3:55am May 22, 2016)
A trip around the world would be on my Titanic Wish List.
(Bonnie H 10:07pm May 22, 2016)
I'd love to travel to the New England states to see the Fall leaves. Thanks for the great giveaway and the chance to win this great book!!!
(Bonnie Capuano 9:25am May 23, 2016)
Registered users may leave comments.
Log in or register now!