Once you go bitch, it's hard to go back.
I knew that going into UNTIL I'M YOURS, the fourth installment of my Bennett series. Originally, the series was slated as two books, a love triangle story ending with one "angle" out in the cold. When my editor asked if I'd considered writing the odd man out's story, I knew it would be difficult. Readers really rooted for "the guy who got the girl" and had come to hate Cam, "the other guy." I mean, he was a bit of a jerk. Could I redeem him? As I started delving into his backstory and unpacking the history of abuse, hurt and neglect that shaped him into the guy readers thought they hated, I honestly believed that some time in his shoes would change their minds.
And it did! Overwhelmingly, readers' reviews, emails and messages reflected that they fell hard for him. Their hearts bled for him. They SWOONED for him. The hash tag #CamConverts was everywhere.
Whew. Close call.
My editor then asked if I'd considered writing Sofie's story. Now let me back up and tell you a thing or two about Sofie Baston. In earlier books, she does everything in her considerable power to keep the hero and heroine apart. She's one of the reasons things unravel for them, and she swoops in as soon as things go south to collect her winnings - a rebound relationship with the hero. She's an Upper East Side socialite turned super model, and on the surface, has very few, if any, redeeming qualities. With armor over her heart and Louboutins on her perfectly pedicured feet, I wasn't sure a walk in her shoes would win readers over the way Cam did in book three.
But I wanted to try.
I think we gain degrees of sympathy just from slipping those shoes on. Maybe they're tighter than we thought they would be, pinching that little corner toe. Maybe we find ourselves wobbling after the first few steps. Maybe we weren't prepared for the air up there with those six inches stacking us above those we usually look in the eye. From submerging ourselves into that character's point of view, we may not agree with them, but we come to understand them, and understanding is the predecessor of sympathy.
Everyone has a story; a past that has made them who they are. You'd never know from the glittering veneer, but Sofie had a dark past; a path overgrown with secrets and lies, and she had walked it mostly alone.
What I didn't want to do was make Sofie someone else to win readers over. I'm a Southerner, born in North Carolina and lived in Atlanta for 20 years. Now that I'm on the West Coast in San Diego, it's hard to find "real" sweet tea. Many restaurants offer me cold unsweetened tea and a packet of sugar or artificial sweetener. You have to add the sugar while it's hot and before it sets. It just melts right in there! Once it's cold, forget about it! And that's what Sofie would have been had I departed from who she was in previous books. Adding sugar after readers had seen her cold would have proven to be artificially sweet and not quite right. I couldn't have sold that farce, and readers wouldn't have bought it.
Enter Trevor Bishop. If ever there was a "foil" for a character, he is one for Sofie. A kind-hearted, brilliant, generous crusader who sees Sofie with clear and curious eyes. He wants to pull at her seams and pick at her edges to see what's really beneath. He's the kind of man who inspires everyone around him, and Sofie is no exception. She always stays true to herself, but with Trevor, she just wants to be better, and we get to see her evolve, not into someone else, but into the best version of herself. It only took a set of truly challenging circumstances and one alpha male feminist to do it.
I must tell you Sofie ended up being my favorite heroine in the series, and I'm hearing that from reviewers and readers, too. Authentic and flawed. Raw and refined. It's the advantage of point of view; of walking in her shoes.
Guess it doesn't hurt that they're fabulous.
Giveaway
What is your favorite character who is flawed but gets their love story? Mine or any other story works! One commenter will win an e-book copy of UNTIL I'M YOURS. Just leave your answer below!
About UNTIL I'M YOURS *Can be read as a standalone*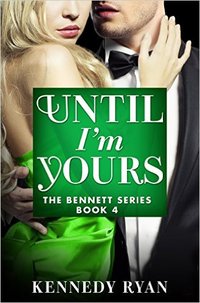 The world knows her face . . .
Mean girl. Goddess. Bitch. Supermodel Sofie Baston has earned those labels . . . yet they don't scratch the surface of who she really is. Before she can follow her own dreams, Sophie must do her daughterly duty and reel in a "fish" for her father's business-a tall, brown-eyed entrepreneur who immediately hooks her. He's a big guy with an even bigger heart . . . but will that heart be open to Sofie once her darkest secret is revealed?
. . . but only one man knows her heart
To Trevor Bishop, Sofie is a beautiful mystery he would gladly spend his life solving. He figures her tough demeanor is armor against a world that's hurt her too many times. Then Sofie's deepest wounds are reopened by the powerful, ruthless man who made them. When she musters the courage to take him down, her world shatters. Now Trevor is determined to help Sofie pick up the pieces so they can build a future together. The challenge will be convincing his ice princess that it's safe to melt in his arms . . .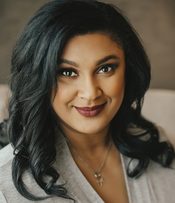 I just can't write about myself in third person for one more bio! I'm a wife, a mom, a writer, an advocate for families living with autism. That's me in a nutshell. Crack the nut, and you'll find a Southern girl gone Southern California who loves pizza and Diet Coke, and wishes she got to watch a lot more television. You can usually catch me up too late, on social media too much, or FINALLY putting a dent in my ever-growing To Be Read list!
11 comments posted.
Probably Roarke from J D Robb's In Death series. He's not perfect, but he is perfect for Eve.
(Linda Henderson 10:27am February 4, 2016)
I have so many flawed heros/heroines that it would be impossible to chose...each achieves redemption in his/her own way....always intriguing!
(Kathleen Bylsma 12:54pm February 4, 2016)
I have to agree with the Eve Dallas/Roarke combination. Neither are perfect alone, but together? Now that's a match made, if not in heaven, then pretty darn close!!
(Lynn Rettig 5:11pm February 6, 2016)