LOVE HURTS
He promised to kill her. One night four years ago, Leah Carson's husband almost succeeded. Philip stabbed her twenty-three times before fleeing. The police are sure he's dead. But fear won't let Leah believe it.
AND SOMETIMES
It starts with little things. Missing keys. A flat tire. Mysterious flowers. All easily explained away if the pattern wasn't so terrifyingly familiar. Leah has a new veterinary practice and a new life with no ties to her nightmare. But Tennessee Bureau of Investigation agent Alex Morgan suspects something. And when another woman's body is found, stabbed twenty-three times, Leah knows her past has found her.
IT KILLS
As Leah and Alex untangle the horrifying truth, he watches her, ready for the perfect moment. Until death—that was the vow they made. And a killer always keeps his word…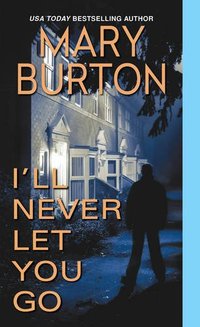 Read the Excerpt
He sat and watched as his wife stood by her car and spoke to her date. The guy had dark hair and a trim build. A gust of wind had caught, blown back his jacket and for a split second, the edge of a gun resting on his hip caught the moonlight before the guy tugged the coat's edge back into place.
This man is not a beat cop like he'd been. He had the look of a detective. "Moving up in the world, babe. The uniform isn't good enough for you anymore."
Embers of rage, always warm and glowing, flared and flickered into a hot flame. His wife and the guy lingered, staring at each other. A smile flashed on her face, and he knew they'd be seeing each other again.
"She's my wife, dick."
This close he could see dick's face. Keen interest sharpened the man's gaze. No doubt he was thinking about getting into his wife's pants.
Irritated, he tore his gaze away and focused on the mission. He studied the text he'd just sent Leah: Emergency at the clinic. Can you come to work?
I might be a regular cop, but I found her number and I'm going to win this chess game, dick."
She slid into the front seat, started the engine and rolled down her window. She glanced up, smiling, nodding, and drove off. Dick got into his car and drove off.
He started his truck and shifted into first gear. Slowly, he turned onto Broadway and followed it until it branched right and turned into West End Avenue.
The drive back to his wife's town house took ten minutes, but of course he knew the way. He'd been watching the house since he'd arrived in Nashville a week before. Many a night in the last couple of weeks, he'd sat in the parking lot across the street and watched her town house. He'd gotten to know all her new habits.
His wife arrived an hour later and parked in her reserved spot under the street lamp. She hurried from her car up the brick front steps of the town house, unlocked the door, and vanished inside. Lights clicked on, and though she'd already drawn the drapes, he could see her figure pass in front of the sliding glass door before the lights in her bedroom clicked on.
He imagined her in that bedroom, stripping off her shirt, her full breasts spilling over the top of her bra. It had been too long since he'd kissed those breasts, but he remembered how soft they felt. He remembered her lips tasted like her cherry lipstick. He remembered those lush lips kissing him along his belly, teasing him to the brink of insanity. He remembered every single detail of their life together.
But she wasn't thinking about him as she stripped off her clothes. A different man lingered in her thoughts. How many men had she fucked since him?
It took all his willpower not to scream as he removed a switchblade from his pocket and flicked it open. Moonlight glinted off the sharp blade as he gouged it into the truck's seat. He sliced through leather, imagining it was flesh.
He leaned back against the seat. Her shadow passed back into the living room, and the light of a television glowed as her silhouette lowered on the couch.
In the last few weeks, he'd learned all her new patterns and all her secrets, tracking her and listening via the bug he'd planted in her house. "No one knows you better than me, babe. No one."
After an hour in the parking lot, he cold had numbed his toes and the tips of his fingers. He would have stayed all night, watching her sit on her couch in front of the television, but there were enough people coming and going at this time of night to get him noticed. He drove off, knowing she was alone in her town house, unable to sleep and thinking about him.
Until death do us part.
The words hummed in the back of his throat. So poignant, and yet their meaning appealed to him.
Until death do us part.
His little bird flew free right now, but soon he'd catch her and pluck off her wings. She belonged to him and no one else.
Until death do us part.
Copyright 2015 © by Mary Burton
Mary Burton loves writing suspense, researching law enforcement procedures and forensics, baking, books, and tiny dachshunds. Not necessarily in that order. She also enjoys hunting down serial killers, which she does in her New York Times and USA Today bestselling novels of suspense and romance. She's tracked them down in stories set in her hometown of Richmond, Old Town Alexandria, Austin and Nashville that have been praised by readers and reviewers. Her work has been compared to that of Steig Larson,* Lisa Gardner ** and Lisa Jackson. ***'
Research is a favorite part of Mary's work day. She never tires of learning more about police work and evidence and doesn't hesitate to take a hands-on approach, whether it means interviews with those working in the field, forensic seminars or lessons at the firing range.
A Richmond native, Mary has lived there for most of her life. She is a graduate of Virginia's Hollins University and worked in marketing before she began writing full time. Her first book was published in 2000 and now she's the author of twenty-seven published novels and five novellas, including her contemporary women's fiction written as Mary Ellen Taylor. Her latest books, I'll Never Let You Go, Cover Your Eyes and Be Afraid are the first of four set in Nashville and feature the Morgans, Music City's preeminent law enforcement family. Vulnerable completes the quartet in April 2016. She also writes contemporary women's fiction as Mary Ellen Taylor. Her latest is the Old Town Alexandria set The View from Prince Street.
An avid baker and an accomplished cook, Mary's known to escape to the kitchen when her writing hits a snag. Once there, she's working out dialogue, untangling plot lines and figuring out how to trap her killer before the oven even has a chance to preheat.
2 comments posted.
Holy cow! You really know how to wind a person up! I HAVE to have this book to know how it comes out! Thanks, I think! ;-) I should know better...you pick the best excerpts!
(Kathleen Bylsma 7:01pm October 27, 2015)