September is an exciting month for me and it has nothing to do with my writing. Guess why.
A. Nothing to do with my writing? My entire life is about writing. I have 7 books coming out this month, a worldwide tour, and a Hallmark movie starring Benedict Cumberbatch!
B. My dad's getting married. My mother has been gone for almost ten years and I'm really excited for Dad to find happiness again.
C. I'm going to Lake Como, Italy for my cousin's wedding. It'll be lifestyles of the rich and famous…and the people they invited to their wedding. Namely, me and my husband cause we're family and they had to. Whee!
D. I've taken up yoga again so I'm turning into a lean, flexible, svelte machine!


Answer: C. Amazingly enough, my life is not completely about writing, though I do wish I had a Hallmark movie. Wouldn't that be fun? Especially if I got to visit the set and hang out with Benedict! My dad is getting remarried, but the wedding is next month. I'm very happy for him and his new bride though I have to admit to feeling a little strange about having a different woman in my mom's place. I know, I know, she's not taking mom's place. And she's a great woman. It's just…I don't know…You may see some new step-mom issues coming out in my future books. So the answer is C. I'm going to Italy! I can't wait. I've never been but have already downloaded my Italian translator app and figured out where I'm getting Euros. Do I need anything else? As for D…well, look to the next question.


I am indeed doing a little more yoga. I used to teach yoga, so at one point I was quite flexible. I also was about 30 pounds lighter and looked pretty good in my yoga clothes. This is not the case any more. No lean, mean, svelte machine here. Below are three pictures as I try to get into a pose. Guess which pose it was. By the way, in case it isn't clear, I'm using the English translation names for these poses, not the (incomprehensible to me) Indian names.


A. Middle aged woman failing to tie herself into a knot pose.
B. Crow falling off her perch and breaking her nose pose.
C. Easy Pigeon pose.
D. Dead pigeon pose.
Answer: C and D. The first two pictures are indeed me trying to get into the EASY version of pigeon. The third picture is me giving up and collapsing into a heap when I tried to get OUT of the pose.


That's it for this month. Hopefully there will be pictures of Italy and some exciting news next month (including a new website!) But in the meantime, you get to share. Are you doing something amazing this month? Something new? Something old that you're going back to? Share here and one lucky commenter will get a Jade Lee or Kathy Lyons eBook of their choice!
A USA Today Bestseller, Jade Lee has been scripting love stories since she first picked up a set of paper dolls. Ball gowns and rakish lords caught her attention early (thank you Georgette Heyer), and her fascination with the Regency began. And as a Taurus, she lives to pit a headstrong woman against a tortured hero just to watch them butt heads on the way to true love. Flesh wounds are rare, but the healing and laughter are real.
Now an author of more than 30 romance novels, she's just embarked on a new Regency series, Rakes and Rogues. Her love of romance extends to the present day, too. Under her other name, Kathy Lyons, she merges hot sex and funny relationships into really great reads.
And don't forget Jade's other name, Kathy Lyons. She is the fun, contemporary side of Jade Lee. She loves sassy romance with lots of laughter and sex. Spice is the variety of life, right? Okay, so maybe two kids, two cats, two pennames, and writing over 50 books has messed with her mind, but she still keeps having fun.
Website | Twitter | Facebook | Goodreads | Blog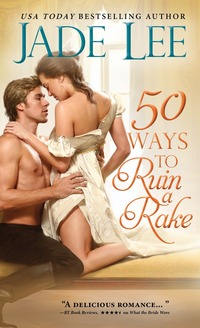 Mellie has a plan
Mellie Smithson is trapped in the country with no suitors and no prospects on the horizon except, perhaps, the exasperating—although admittedly handsome—guest of her father. She's looking for any excuse to go to London to meet more eligible men.
Trevor has a problem
Trevor Anaedsley's grandfather has cut off his funds until such time as he gets engaged. Trevor escapes to the country—ostensibly to visit his old tutor Mr. Smithson but actually to duck his creditors—where he meets Smithson's lovely daughter Mellie. The obvious solution is suddenly before him—but the lady has ideas of her own, and Trevor's going to have to measure up...
4 comments posted.