Y'all, things are about to get real. I'm about to tell you things, I probably shouldn't. But I kind of feel like over sharing today...
People ask me all the time: "How do you do it all?" They are talking about the many facets of my professional life writing, editing, television and film, and radio. The truth is, some days better than other.
Today is a great example of just how crazy things can get. I have two books that need to be edited for Entangled with pretty tight deadlines. I have a cover story that is due by five. And the actor I'm interviewing for said story is thirty minutes late calling, and it's 3:30 p.m. While I'm waiting for him, I'm writing this guest post.
And I'm not going to talk about the fact that one of the dogs is sick, I have to leave for a two-week trip in three days, and I might need some clothes. I mean, it's Los Angeles, but you still get arrested for being naked. Oh, and my editor at another publishing house approved the synopsis for the second book that is due in October, but I have to do the revisions on the first book, by next week. And I have another book due in October that I haven't started writing yet. Oh, and I've booked myself for every weekend in the fall, teaching at conferences in New Zealand, Missouri, Atlanta, and more, except I forgot to write some of those dates down. (I really hope some of those people read this blog and email me.) My writing partner for the Saxton Academy series is wondering where my pages for book two are. And that's just the last two hours, it would make your head spin if I told you about the rest of my day.
That's my life.
Some days I kick ass and take names. Others, I want to crawl into the fetal position on the couch and watch television. I don't, but I really, really want to. In addition to the business side, there's the personal side. The truth is, that personal side is how I'm able to keep my head above water. I have an incredible support system. My kids, their significant others, my husband, my parents, friends…they all help out. But there's a downside to all the crazy, in that I don't get to spend much time with family or friends. I keep up with most everyone on social media and texts. Sad but true. But it makes those times when we do get together, that much sweeter.
And I miss sleep. A lot. There are many days when my favorite part of it is my head hitting the pillow. I'm also a big fan of 5-hour energy and espresso. But not together. That's a heart attack waiting to happen.
So how do I do it all? A lot of caffeine. Day-by-day, and hour-by-hour. I'll say this for my life: it's never boring. Oh, look, an email from the publicist of Mr. Celebrity. He was busy on set. (Read: He totally forgot to call you.)
Someone asked me the other day if they made a reality show of my life what would it be called, I said, "Queen of the Cra Cra," or "Candy's Mad, Mad World." No two days are ever the same.
True story: I kind of like it that way.
And now Mr. Celebrity is calling. Finally. Bye, y'all. And thanks Fresh Fiction for letting me hangout. Oh, and if they made a reality show of your life, what would it be called? Tell me. I really want to know.
Bestselling author Candace Havens has written multiple novels for Berkley, Entangled and Harlequin. Her books have received nominations for the RITA's, Holt Medallion and Write Touch Reader Awards. She is the author of the biography Joss Whedon: The Genius Behind Buffy and a contributor to several anthologies. She is also one of the nation's leading entertainment journalists and has interviewed countless celebrities including Tom Hanks, Nicolas Cage, Tom Cruise, George Clooney and many more. Her entertainment columns can be read in more than 600 newspapers across the country. Candace also runs a free online writing workshop for more than 2200 writers, and teaches comprehensive writing class. She does film reviews with the Hawkeye & Dorsey on 96.3, and is a former President of the Television Critics Association.
Website | Facebook | Blog | Twitter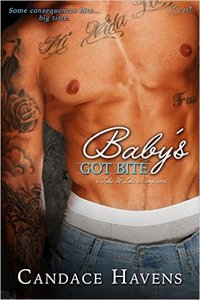 Bennett Langdon has a firm no-relationships policy. Still, it doesn't stop her from hooking up with a super-sexy bad boy at her best friend's wedding. After all, it's only one night—what harm could it do? Ten weeks later, a pregnant Bennett has her answer...
Linc Monahan can't believe it. This wasn't supposed to happen. He's a werewolf, and shouldn't be able to father a child with a human. Now Linc has to find some way to tell Bennett that not only do werewolves exist, but she's about to have a baby with one.
But when word of their surprise conception gets out, the fur hits the fan. There are people who don't want this baby to be born—even if it means killing. Now Bennett and Linc aren't just fighting each other...they're fighting for their lives.
2 comments posted.
If they made a reality show of my life, it would be a cross between Dr. Doolittle, How to Knit and Crochet, Living with Health Issues, and How to Take Charge. My life might be a little crazy from time to time, but I don't know how you do it!! Your book sounds interesting, and I'm looking forward to reading it. Congratulations, and I'm sure it's going to do well!!
(Peggy Roberson 10:42am July 30, 2015)