Cheryl Bolen | A Marriage of Convenience

July 8, 2015
Countess by Coincidence
Cheryl Bolen
AVAILABLE
House of Haverstock #3

July 2015
On Sale: July 7, 2015
Featuring: Lady Margaret Ponsby; John Beauclerc
276 pages
ISBN: 193960236X
EAN: 2940151246194
Kindle: B00YTISP60
Paperback / e-Book
Add to Wish List

Also by Cheryl Bolen:
A Proposal of Marriage, December 2020
Once Upon a Time in Bath, November 2020
Mistletoe and Mayhem, November 2020
One Room at the Inn, June 2020

My favorite romance trope is the "marriage of convenience" story. Seven of my first nine published historical romances followed this trope, including my first published book, A DUKE DECEIVED, which was a finalist for Best First Book (Holt Medallion) and won the Notable New Author distinction back in 1999. My 2005 ONE GOLDEN RING won the Holt Medallion as Best Historical, and it too was a marriage-of-convenience story. So I think readers must like marriage-of-convenience stories as much as I.
In my newest series, House of Haverstock, all three of these lighthearted romances are marriage of convenience stories, including my July release, COUNTESS BY COINCIDENCE, in which two staggering coincidences result in the marriage of the reckless young Earl of Finchley and the shy duke's daughter who's worshipped him from afar.
Another of my favorite tropes in a romance novel is the "ugly duckling" story. I used this in my TO TAKE THIS LORD, THE LORDSHIP'S VOW, and in my novella HOME FOR CHRISTMAS which appears in my Christmas anthology CHRISTMAS BRIDES: 3 Regency Novellas. I also used it in my novel MY LORD WICKED, which won Best Historical in the International Digital Awards in 2011. I think we all love to pull for the underdog, especially the Plain Jane who gets the prince. Those resonate with all us Plain Janes who seem to populate the earth.
Still-another favored trope is the "fish-out-of-water" story. I like, sometimes, to take a nerd who's uninterested in romance and make the sparks fly. I did this in my 2014 LOVE IN THE LIBRARY, the Brides of Bath book 5, and its sequel, A CHRISTMAS IN BATH. To me—who's married to a nerd—nerds can be very hot.
GIVEAWAY
What are your favorite tropes in romance fiction? I will give away a digital copy of the first book in my House of Haverstock series, LADY BY CHANCE.
Cheryl Bolen is the New York Times Bestselling Author of more than a dozen Regency- set historical romances published by Harlequin Historical and Zebra Historical. Her first book, A Duke Deceived, won her the title of Notable New Author and was a runner up for the Holt Medallion for Best First Book. Her One Golden Ring won the Holt Medallion for Best Historical. Her books have been finalists for many writing awards, including the Daphne du Maurier, have been Barnes & Noble bestsellers, and have been translated into French, Portuguese, Swedish, Norwegian, Italian, Polish, and Japanese.
Admitting to a fascination over dead Englishwomen, she is a regular contributor to the Regency Plume, The Regency Reader, and the Quizzing Glass. Many of her interesting articles on Regency England can be found at her website.
She holds an English/journalism degree from the University of Texas and an MS from the University of Houston. Before her first book was published in 1998, she enjoyed careers as a newspaper reporter/editor and as a public school English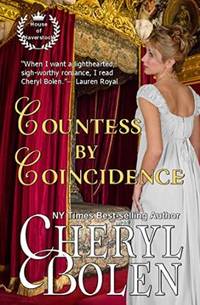 To extricate himself from financial difficulties, John Beauclerc, the Earl of Finchley, concocts a scheme to marry a stranger who's answered his advertisement.
He'll show his grandmother! That lady's withholding money until he can demonstrate more maturity and less scandalous behavior. At six and twenty, the last thing he wants is to settle down. He goes to the church at St. George's Hanover Square to wed Miss Margaret Ponsby of Windsor, send her on her way with £100, and continue to pursue wine, women and faro with his fun-seeking friends.
After the ceremony, he realizes he's married the wrong woman. Miss Margaret Ponsby of Windsor obviously thought the wedding was to occur at St. George's Chapel in Windsor. Lady Margaret Ponsby was at St. George's in London. How can he extricate himself from this wretched marriage—a marriage over which his grandmother is ecstatic? If only Lady Margaret Ponsby weren't so shy.
When the lanky young (though most disreputable) earl she's worshipped from afar for as long as she could remember asks her to move to the church's altar with him, she's powerless to decline. Even after a wedding ceremony begins, she still remains mute. She must be standing in for Lord Finchley's true bride. But once she realizes she really is married to Lord Finchley, she determines to do everything in her power to make this a dream marriage. Even if it means imitating her clever, talkative sister.
Comments
12 comments posted.
Re: Cheryl Bolen | A Marriage of Convenience

I enjoy quite a bit of tropes... some of my favs are fairytale types, secret baby, mistaken identity, etc...
(Colleen Conklin 12:52pm July 8, 2015)
I enjoy books about princesses, heiresses, brides, everyday
people, nurses, mysteries especially the cozy ones with
recipes.
(Alyson Widen 8:03pm July 8, 2015)
mistaken identity - characters who re-connect - loving from afar and then the hero realizing the heroine who loved him from afar is REALLY the right person for him!
(Felicia Ciaudelli 8:19am July 9, 2015)
I like topes where the hero goes after the heroine right from
the start..she can protest but he knows she's his. Also, a
little comedy, or mystery, or spooks.
I enjoy your books, but I haven't read this one yet.
(Sharon Shearouse 10:56am July 10, 2015)
I enjoy tropes - mistaken identity or marriage of convenience. Thanks.
(Dianne McVetty 11:11am July 11, 2015)
Cheryl, I love your books!
(Mary Hay 11:21am July 11, 2015)
Wow! What a situation! I'll bet there are a lot of exciting events in A Marriage of Convenience.
(Anna Speed 12:04pm July 11, 2015)
Of the many I like, friends to lovers are my favorite.
(Nancy Luebke 3:34pm July 11, 2015)
I love mysteries!
(Denise Austin 4:31pm July 11, 2015)
I like a variety. Marriage of convience and books with kids (they can be so
funny) are among my favorites.
(Laura Gullickson 11:45pm July 11, 2015)
Thank you, Mary Hay and Sharon Shearouse.
(Cheryl Bolen 10:42pm July 20, 2015)
I love romantic suspense and historicals
(Vicki Clevinger 8:55pm July 29, 2015)
Registered users may leave comments.
Log in or register now!